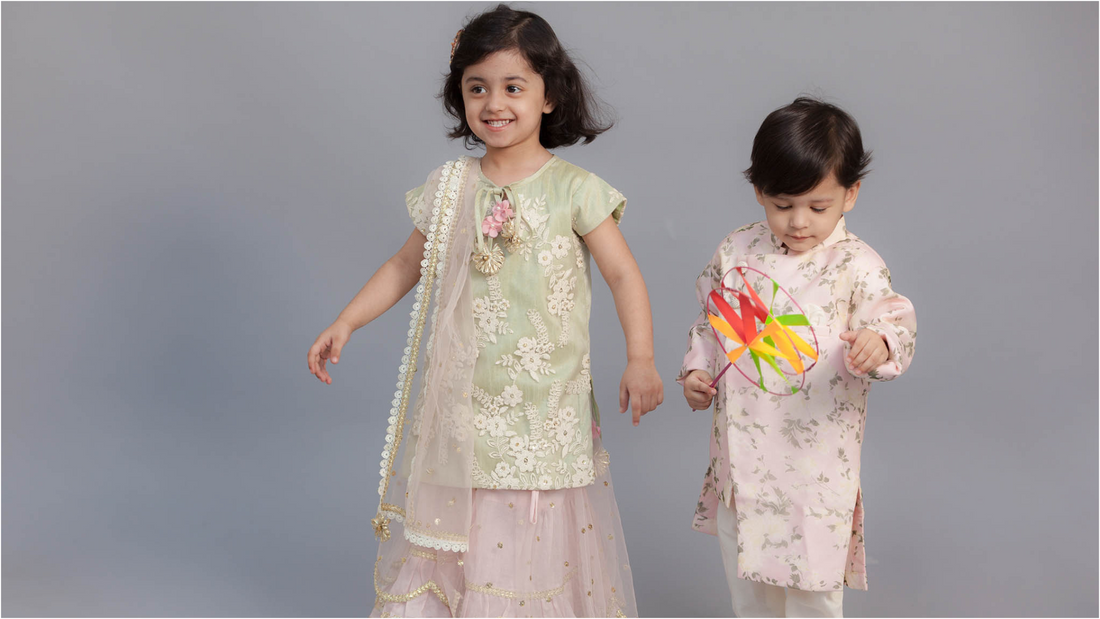 Kids Eid Fashion Trends In 2023
Eid is a prominent celebration in the Islamic calendar that Muslims around the world celebrate with joy and zeal. Fashion is important during Eid, as people dress up in new and traditional attire to commemorate the occasion. Clothing is an important component of Islamic culture, and Eid is an occasion to highlight the different and bright types of Islamic dress. Eid clothing choices reflect regional, religious, and social norms, and are a representation of cultural identity. The attire worn at Eid varies from nation to nation and even among communities. Traditional attire like the salwar kameez or thobe is preferred in some cultures, while more modern styles may be preferred in others.
Fashion designers, fashion shows, and social media influencers are just a few of the elements that have an impact on fashion trends throughout Eid. Traditional materials like silk and cotton, as well as traditional needlework and embellishments like zari and zardozi, are in style during Eid. Another trend is the blending of traditional and modern fashion, with designers producing ensembles that combine classic and contemporary style. This blending of styles has produced one-of-a-kind and cutting-edge fashion items that cater to the various tastes of Muslims around the world.
Eid and fashion are closely related, with outfits expressing the diverse cultural identities of Muslims around the world. Eid fashion trends are varied and colourful, blending traditional and contemporary styles to suit the wide range of Muslim preferences around the world. Eid attire will undoubtedly continue to play an important role in the Islamic cultural landscape as it develops in the future.
For children, getting dressed in new clothes is one of the most fun aspects of Eid. With online buying platforms and e-commerce websites meeting the various needs of Muslims around the world, Eid Kidswear has also become more easily accessible. The huge assortment of outfits and styles supplied by Fayon Kids makes it easier for parents to find the perfect clothes for Eid for their children.
Not just adults, but even children, are becoming increasingly aware of the importance of dressing up and trust us, they enjoy dressing up more than us. If you're looking for Eid kidswear ideas for your child, here are some of the current Eid fashion trends for boys and girls.
Girls' Eid Fashion Trends:
Dhoti Salwar Suit for Baby Girls
One of the most popular and stylish clothing options for young girls during Eid celebrations is the dhoti salwar suit. Young women have the option to dress up fashionably during Eid by wearing a trendy Kurti or pairing a top with a Dhoti. Additionally, the jacket-style tops that accompany girls' dhoti salwar suits are currently in vogue. These fashionable Eid outfits, specifically designed for young girls, can be easily purchased online.
Floral Prints
Floral designs are usually popular with young girls. For a classic appearance this Eid, choose a pastel-colored flowery dress with a flowy silhouette.
Lehenga Choli
The trend of donning lehenga cholis is timeless, as girls love to wear designer lehengas on Eid, be it for a wedding or any other occasion. Both traditional and Indo-western lehenga designs are great options for the Eid celebration.
Ruffles and Frills
Ruffles and frills offer a fun element to any outfit. Look for ruffle accents on the sleeves, hemline, or neckline of dresses.
Sharara Salwar Kameez for Little Girls
One of the current popular ethnic dress choices for girls is a kurta with a unique sharara design. A sharara suit with embroidery is an excellent option to consider for Eid, as it comes in vibrant colours suitable for any occasion. Alternatively, the toddler style often features a bell sleeves design. To complete an amazing appearance, it is crucial to style the hair fashionably. 
Embroidered Outfits
A timeless fashion trend that never goes out of style is embroidery. For Eid celebrations, dresses with intricate embroidery on the bodice or hemline are ideal.
Anarkali Salwar Suit for Eid
The clothing options for children during Eid are distinctive and appealing, but it is crucial to choose the appropriate fabric for your girl's Eid outfit. Currently, prints are in fashion, and selecting an Anarkali salwar suit with a floral pattern can be a great option for Eid. To add a modern twist, consider an Anarkali jacket for young girls, providing both comfort and safety. Alternatively, a plain Anarkali for women paired with a simple dupatta can be an excellent choice.
Boys Eid Fashion Trends:
Kurta Pajama
Kurta pajamas are a classic choice for boys during Eid. They come in a range of colours and styles, from traditional to modern. You are able to find various sorts of kurta pajamas for your baby boy. It is available with a range of neck styles and opening cuts. At the upcoming Eid celebration, this designer kurta pajama for little boys will shimmer and sparkle. For children, we recommend choosing a light fabric that will keep them comfortable throughout the day.
Waistcoats
Whether it's Eid-al-Fitr or Eid-al-Adha, the holiday is all about dressing up and having fun. The kurta waistcoat combination for baby boys is quite popular. Waistcoats are a stylish addition to any outfit. Pair them with a kurta pajama or a shirt and trousers for a trendy look. You can wear a patterned or plain waistcoat, both of which are appropriate for the event. Wearing a waistcoat with a kurta gives your toddler a festive look. 
Indo-western Style
There is a wide variety of designs and patterns available for Indo-Western outfits. Nevertheless, boys' clothing can be found in a variety of variations thanks to children's fashion trends. The Indo-western style is versatile enough to be worn for both weddings and Eid and can be paired with a range of bottom designs, including dhoti, churidar, or a simple salwar. Choose for your young prince an indo-western outfit in a vibrant colour for important festivals like Eid.
Accessories:
Without the proper accessories, no Eid costume is complete. With some statement earrings or a stunning hair item, girls can add a little glitter. You can choose a fashionable watch or hat for boys.
Lastly, Eid is a special occasion that entails dressing to the nines. There are many alternatives accessible for boys and girls, whether you're seeking traditional attire or contemporary styles. Your little rockstars will seem fashionable and festive on this happy occasion if you keep these dress trends in mind. Find the ideal clothes for Eid for your child by browsing designer clothing for boys and girls online at Fayon Kids right now. We hope you found the perfect Eid kidswear for your children.