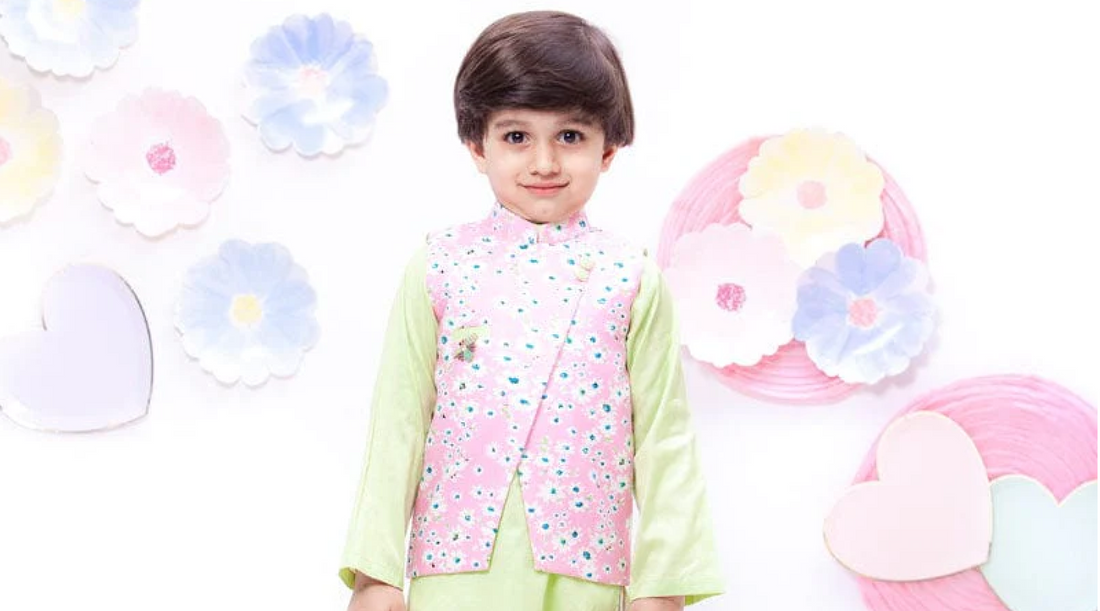 4 Ways to Style the Classy Ethnic Nehru Jacket for Boys
The Festive Season is here!
Let the celebrations begin. It is time to light up and decorate our homes with colorful lights.
It is time to get dressed up for the celebration nights and celebrate the festive season with family and friends.
It is time for festive shopping! Everyone feels excitement and happiness when it comes to festive shopping, especially kids. Kids are the most excited to get new additions to their wardrobes.
Festive Shopping for Kids!
Are you wondering where to shop for your little ones? Worry no more; we are here to help you!
Kids' shopping needs a lot of time and patience as you need to check the quality, style, and, most importantly, comfort while shopping for your little one.
These being the reasons, we suggest you shop online from designer brands like Fayon Kids for genuine and branded products and to save your time from the extra running from one shop to another for the perfect attire in offline shopping.
Ethnic Wear- The Festive Choice!
Our Indian traditional wear or ethnic wear is the first and foremost choice of everyone to wear at festivals. And kids look adorable and stylish at the same time in their stunning ethnic wear.
Girls love to flaunt themselves in their favorite Lehengas, Anarkalis, Shararas, etc. And boys get all dressed up, looking most handsome in their Waistcoat sets, Dhoti kurtas, Nehru jackets, etc.
In this blog, we have made a guide about four ways to style the classy ethnic
Nehru jacket for boys
. Read this blog till the end to learn about the right combinations and styles to style your little boy with a Nehru jacket.
A guide to style the classic Nehru jacket in 4 ways
Style 1: Styling a Printed Nehru jacket
Take a printed Nehru jacket in white or off-white color and combine it with white salwar pants and a solid-colored kurta such as red or yellow, according to your taste.
This combination will give your baby boy a simple, elegant, and comfortable look. Pair it up with printed mojdis, and you are good to go. You can also add a printed matching pocket square for a more stylish look.
Style 2: Styling an Embroidered Nehru jacket
Pair a thread-embroidered baby Nehru jacket with a solid kurta and either salwar or dhoti pants. We suggest you pick a blue, light blue, white, or fawn-colored Nehru jacket for your baby boy.
You can style it with white salwar pants and a kurta for a slim-fit look, or you can style it with white kurta and dhoti pants for a little volume in the legs. Either way, your little boy will get a stylish and rich look, as both styles are attractive and charismatic.
Pair it with an embroidered mojdi matching to the Nehru jacket for a complete look.
Style 3: Styling a Chanderi Nehru jacket
For a smart and stylish look, pair an orange chanderi Nehru jacket with pearl embroidery with a white cowl-styled kurta and churidar.
This combination is super fashionable and will give your champ a royal look. You can also add a white pocket square for a more graceful look.
Pair it with a perfect pair of footwear such as loafers or mojdis for a complete look.
Style 4: Styling an Organza Nehru jacket
Organza is the new hype in the fashion industry. It is lightweight, breathable, and has a sheer appearance.
It is the best pick for kids to keep them comfortable and stylish at the same time. Also, organza prints are leveling up the fashion game and are the most popular in the present time.
Take a yellow organza-printed Nehru jacket with a lacework finish and pair it with white pants and a white & yellow shaded kurta.
This style will give your little champ a sleek and fashionable look. Pair it with printed mojdis. And your prince is ready to slay in the outfit.
Conclusion
Nehru jackets have been in fashion for a long time. It is one of the most favorite ethnic wear for boys to wear at wedding functions, events, and festivals. It adds glamour to a simple attire with its style, design, and charm when combined correctly with other outfits.
These were some of the best ways to style a classy ethnic Nehru Jacket for boys. Follow this guide to style your prince with a Nehru jacket and give him a fashionable and royal look this festive season.
You can also shop for stylish and designer Nehru jackets for baby boys and Nehru jacket sets at Fayonkids.com. You can also customize the jackets for your little boy according to your requirement and taste. That was all about ways to style a Nehru jacket.
We hope we have helped you with what you were looking for here.
Be Festive Ready! Keep shopping!