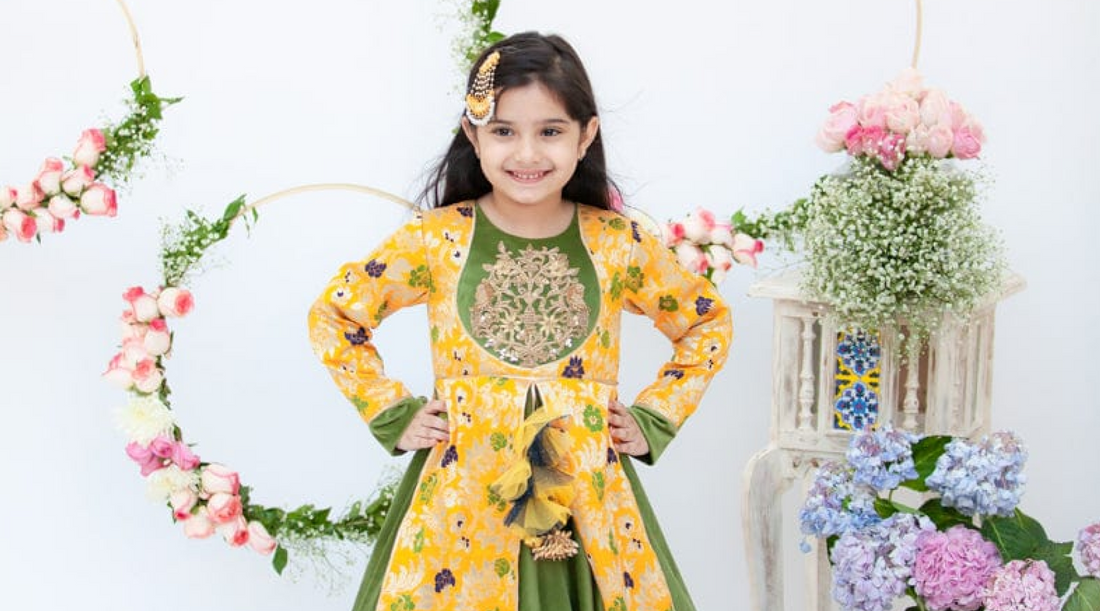 5 Festive Anarkali Suit for Kids that Need Your Instant Attention
Anarkali Suit is a frock-style long top with a slim fit bottom. It can vary in length as well as embroidery.

Its name came from Anarkali, who was a renowned Mughal Empire courtesan. Anarkali Suit first became famous during the Mughal ancient times. Women of the Mughal era wore it because of its lavish fabric clothing to enrich their beauty. Anarkali suit was also considered an attire of royalty.

Then it got the fame again when it was flaunted on the silver screen by the beauties and stars of Indian cinema in the 1970s & 80s.

Let us provide you with an instance. In the movie Mughal-e-Azam 'Madhubala, an Indian actress'; wore the Anarkali suit and made it the trend. She was a goddess and sensation of that era, loved by millions of fans who followed her.

Anarkali suit has never been out of trend despite being introduced in the Mughal era as it is considered a symbol of richness and history.

Even after years, it is still gaining enormous popularity. And it is still loved by people as it gives an elegant and royal look.

Anarkali suit is a classic form of ethnic wear in India that does justice to every woman of every generation.

Here is the thing: adults know what they want and can choose for themselves based on the latest fashion and trends whereas, on the other hand, kids depend on their parents for the same as they have no idea about it. But sometimes, parents struggle to find the right outfit for their little ones, especially during the festive seasons. So, worry no more as we are here to save your time.

We will help you find the best baby Anarkali dresses for your little ones.

In this blog, we will mention '5 Festive Anarkali Suits for Kids' and provide links to buy them if you are interested.



5 Festive Anarkali suits for kids:
It is a beautiful printed full-length Anarkali dress for kids with a frill dupatta. The flare of this Anarkali is on point and comes with a glitter belt that adds more charm to the look.

Pair it with this cute hair clip and printed jutti to complete the look. It is a lovely outfit for your princess to wear to any festival/function.
Grab this lovely kids Anarkali dress for your little princess. As the name suggests, it is a gota net frill embroidered Anarkali with cotton lining that makes it comfortable to wear. It has full-body embroidery and sleeves giving it a stunning look. It has given a finishing with pearls and a green net frill.

Pair it with this shimmer hairclip and glitter pink jutti for a complete look.
Your little girl is going to love this gota Anarkali suit. It is made of silk fabric with ruffles at the end of the sleeves and tassels attached at the waist. It will be one of her favourites from her wardrobe as it is fully flared with gota work and comes with a 3-layer organza dupatta.

Pair it with this cute shimmer knotted band and green gota jutti to get the desired look. And your girl is ready to flaunt it.
We have this beautiful crape Anarkali dress for girls with stone work embroidery. It is floor-length and flared Anarkali. And an organza dupatta is attached on one side.

Also, there is a stone belt work and tassels attached to it. Add this to your little girl's wardrobe to let her have a stunning outfit and feel like a Disney princess while wearing it.

Pair it with this pretty hair clip, velvet bangles, and shimmer pink jutti to complete the look.
Grab this stunning hand-painted floral print Anarkali for kids. Give your princess a royal look with this elegant attire. It is a pastel multi-coloured hand-painted off-white Anarkali that comes with a net dupatta with a floral printed border.

It also has a detachable printed belt with an attached tassel making it more appealing. Accessorize it with these cute Kundan bangles and this hairband.

Also, pair it with these adorable jutti. Finally, add the finishing touch with this chanderi potli.
Conclusion
These were the 5 Festive Anarkali Suits for Kids that need your instant attention. We have even managed to help you style your kid for the complete look by suggesting the accessories for the respective Anarkalis.
Also, we have mentioned links to the accessories to make it easier for you to get them directly through the link if you are interested in buying them. We hope we have helped you with what you were looking for here.

Be Festive Ready! Keep Shopping!