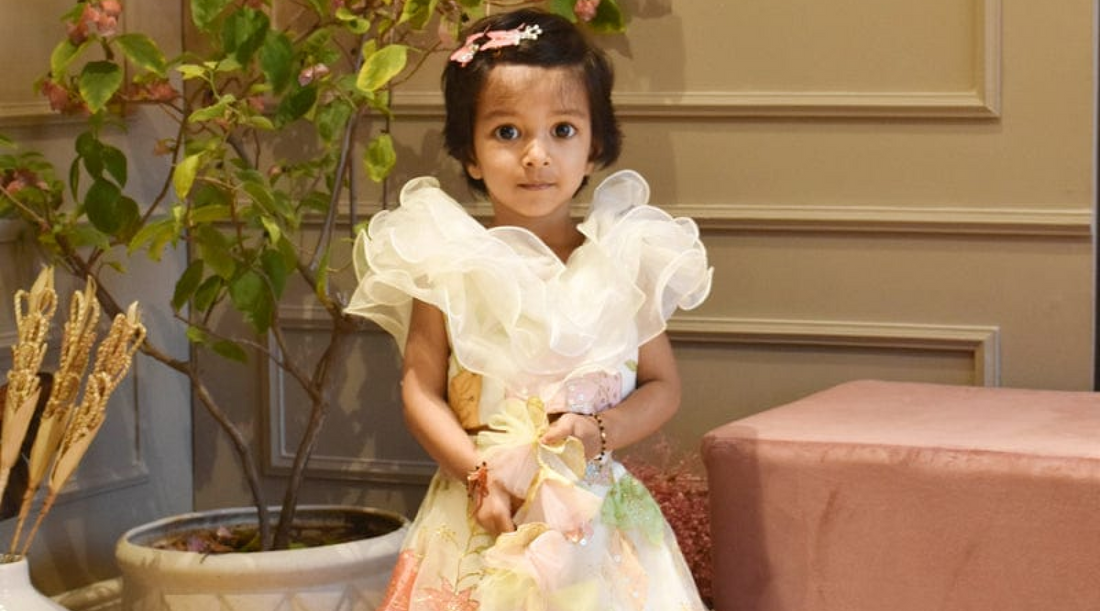 5 Ultimate Lehenga Choli Ideas for Kids for This Festive Season
The Good Vibes in Festive Time!
Here comes the most awaited and loved time of the year, the Festive time!

It's time to light up the homes with good vibes and colorful lights, have fun and celebrate the festive season with the whole family and friends.

Everyone loves these festive times because you spend little quality time with your family and friends. Kids are the happiest during festivals as they get to spend time with all their loved ones.

Also, Kids are always excited to dress up in new ethnic wear at festive times. And girls love getting ready in traditional wear, especially in Lehenga choli.


Why do girls love Lehenga choli?
The lehenga choli is an exquisite attire in girls' ethnic wear. Lehengas are heavily decorated with various traditional embroidery and patterns by designers.
A girl feels the prettiest in a Lehenga choli. The different designs and embroidery give the Lehenga choli a majestic look which is why girls love to wear it at grand events, wedding functions, and festivals.
Are you looking for a Lehenga choli for your little princess to be festive-ready this festive season? You have just come to the right place.
In this blog, we have made a list of five ultimate ideas for
Lehenga choli for kids
for this festive season. Read this blog till the end and get ideas to style your princess with a Lehenga choli and rock the festive look.
Festive Lehenga choli ideas for kids
Styling Idea 1:
Pair a black Lehenga with a golden choli.
Get an organza Lehenga for girls because organza fabric gives a stylish and sheer finish look, and match it up with a golden embroidered crop top or choli.
This combination of Lehenga choli is simple and will effortlessly give your little girl a fashionable look.
You can also add a black ruffled dupatta for a more stylish look. And style with matching accessories and footwear for a complete look.
Styling Idea 2:
For a simple, elegant, and contemporary look, grab a printed organza Lehenga in a dark color like black, green, or maroon and pair it with a shirt-styled white or off-white crop top.
For example, pair a dark green floral organza-printed lehenga with an off-white cotton silk tie-knotted crop top with bell sleeves. This combination will give your princess a very stylish and rich look.
Styling Idea 3:
An all-black look will never disappoint you if you know the right combination. Grab a black sequin full flared Lehenga with golden contrast and pair it with a black one-shoulder crop top.
This combination will give your baby girl a modern and fashionable look. You can add a sequin net dupatta to this look for more grace.
Let your princess slay in this kids' Lehenga choli this festive time.
Styling Idea 4:
What do you think about the idea of a completely traditional look? Let us guide you.
To be specific, take a white printed Lehenga with a pink flower print and pair it with a yellow sleeveless dupion silk choli with golden lace finishing at the neck and waist.
And then, take a pink printed leheriya with mirror & golden lace embroidery at the sides, and pin one of the corners of the dupatta to the Lehenga at the back and drape it in such a way as to get a saree look.
This style will give your princess a perfect traditional look to slay the festive look. Accessorize it with matching bangles, jutti, and a cute little potli for a complete look.
Styling Idea 5:
Pairing a silk Lehenga choli with a jacket: Get an aqua blue or light blue silk Lehenga choli with a golden lace finish and pair it with a long floor-length pink floral printed jacket with strings and attached tassels to tie at the front.
This combination will give your baby girl a modern and trendy look.
Style it with Kundan bangles and kids' Kundan choker. You can also add a mang tika for a rich and royal look.
Conclusion
Lehenga choli has been the forever favorite ethnic wear for girls for ages. Girls' love for Lehenga choli is never-ending. Every girl loves to flaunt herself in a beautiful Lehenga.
These were some stylish Lehenga choli ideas for kids to style and give your little princess a fashionable look this festive season.
You can also shop for designer and latest kids' Lehenga online for your baby girl at Fayonkids.com. You can customize the Lehenga choli for your little girl according to your requirement and taste.
Also, you can browse the accessories section for some designer and stylish accessories to style your princess for a perfect festive look. That was all about the Festive Lehenga choli ideas.
We hope we have helped you with what you were looking for here.
Stay Stylish! Keep Shopping!