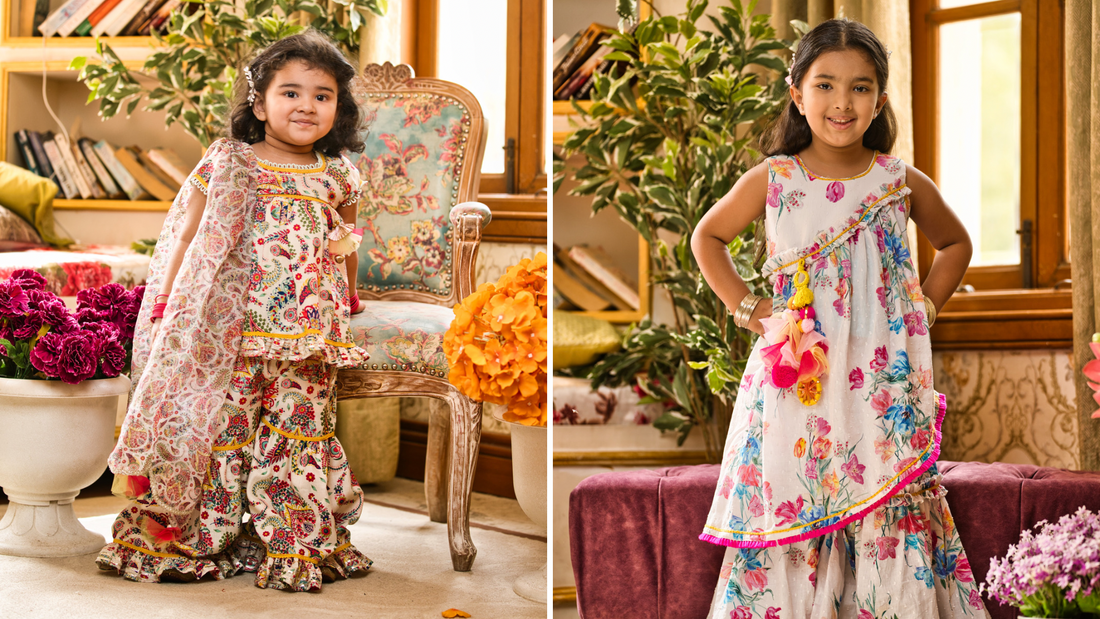 Baby Girls Sharara Dress Designs For Party/Wedding
Oh, the Sharara and Gharara adventure! They have long dominated our traditional fashion landscape, but guess what? These wide-legged beauties are making a big comeback and doing it in style! Shararas and Ghararas, with their ideal blend of edgy tradition and modern flair, have become an absolute must-have in any fashionista's collection. These trousers, with their extraordinary flair and little kurtis, make everyone seem stunning while emphasising their beautiful silhouettes. What's more, the best part? They effortlessly flatter every body shape!
But hey, it's not just the us grown ups who get to enjoy themselves with this stylish clothing! Children are also hopping on the bandwagon and are having a blast. These young fashionistas are experts at wearing a sharara suit. They raise the bar on sweetness in the game with their endearing twirls and giggles. Let's not overlook the little fashionistas who are stealing the show, sharing their contagious happiness, and looking utterly lovely in their sharara suits. Regardless of age, it's a fashion celebration for everyone!
We also understand how much you like dressing up your children for happy events and special occasions like weddings and celebrations because you want them to appear their best. They also deserve the best in order to look their best. Only on Fayon Kids can you find the best choice of Sharara suits for 2023. Sharara dresses for baby girls are one of the many gorgeous clothing alternatives that have skyrocketed in popularity in recent years. These traditional outfits are the ideal synthesis of ease, fashion, and ethnic appeal. We'll look at several beautiful sharara dress designs in this article that are sure to make your little princess sparkle at any event, including weddings.
A flared skirt and wide-legged trousers are characteristics of the traditional sharara style. Consider wearing a dress with a gorgeously embroidered bodice to a celebration or wedding. Elegant touches include elaborate thread work, delicate floral motifs, and sparkling sequins. For a sweet, feminine look, choose delicate, pastel hues like baby pink, lavender, or mint green.
If you want your baby girl to stand out in a crowd, think about dressing her in an off-the-shoulder top and a ruffled sharara dress. The sharara's ruffled layers provide volume and movement and produce a whimsical and humorous look. A contrasting off-shoulder top with lace or other embellishments gives the ensemble a modern twist. This outfit is ideal for a fun party or an outdoor wedding reception.
Pick a peplum-style top and flared trousers to update traditional sharara dresses in a stylish and contemporary way. The flowing sharara trousers keep the look ethnic while the peplum top adds a hint of sophistication. To get a regal appearance, choose deep, jewel-toned hues like royal blue, emerald green, or deep purple. Beadwork, sequins, or mirror work are examples of embellishments that can improve the overall appeal.
Nothing is cuter than a baby girl wearing a sharara dress with a vivid floral motif. When it comes to children's fashion, floral motifs are classic and always popular. Look for sharara gowns with huge, scattered flowers or all-over floral patterns. To let the print take centre stage, wear it with a straightforward, solid-coloured shirt. To finish the outfit, add a statement bow or a complementary hair item.
Your child would look absolutely adorable in a beautifully adorned sharara dress with a sheer dupatta. The costume might sparkle with elaborate embroidery, detailed mirror work, or shimmering sequins. The soft dupatta gives the outfit a dash of beauty and refinement. For a strong aesthetic impact, choose a dupatta in a contrasting colour.
These tiny fashionistas are able to express their individual personalities through accessories, which are like sprinkles on a cupcake that is already tasty. There are countless alternatives when it comes to accessorising, and youngsters are masters at highlighting even the smallest details. So let's check out the world of accessories appropriate for these young fashion icons.Without a great pair of shoes, no ensemble is complete! Little girls wearing sharara dresses should wear glittering sandals or adorable ballet flats. Allowing their teeny toes to dance and twinkle with each step can add extra charm to their outfit.
It's time to add some lovely sparkle to those tiny wrists and ears. They can enhance their appearance with small bracelets or bangles, as well as tiny studs or delicate hoop earrings. Keep in mind that it's all about the magic of minimalism!
Isn't it true that every tiny princess deserves a crown? Of course, not the hefty ones, but a cute and whimsical headband or hair item will suffice. It will complete their costume and make them feel like a queen if it is embellished with flowers, bows, or perhaps a miniature tiara.
Who said sunglasses were only for adults? Kids can wear them, and they lend a touch of cool to any outfit. Choose adorable, bright glasses that will safeguard their eyes while also making them look very trendy. Watch out, world: these little fashion icons are about to take the stage!
Not to mention a gorgeous bag to carry all of their tiny treasures. In addition to being a useful item, a cute, compact bag or a tiny backpack will also give a dash of cuteness to their appearance. For the ultimate adventure, they can stow away their small secrets, snacks, or perhaps a favourite toy.
Finally, let their creativity soar as they combine and match their favourite accessories to give their sharara dress combo that additional splash of whimsy and flair.
Sharara dresses provide a special fusion of traditional elegance and modern design when it comes to dressing up your baby girl for a celebration or wedding. All of these styles offer a variety of possibilities to accommodate diverse preferences and circumstances. Explore Fayon Kids to find the ideal sharara dress for your young princess. Whether you favour traditional embroidery or the current ruffled pattern, we have got you covered. Your baby girl is guaranteed to steal the show and create priceless memories on whatever occasion she attends with these gorgeous designs.