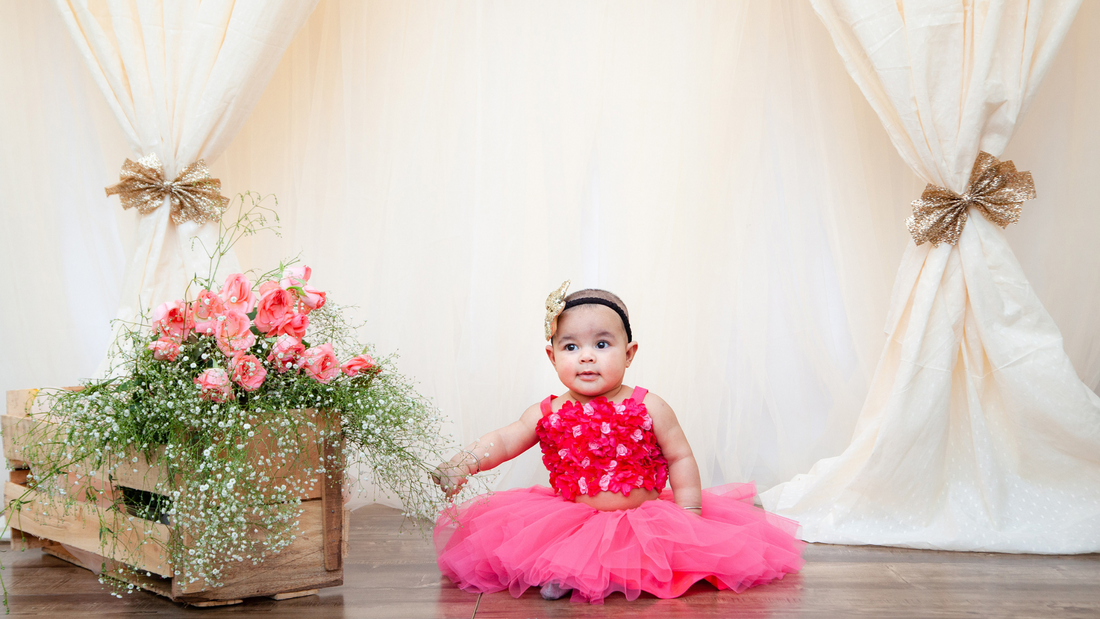 Beautiful First Birthday Party Dress for Baby Girls
Our darling baby girl's first birthday is a huge occasion that captures a year full of unforgettable memories, significant occasions, and unwavering love. As parents, we want to recognize this big milestone in a way that is equally stunning and exceptional as our little princess. It is a day of tremendous value, signifying not only the passage of time but also our small bundle of joy's amazing development and metamorphosis. Choosing the ideal party dress turns into an emotional adventure as we try to capture the love and awe we have for our child amongst the laughter, tears, and tremendous delight. In this blog, we set out on a mission to find the most beautiful and endearing birthday clothes for girls that would not only make them look pretty but also convey the depth of our love and pride on this significant day.
Princess-Inspired Dresses 
A first birthday is a chance for many parents to create a fairytale-like experience for their children. Princess-inspired gowns are a popular choice, adding a sense of enchantment and magic as first birthday frocks for baby girls. These outfits frequently include tulle skirts, delicate lace accents, and chic satin bows. Choosing pastel colours like pink, lavender, or mint can help the princess motif stand out. Your young girl will feel like a genuine princess on her big day thanks to the shine added by embellishments like sequins or rhinestones.
Floral Delights
Nothing oozes sweetness and charm like a flowery first birthday frock for baby girls. Floral prints never go out of style and may give your baby girl's first birthday outfit a hint of innocence. Dresses with delicate floral appliques, whether in pastel or vivid colours, have a whimsical and lovely appearance. To convey the spirit of nature's beauty, think of gowns with floral appliques, embroidered blossoms, or printed patterns. The outfit may be finished off with a matching headband or a flowery crown, which will brighten up the party.
Classic and Elegant 
Classic and exquisite gowns are the ideal choice if you want your baby girl to have a more formal and traditional birthday celebration. A beautiful and refined look may be achieved with classic styles like A-line dresses with delicate lace or satin overlays. For a classic look, choose neutral hues like ivory, white, or champagne. Oftentimes, these gowns include elaborate decorations like hand-stitched embroidery, pearl accents, or satin ribbons. Your daughter will exude elegance and beauty, looking like a picture-perfect doll.
Tutus and Tulle
Tutus and tulle dresses are popular if you want to seem fun and whimsical. Layers of plush, fluffy tulle add volume and give these garments a fairy-like look. Tutu dresses come in a range of colours, so you may pick one that goes with the theme of your celebration. A lovely final touch is to wear the dress with a matching headband or satin ribbon. Tutu dresses provide your young one an item of pretty outfit as well as freedom of mobility so she may fully enjoy her special day.
Personalized and Custom-made
For your baby girl's first birthday, if you're searching for something special and one-of-a-kind, think about getting her a customized or custom-made outfit. These gowns may be customized to meet your individual tastes by using the colours, materials, and even personalized initials of your choice. Unique outfits that express your baby girl's uniqueness and make her first birthday genuinely special are made by several gifted artisans and designers. A flawless fit and outstanding quality are typically ensured by the meticulous attention to detail used in the creation of personalized garments.
Your baby girl's first birthday celebration gains even more thrill and magic by selecting the ideal party theme. Party themes may help establish the mood and create an ambience that guests will remember for the important day, from magical tea parties to whimsical garden expeditions. Explore many party themes to let your creativity run wild and make your baby girl's first birthday absolutely unique, whether you want to transport your guests to a fairy tale realm or create a vivid carnival spectacular.
Here are a few party themes that can complement the beautiful first birthday party dresses for baby girls
Princess Tea Party: Transform the party space into a royal tea room for a princess tea party by adding delicate tea settings, pastel decorations, and fairy lights. While your daughter is wearing her princess-inspired outfit, encourage little guests to dress up as princes and princesses.
Enchanted Garden: By using floral accents, fairy lights, and lush vegetation, you can create the look of a whimsical garden. Put a floral outfit on your baby girl to complement the theme, and decorate the space with butterflies and vibrant flowers.
Fairy Tale Adventure: Choosing a fairy tale theme can help bring storybooks to life. Decorate the area with recognizable images and figures from well-known stories, and invite your guests to dress as their preferred book characters. Your little girl can wear an outfit that was modelled by her favourite princess or figure from a fairy tale.
Vintage Tea Party: Organize a tea party with a vintage theme to transport your guests to another time. Use vintage teacups, lace tablecloths, and old-fashioned decorations to adorn the space. Put your little girl in a timeless, refined outfit to go with the retro ambience.
Carnival Extravaganza: With vivid decorations, balloons, and carnival-themed games and activities, create a lively carnival environment. A fun tutu or tulle outfit for your baby girl is ideal for whirling about in while taking in the festivities.
Under the Sea: Take part in an underwater adventure in the ocean. Decorate the space with marine life, blue colours, and seashells. Put on a mermaid-inspired outfit for your young girl with glistening sequins and iridescent accents.
Teddy Bear Picnic: Invite kids and their parents to a cosy picnic gathering outside and ask them to bring their favourite teddies. Prepare a teddy bear-themed party with décor inspired by picnic blankets and tasty food. Your baby girl can wear a cute, cosy outfit from Fayon Kids that is ideal for a picnic.
Styling tips:
Select accessories that enhance the outfit without being too much.

Choose comfortable shoes that go with the outfit.

For a coordinated effect, match the attire to the party's theme.

Think about the weather and dress appropriately.

Keep hairstyles classy and understated.

For the comfort of your baby, use soft, breathable materials.

Give the dress's ability to move freely first priority.

Complement the party decorations' colour scheme.

Put your own monogram or embroidery on the garment.

Embrace your baby girl's distinctive flair and trust your instincts.


It's thrilling and fun to choose the first birthday clothes for girls. On Fayon Kids, the choices are endless, whether you decide on a princess-inspired gown, a flowery pleasure, a timeless and exquisite ensemble, a tutu or a tulle creation. Keep your child's comfort in mind and make sure her attire allows her to move freely and take part in the celebration. Your baby girl will shine on her big day in the ideal attire, making priceless memories that will be loved for years to come.