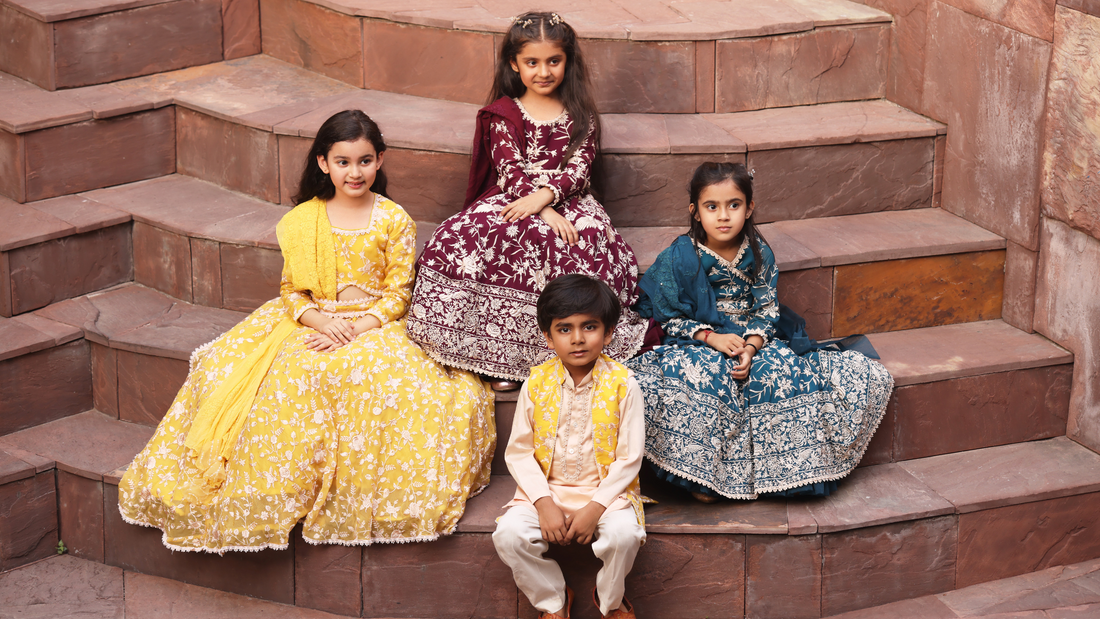 Beautiful Kids Dress For 2023 Diwali Celebration
The world prepares for one of the most vivid and anticipated holidays of the year, Diwali, amid the crisp fall air and the delicate whispering of leaves. Diwali, also known as the "Festival of Lights," is a time when houses are illuminated by the warmth of countless lamps, the air is thick with the aroma of traditional sweets, and hearts are filled with the feeling of togetherness. As the calendar page turns to 2023, Diwali invites us to celebrate not only the triumph of light over darkness, but also the joyful rituals that bring family, friends, and communities together.
Diwali has a distinct position in the tapestry of Indian festivals. The festival's name is derived from the Sanskrit word "Deepavali," which means "row of lights," and its origins are steeped in different mythological tales and historical events that represent the triumph of justice over evil. The mythology of Goddess Lakshmi, the divinity of riches and prosperity, showering homes with her blessings and the story of Lord Rama's return to Ayodhya after conquering the evil king Ravana give a timeless charm to the festival's core.
Diwali crosses religious barriers, acting as a unifying thread that connects India's many cultures and tribes. It has a significant cultural resonance aside from its spiritual meaning. This is a time to embellish our lives with fresh beginnings, express appreciation for the benefits placed upon us, and enjoy the joys of celebratory feasts and friendship.
The art of selecting the perfect clothes for our children takes centre stage in the midst of this whirlwind of customs and festivities. As Diwali approaches, parents, aunts, uncles, and grandparents embark on an exciting search to discover the most exquisite and stunning clothes that reflect not only the spirit of the festival but also the unique personalities of their children. So, as the luminous festival of Diwali approaches, let us unveil the radiant and trendy kids' outfits that will add an extra dosage of sparkle to this celebration, making it an unforgettable chapter in the book of cherished family memories.
Traditional Elegance with a Modern Twist
Diwali is a festival rich in history, and there's no better way to honour these traditions than with classic ethnic Diwali dress with a modern twist. Consider your children in regal lehengas for Diwali for the girls and elegant kurta-pyjama ensembles for the guys. Vibrant colours such as deep reds, royal blues, and rich maroons are usually popular during the holiday season. Add a modern touch with fashionable cuts, sequined embellishments, and one-of-a-kind curtains that provide a new spin on classic silhouettes.
Ethnic Fusion Fiesta
For parents who wish to mix heritage and modern fashion, ethnic fusion apparel provides the best of both worlds. Consider your children wearing Indo-western clothing that smoothly blends traditional and modern aspects. For girls, a lehenga for Diwali coupled with a stylish crop top, and for boys, a kurta teamed with slim-fit trousers—these ensembles strike the perfect mix between traditional roots and fashionable trends.
Blossoming Floral Delights
Diwali is celebrated at a time when nature appears to be partaking in the fun. Floral motifs in your children's clothing can beautifully express this charm. Floral-printed gowns for ladies and embroidered floral motifs on shirts for guys add a natural touch to their Diwali attire. To create an exquisite visual harmony that reflects the floral arrangements adorning homes throughout the festival, choose gentle pastels or brilliant jewel tones.
Glimmering Metallic Magic
Diwali is all about lights and brightness, and metallic colours exemplify this. Diwali dresses with gold, silver, and bronze tones can add a bit of glitz that fits the joyful mood. Girls can look stunning in metallic frocks embellished with sequins and glitter, while boys can look dashing in metallic waistcoats combined with classic pants. These clothes are not only eye-catching, but they also encapsulate the essence of Diwali's radiance.
Cultural Diversity Celebrated
Diwali is celebrated differently in different parts of India due to the country's numerous cultures. Explore regional ensembles that symbolise distinct cultures to embrace this uniqueness. Dressing your children in regional clothes, from dhoti-kurta combinations for boys in the North to pattu pavada for girls in the South, may be an educational and enjoyable experience. It's a wonderful way to commemorate Diwali's message of unity within diversity.
Eco-Friendly Ethos
In an increasingly environmentally conscious society, why not make Diwali more eco-friendly by wearing sustainable clothing? When choosing clothing for your children, look for organic fibres, handloom weaves, and natural colours. These apparel options not only encourage sustainability but also the traditional craftsmanship that marks Diwali.
As Diwali approaches, the joy of dressing up your children for the festival becomes an essential part of the celebration. Here's some practical advice on how to dress up your kids for a Diwali party that will make them shine brighter than the glittering lights, from picking the proper Diwali outfit to adding the perfect accessories.
Comfort:

While elaborate patterns and flourishes are appealing, keep in mind that comfort comes first. Choose textiles that are airy and allow for effortless mobility. Festive celebrations can be lengthy, so make sure your children are comfortable in their chosen Diwali outfits.
Selecting the Outfit:

During Diwali parties,

traditional Diwali dress

frequently steals the spotlight. Girls can look attractive in vivid lehengas or anarkalis decorated with beautiful embroidery or sequins. Boys might wear the traditional kurta-pyjama appearance or experiment with trendy dhoti-kurta ensembles.
Fusion Flair:

Indo-western fusion clothing

is very popular. Consider wearing a traditional kurta with pants or a skirt for a modern twist. This approach not only offers a distinct charm but also allows for greater freedom in dancing and performing.
Colors and Fabrics:

Diwali is a festival of vibrant colours and luxurious materials. Deep reds, royal blues, and warm golds are classic colours. Experiment with luxurious and festive textiles such as silk, velvet, and brocade.
Accessories:

Accessories can transform a plain ensemble into a spectacular piece. Elegant jhumkas (traditional earrings), bangles, and a bindi can be worn by girls. Boys' outfits can be completed with a fashionable stole or a matching safa (turban).
Footwear:

Complement the look with comfy yet fashionable footwear. Boys' mojris and girls' glittering flats are popular choices that strike the perfect balance between tradition and comfort.
Hairstyles:

A well-coordinated hairstyle can improve the overall appearance. Girls can try braids, curls, or perfectly wrapped buns embellished with flowers or hairpins. Boys' hairstyles might be elegant side-parted or classic well-gelled.
As Diwali arrives in 2023, it's time to consider more than just the traditional rituals and sweets. Dressing your children in
lovely and charming Diwali outfits
not only adds to the festive spirit but also generates lasting memories. Fayon Kids features traditional ensembles, ethnic fusion apparel, flowery motifs, metallic colours, regional costumes and eco-friendly selections. Allow your children's attire to be a tribute to the festival's fusion of tradition, fashion, and joy this Diwali. Check out
Fayon Kids
today!