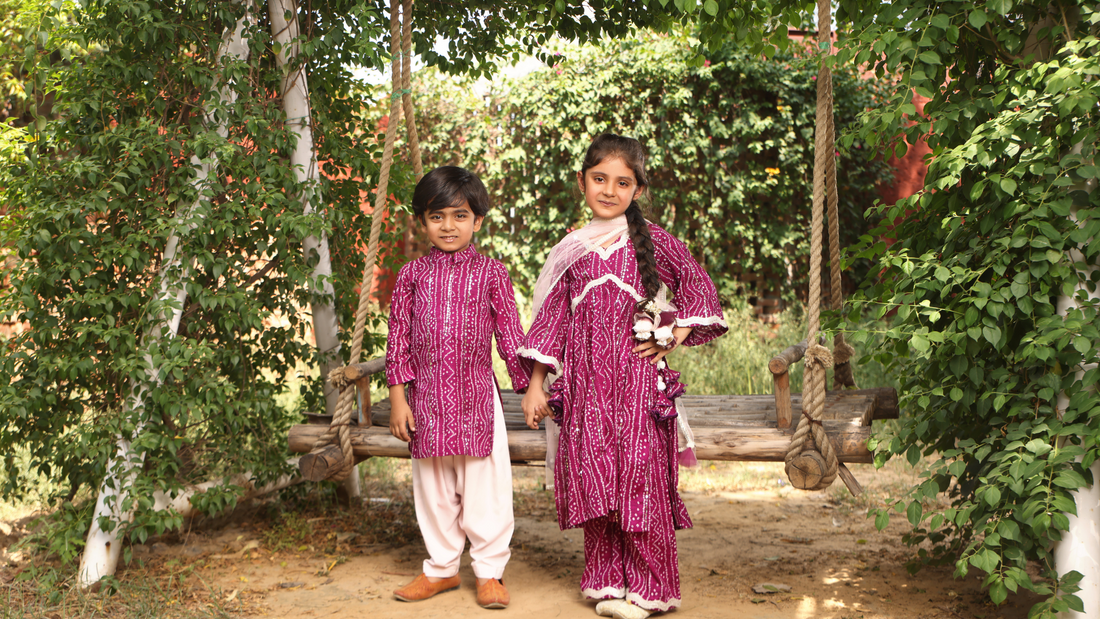 Choose Trending Rakhi Dress For Kids in 2023
Raksha Bandhan, the holiday that honours the lovely tie between brothers and sisters, is almost approaching. It's a moment for siblings to express their love and admiration for one another. Choosing the proper clothes for your children, in addition to the sacred thread of Rakhi, brings an extra touch of joy and excitement to the festivities. In this blog, we'll look at the Rakhi special dresses for kids in 2023 that combine traditional charm with a modern flair. Prepare to dress your children in gorgeous and elegant attire for this significant occasion! 
Ethnic Elegance:

Traditional dress for Raksha Bandhan

takes the stage on this festival. Dress your children in ethnic clothes that reflect our rich cultural heritage. In 2023, you have a variety of alternatives, including lehengas, kurta-pajamas, and dhoti-kurtas.
a) Lehengas: In vivid lehengas, little girls will look like queens. Choose vibrant colours like royal blue, scorching pink, or sunshine yellow. Embellishments such as sequins, mirror work, and zari embroidery lend a glamorous touch. Remember to accessorise with vibrant bangles and traditional jhumkas!
b) Kurta-Pajamas: Dress your little boys with kurta-pajamas that are both comfy and elegant. Experiment with various fabrics and colours to discover the ideal match. Popular embroidered motifs include peacocks and elephants. Add a matching Nehru jacket for a touch of class.
c) Dhoti-Kurtas: Dhoti-kurtas are making a reappearance in 2023, bringing a modern twist to traditional apparel. Choose bold colours such as orange, teal, or maroon. You can even choose patterned dhotis for a one-of-a-kind and fashionable style. Finish the look with a fashionable waistcoat or a traditional stole.
Fusion Fashion:

Fusion clothes are ideal for those who want to combine

traditional dress for Raksha Bandhan

with modern trends. These clothes mix classic features with modern silhouettes, giving your children a fashionable appeal.
a) Indo-Western Rakhi Special Dresses: In 2023, Indo-Western dresses are a popular choice for Rakhi. You can choose a fashionable Anarkali dress with a Western flair, with a mix of fabrics, designs, and cuts. Beads, stones, and lace are examples of embellishments that add a touch of glam. Accessorise with a floral hair clip or a bold headband.
b) Saree Gowns: Saree gowns allow little girls to embrace their inner diva. These clothes mix the sophistication of a saree with the ease of a gown. Choose lightweight materials such as georgette or chiffon in pastel colours or floral designs. Embroidery or lace detailing gives a graceful touch.
While style is vital, comfort should never be overlooked, particularly when it comes to children. Choose clothing that allows them to move freely and enjoy the celebrations without feeling restricted.
a) Cotton Kurtas: Cotton kurtas are a simple yet attractive option. These airy garments are ideal for the summer season and will keep your children comfortable throughout the day. To add a whimsical touch, choose bright colours and amusing prints.
b) Palazzo Sets: Palazzo sets are a fashionable and comfy alternative for females. The wide-leg pants are teamed with a short kurti for a sleek and fuss-free look. For the best comfort, choose soft fabrics such as cotton or linen.
Raksha Bandhan is a happy celebration filled with love, laughter, and fond memories. Dressing your children in fashionable attire adds to the festive spirit and makes the celebrations even more memorable. Whether you prefer traditional ethnic attire, fusion design, or comfy yet cute outfits, Fayon Kids' Rakhi dress collection has you covered so your children feel at ease and confident. 
Raksha Bandhan's Origin & Why We Should Teach Our Children the Meaning of Our Festivals:
In addition to celebrating holidays, it is our duty as parents to educate our kids about their history and meaning. Raksha Bandhan is one such celebration that has a significant cultural and historical significance. It is a beautiful celebration of sibling love, and we can make sure that our kids understand and appreciate its genuine meaning by teaching them about its interesting history and symbolism. Let's look at why it's crucial for parents to teach their kids about the history of Raksha Bandhan and go beyond merely celebrating the holiday.
The mythology and folklore of ancient India are the origins of Raksha Bandhan. The epic Mahabharata's Lord Krishna and Draupadi are the subjects of one well-known tale. According to legend, Draupadi tore a piece of her saree to bandage Krishna's damaged finger after he suffered an injury during a battle. Krishna was moved by her act and vowed to look out for Draupadi. This tale emphasises the significance of Raksha Bandhan as a love and safety link.
Raksha Bandhan has historical significance in addition to mythological significance. Sacred threads were once tied around the wrists of soldiers and warriors by queens and other noblewomen as a sign of their prayers for their safety on the battlefield. This custom symbolised a commitment to one another and assistance during trying times.
The "Rakhi," a beautiful thread or bracelet that sisters tie around their brothers' wrists, is the main feature of Raksha Bandhan. The Rakhi represents the sister's devotion to her brother and her prayers for his safety and well-being. It also symbolises the brother's dedication to protecting and helping his sister.
We provide our kids with a greater understanding of the celebration by educating them about its roots and practises. They get knowledge about the love, fidelity, and protective principles that Raksha Bandhan stands for. Children are better able to connect with their cultural customs and heritage when they are aware of the historical and mythological significance.
Additionally, informing kids about the history of Raksha Bandhan encourages their intellectual development and sense of curiosity. They obtain a wider perspective and understanding of the myths and legends that have influenced our culture. It inspires children to learn more about their ancestry and strengthens their sense of patriotic pride.
Parents may make sure that their kids genuinely understand and appreciate Raksha Bandhan by going beyond simple celebrations and teaching them about the holiday. They are capable of actively taking part in the rituals, understanding the significance of the Rakhi, and appreciating the sibling tie. It develops into a festival steeped in history and tradition rather than just a conventional exchange of presents. Let's make sure that our kids take part in the celebrations and preserve the customs with awareness and respect.

In addition to introducing our kids to the history of Raksha Bandhan, we may also get them interested in the fun world of fashion trends that go well with traditional clothes. Putting our kids in a fashionable Rakhi dress collection from Fayon Kids enhances the celebrations with an added dose of happiness and enthusiasm. There are countless alternatives, from fusion designs like Indo-Western dresses and saree gowns to ethnic elegance with colourful lehengas, kurta-pajamas, and dhoti-kurtas. We may appreciate the classic appeal while combining modern designs and materials to provide a seamless fusion of the old and the new. Happy Raksha Bandhan!