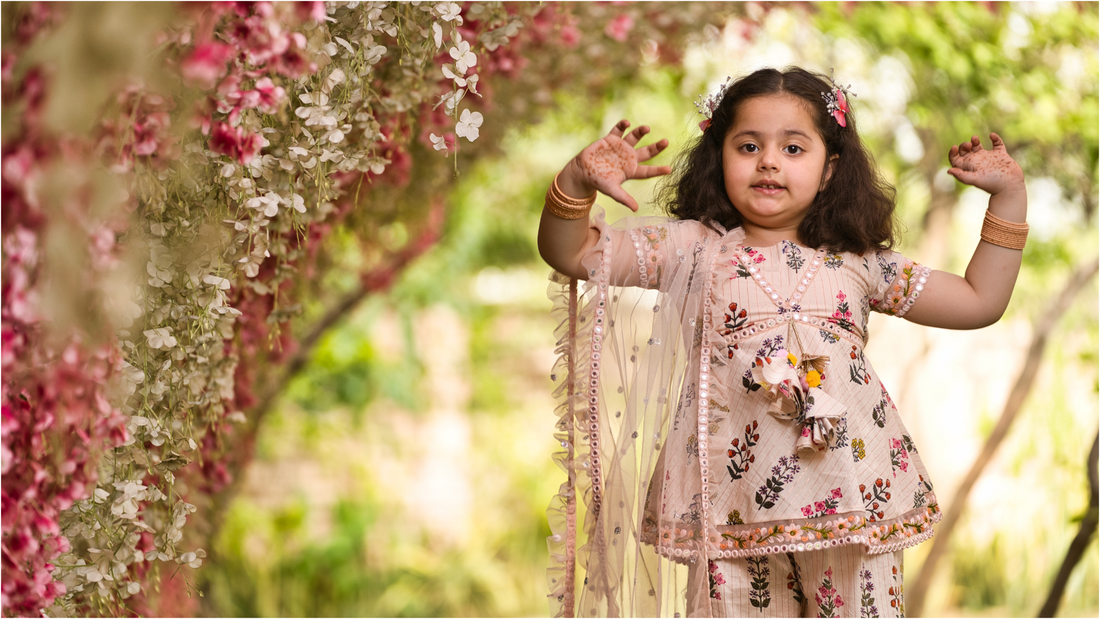 How To Choose The Best Salwar Suit For Kids in 2023
A common Indian outfit for Indian women is the salwar kameez. The garment is highly praised by ladies primarily due to its ease and adaptability. The dress is appropriate for every event and is offered in a variety of styles, designs, and colours. In a way, dressing in a salwar suit is the simplest way to look stylishly traditional without having to sacrifice comfort. The salwar kameez has long been the first choice for designers to test out their ideas and create some of the best silhouettes and designs, leading to a wide range of options for salwar suit enthusiasts worldwide.
Because of the various designs and colour choices, even young girls can look stylish and fashionable in a salwar kameez these days. With several new patterns and Indo-Western mixes, the salwar suits for kids have radically transformed in recent years. With Fayon Kids, it is true to say that even young girls can wear this traditional costume. Also, one can now purchase girls' salwar suit online. Although wearing a salwar suit is the trend that is easiest to follow, there are various considerations that must be made. Wearing this trousseau does require some thought, from colours to events. When choosing Indian clothing for a young girl, the fabric is also quite significant. This comprehensive guide will assist you in selecting the best salwar suit for kids.
Anarkali Salwar Suit
The Anarkali dress has gained enormous popularity in the salwar suit world. Due to its lengthy frock-style appearance, this specific pattern is quite well-liked. This outfit is ideal for wedding-related events. It is also appropriate for girls. Anarkali dresses are a need because they are manageable and hassle-free to carry. They are ideal when you are choosing salwar kameez for 12 year old.
Straight Cut Salwar Suit
Straight cut salwar kameez is the most popular and comfortable style. This salwar suit style is widely accessible and has always been fashionable. It is true to say that despite being quite popular, this design is one of the most well-known. You don't need to do much thinking when choosing this salwar suit pattern because it is appropriate for all events and holidays.
Angrakha Salwar Suit
Angrakha is the name of a new fashion for girls' salwar suits. Unlike other types, the angrakha salwar suit has overlapping and needs to be fastened either to the left or right side. This salwar suit looks quite traditional yet slightly body-contoured.
Patiala Suit For Kids
Your daughter would look stunning in one of the Patiala suits for kids. To fit all events and situations, these children's salwar suits are available in a variety of designs and patterns in attractive colours and prints.
Asymmetric Salwar Suit
The asymmetrical style of the salwar suit is similar to that of high-low kurtas. Asymmetric salwar suits are quite modern and are appropriately categorised as Indo-western clothing. This salwar suit is a suitable trend for females and is ideal for cocktail parties and sangeet ceremonies. You may purchase these girls' salwar kameez online in practically all colours.
Cape Style Salwar Suit
A salwar suit with a cape style depicts an attractive appearance and is totally distinctive. This salwar suit has a unique touch thanks to the cape that is linked to the kameez. These capes are available in various styles. Depending on the dress, you can go for a long or short cape. Choosing the proper colour for capes can be a difficult decision, so, avoid using starkly contrasting tones since they risk ruining the look.
Factors To Consider When Selecting A Salwar Suit For Kids:
The holiday season is always here. Prepare to add some gorgeous hues to your young princess's clothing and be inspired by both traditional and contemporary Indian embroidery, designs, and eccentric accessories.
When purchasing an ethnic dress for your child, the fabric or material of the dress is the most crucial factor to take into account. Ensure that the fabric is as comfy as possible and sufficiently breathable. Cotton and chiffon are the greatest choices for materials. When it comes to embroidered salwar kameez outfits, net and georgette are also popular choices.
When choosing the proper colour for the salwar kameez, the occasion's time is crucial. If the function is during the day, stick to muted, light colours and tones. As opposed to this, you can choose dark tones for evening gatherings. For kids' salwar suits, there are countless colour variations available nowadays.
Although the majority of us want to follow fashion trends and select the most recent salwar kameez styles, it is important to consider comfort when choosing a girls' salwar suit. Avoid risqué cuts as they might not be appropriate for children. To add style to the clothing, instead, play around with colours and sleeve patterns.
While purchasing salwar suits, whether online or in-person, you should be careful about the accessories you choose. It's best to wear a few accessories when wearing a salwar suit with embroidery, striking patterns, or shine. If the salwar suit is straightforward and plain, try to complement it with bulky jewellery. Don't forget to pair the salwar suit with the appropriate shoes. Choose shoes that match the height and the salwar suit's design. Accessorise with cute little heels when wearing a Patiala salwar suit to complete the ensemble.
Undoubtedly, embellishments improve the appearance of a salwar kameez, but frequently, these decorative accents are scratchy and uncomfortable, particularly for children. It is preferable to choose minimal ornamentation due to their delicate skin. To avoid any bother, you can also try choosing printed dresses!
Choose according to the weather
Online shopping for all different kinds of salwar suits is simple, but avoid selecting the incorrect style. The weather should be taken into account when selecting a salwar suit. If you intend to wear it indoors where it will be chilly, you can pick from a variety of salwar suit fabrics, including polyester, satin, organza, chiffon, and silk. Cotton salwar suits are the preferable choice if you reside in a humid environment because they are more breathable and comfortable. 
Don't be afraid to experiment
Although there are countless alternatives, experimenting with various outfits, accessories, and styles can be enjoyable. You can do this whether you buy salwar suits for kids offline or online. See which combinations of salwars and other kameez styles make your princess feel like a queen. You can discover their particular style through experimenting, and it can also improve the flow of your creative juices.
Check out the newest collection of salwar suits for kids offered by Fayon Kids.