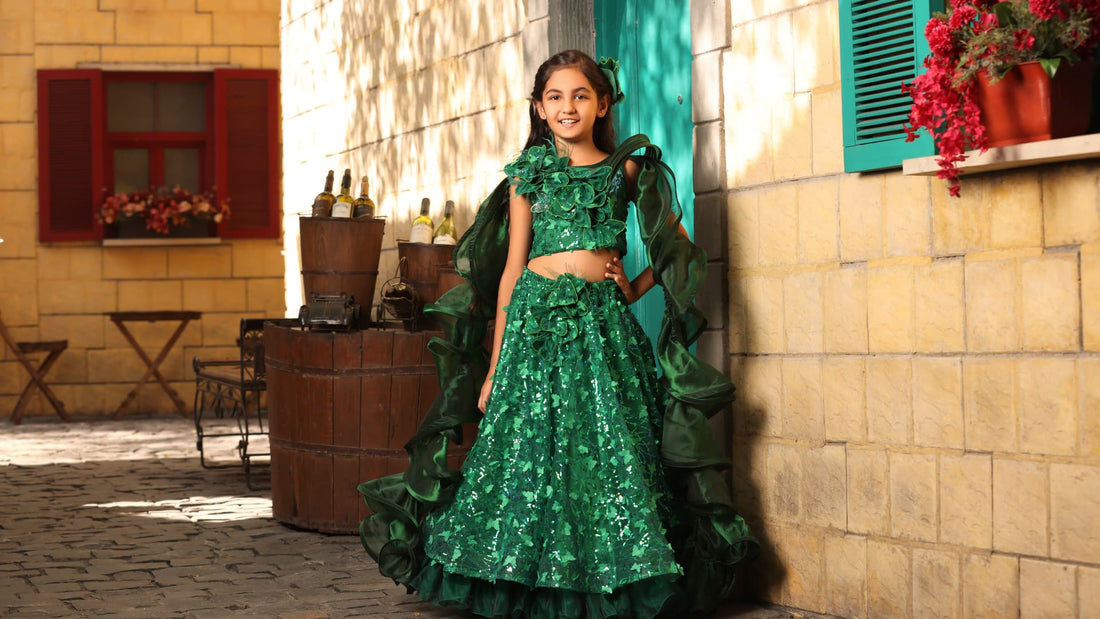 How to Style a Lehenga for Girls
The vivid colours and complex motifs of lehengas have a timeless allure that crosses generations. This blog is your go-to resource if you're a parent trying to figure out how to style lehenga for girls or teenagers. We'll look at several sorts of lehengas, styling advice, and necessary accessories designed specifically for young girls and teenagers, whether it's for a special event, a cultural celebration, or just to make your little one feel like a princess.
Types of Lehenga for Girls
Let's become acquainted with the numerous styles of lehengas appropriate for kids and teenage girls before we delve into the world of styling:
1. A-Line Lehenga: An elegant option for girls of all ages, the A-line lehenga for girls has a flared silhouette that resembles an 'A'. It is adaptable and cosy, making it perfect for many different situations.
2. Flared Lehenga: The flared lehenga for girls has a full skirt that makes girls feel like princesses and is ideal for special occasions. It works well for big occasions like weddings and festivals.
3. Lehenga with Crop Top: This classic outfit is given a modern touch by pairing a crop top with a lehenga for girls. Teenage girls who desire to combine tradition and modern fashion will find it to be trendy and perfect.
4. Panelled Lehenga For Girls: This distinctive design features horizontal panels of various textiles or patterns woven together to produce a striking appearance. It's ideal for girls who wish to stand out from the crowd.
5. Lehenga with Jacket: The lehenga for girls with a jacket is a distinctive and attractive option. It's another fusion trend. Depending on the situation, the jacket can be decorated with complex details or left plain.
6. Mermaid Cut Lehenga For Girls: The mermaid cut lehenga is a wonderful option for anyone looking to add a hint of a whimsical fairy tale. It wraps around the body to the knees, at which point it abruptly extends out like a mermaid's tail.
Styling Tips for Lehenga for Girls
After looking at the several lehengas that are appropriate for kids and teenage girls, let's move on to the exciting topic of styling. Here are some pointers and techniques to help your little one or teenager feel like a fashion icon:

1. Lehenga Colours: Choose hues that appeal to your child's tastes. Colours like pink, turquoise, or yellow are energetic and fun for children. Teenagers could choose more edgy colours like pastels or jewel tones.

2. Lehenga For Girls Must Be Comfortable: Check the lehenga's comfort level. Choose soft, breathable materials like cotton or silk over scratchy ones like fur because kids can be picky about them. Georgettes or chiffon that is lightweight may be preferred by teenagers.

3. Blouse Designs: The blouse design can significantly alter the overall look. Choose blouse styles that are cosy and simple to wear for younger girls. Teenagers can experiment with various blouse designs to showcase their personal flair.

4. Accessories: Choose adorable hairpins, little earrings, and a straightforward necklace for children. The traditional jhumka, bangles and striking necklaces are further options that teenagers can consider. You can improve your lehenga game with accessories. Think about adding a maang tikka for a classic accent or a chic clutch to finish the ensemble.

5. Hair: It should be styled to go with their lehenga. Depending on the outfit and personal style, loose waves, a messy bun, or a sleek ponytail can all be really effective. Simple ponytails or braids embellished with vibrant hair accessories are suitable for children. Teenagers can try more complex hairdos like exquisite buns or flowing waves.

6. Footwear: Make sure your youngster has comfy shoes that they can wear all day. Consider beautiful flats or sandals for children. For added comfort, teenagers might choose stylish flats or low-heeled footwear.

7. Dupatta Draping: Show your teenager different methods to wear the dupatta so they can show off their personal flair. They can wear it as a cape, over one shoulder, or in the traditional shoulder drape. Try several things to see what works best for them. Make sure it's safe and simple to use for young girls.
8. Makeup: If your teenager wants to play around with makeup, don't be hesitant to do it. Without going overboard, a little lip gloss and blush can accentuate their natural attractiveness. Or, smokey eyes can give their appearance a little drama. Make sure the makeup matches the hues of your lehenga.

9. Personalise the Look: Give your child's lehenga outfit a unique touch. They will seem much more remarkable and unforgettable if they are wearing a beautiful hairpin or a distinctive piece of jewellery.


Accessories to Enhance the Look
Your child's or teen's lehenga look can be improved with the right accessories:
1. Adorable Hair Accessories: To add a whimsical touch to your child's haircut, think about using hairpins with floral patterns or vibrant clips.
2. Jewellery: For younger girls, choose small, lightweight jewellery items like stud earrings, little bracelets, and plain necklaces.
3. Teenage Jewellery: Teenagers can try out more sophisticated jewellery items including delicate necklaces, chandelier earrings, and stackable bracelets.
4. Clutch or Purse: Your kid can feel like a little fashionista by carrying a tiny clutch or purse. Teenagers may choose a clutch or handbag that is more elegant.
5. Anklets: If they're sporting a lehenga with a high or low slit, anklets might give their outfit a beautiful finishing touch. Choose dainty anklets in silver or gold to suit the jewellery.
6. Maang Tikka: This conventional headpiece lends your appearance a touch of regal elegance. It is ideal for formal events like weddings.
7. Bangles and Bracelets: Wear a gorgeous bracelet or stack bangles to accent their wrists. Pick patterns that go well with the embroidery on the lehenga.
No matter their age, styling lehenga for girls is a joyous voyage of celebration and self-expression. By taking into account their preferences, comfort, and age-appropriate selections, you may make your child or teenager stand out in their distinctive ensemble. Remember that their self-assurance and happiness are the most important accessories, so encourage them to enjoy themselves and proudly embrace their cultural background. Visit Fayon Kids today to get the perfect lehenga for your little princess and up their fashion game. We have a range of lehenga for girls in various styles & hues for different events. Check them out right now!