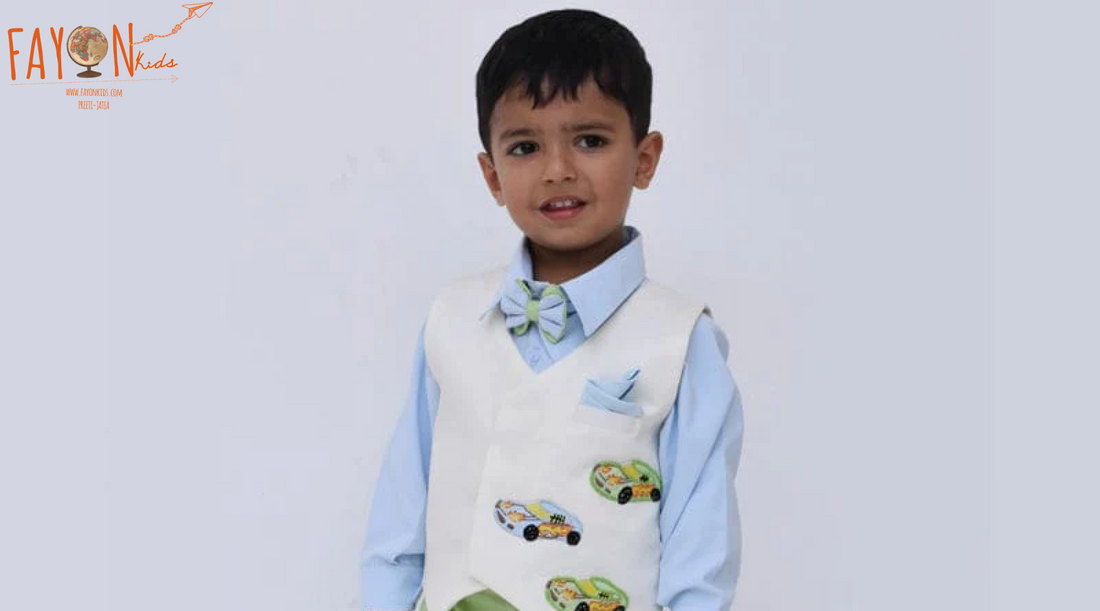 Latest and Stylish Waistcoat for Kids from Fayon Kids in 2022
Are you looking for trendy outfits for your little ones? Well, you have just come to the right place. The fashion industry changes pretty frequently. New styles come into fashion and become the trend. Nowadays, some old styles are making a come back into fashion. Kids waist coat is one of them.


What is a Waistcoat?
A waistcoat is a short, close-fitted, and sleeveless upper-body apparel originated in Persia. It has a vertical opening in the front that buttons down to the waist. The waistcoat was designed for wearing underneath a jacket and over a shirt. It has two styles; single-breasted and double-breasted. As compared to double-breasted waistcoats, single-breasted waistcoats are more common.

Popularity of Waistcoat
Waistcoats became trendy first in the middle of the 17th century. Double-breasted waistcoats were popular in the first few decades of the 18th century with small pockets and flaps. Towards 1800 the single-breasted waistcoats with decoration and lapels became popular. But waistcoat lost their popularity in the early 21st century. After that, it had a comeback at the start of 2021.

Since then, it has become a style statement for men's fashion. Every man has at least one waistcoat in his wardrobe. It levels up the style quotient and gives the wearer a classy look. So, not only the men but even the kids love wearing it, and parents love to see their kids in a traditional look.

In this blog, we have brought you the 'latest and stylish waistcoat for kids from our premium kids wear collection. We will also provide the links to the waistcoats to help you save time from the extra browsing. Also, you can customize the outfits for your little one here at Fayon Kids.
List of Latest and Stylish Waistcoats for Kids


White Waist Coat



It is an adorable double-breasted kid's waistcoat with a cute teddy bear and a numerical one motif on the front. It comes with a blue shirt and dark blue check pants. It also has a pocket square and a cute little bow tie. Your champ is going to get a stylish look with this. It is best for family gatherings, events, dinners, and birthday parties.


Red Velvet Waist Coat



This velvet waist coat for kids comes with a white shirt and black pants. It is an excellent pick for wedding functions, events, and festivals. It also has a bow tie which gives it a more elegant look. Your baby boy is going to slay in this look.


Brown Waist Coat



Grab this kid's waistcoat for your little champ and give him a fashionable look with it. It is a single-breasted waistcoat with a blue shirt and brown balloon pants.
The waistcoat has a cute design on the front, and the shirt has cuffed sleeves, self buttons, and a printed scarf. It is an ideal pick for birthday parties and events.


Pink Waist Coat



It is an adorable baby pink single-breasted cotton silk waist coat for boys. Add this to your little boy's wardrobe and give him a smart and casual look with this. It comes with a blue striped cotton shirt and a matching pocket square making it more attractive. It is best for luncheons, family gatherings, and casual functions.
It is a simple, stylish, and comfortable pick for your baby boy.


Black Waist Coat



If you are looking for a completely formal boy's waistcoat set for your little one, then this waistcoat is the perfect pick. It is a double-breasted waistcoat. It comes with a peach-colored printed shirt & black pants. It also has a cute bow tie and pocket square.
It is a perfect formal outfit for your champ for any occasion.


Animals Motifs Waist Coat



Give a stylish addition to your baby boy's wardrobe with this brown waistcoat and pants with animal motifs. It is a double-breasted waistcoat set with a star-printed white shirt and a double bow tie. It will give your champ a different and fashionable look. You should not miss out on this if you are searching for a birthday outfit.
It will surely give the birthday vibes and make your baby boy stand out in the crowd. It is best for birthday parties, events, and family dinners.

Conclusion
These were some latest boys' waistcoat sets we had picked for you here. Hurry! Add these fashionable waistcoats to your little boy's wardrobe, and give it a more stylish touch. We hope we have helped you with what you were looking for here. Keep up with the trend and let your champ slay at every occasion and party with these trendy outfits.

And do help your kids feel comfortable and confident in whatever they wear.

Keep following the trend! Keep shopping!