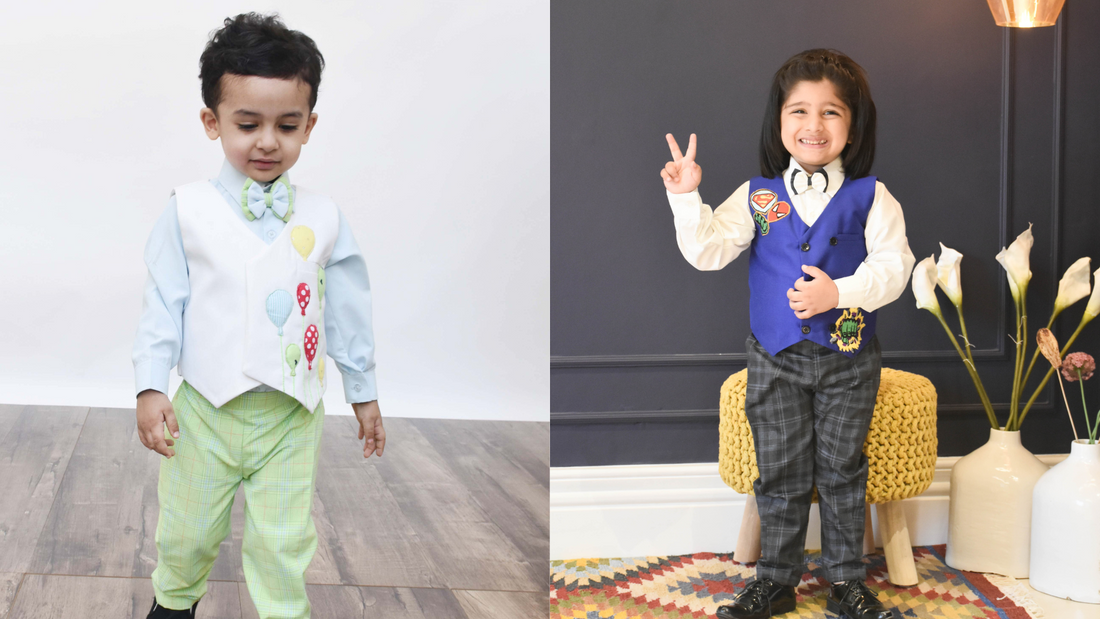 Latest Collection Of Waistcoats for Kids in 2023
A waistcoat is a distinctive apparel with a long and fascinating past. Purchasing a waistcoat is a smart move if you're looking for a distinctive addition to the wardrobe or merely want to embrace your inner dandy. This traditional menswear staple is still in style and cooler than ever, from the runways of Indian fashion to the sidewalks of New York. The vest is a key piece of clothing for anyone who appreciates traditional elegance. It is a crucial component of a three-piece suit and has evolved over time to take the lead in the male wardrobe by serving as an important protagonist in formal settings and a priceless ally in casual ones.
Any age is a good time to start dressing well. Give your young guy a head start on appreciating high-quality clothing! We select the best materials, which are assured to withstand your boy's active lifestyle, over aesthetics. These waistcoats for boys come in a variety of hues and are suitable for boys in the following age groups: 1-2 years, 3-4 years, 4-5 years, 5-6 years, 7-8 years, 8-9 years, 9-10 years, and 15+ years. You can get all of these from Fayon Kids without breaking your wallet! Get a piece from our newest selection of waistcoats for boys if you and your little gentleman are going to a formal social event. You'll undoubtedly discover the ideal one that matches the aesthetic and colour scheme of the occasion. But finding the ideal waistcoat can be difficult given the wide variety of designs and silhouettes available. We've created the ultimate guide to help you discover the ideal boys' waistcoat for any occasion because of this.
The Classic Waistcoat
The traditional vest is perfect for formal events like weddings or work gatherings because it is typically tailored and fits closely to the body. Wear your traditional waistcoat with denim and a button-down shirt for a more casual appearance.
The Modern Waistcoat
A more relaxed version of the traditional design is the waistcoat of today. This style of the waistcoat has a looser fit than its tailored cousin and is frequently made from lighter materials like cotton or linen. This makes it the ideal option for outdoor occasions or informal parties. Put on your contemporary waistcoat with chinos, shorts, and a t-shirt or polo shirt to finish the appearance.
The Statement Waistcoat
Look no further than the statement vest if your little prince charming wants to make a fashion statement. This fashion is perfect for making a fashion-forward statement because it frequently features bold patterns or vibrant hues. Keep the rest of the ensemble simple when wearing a statement waistcoat so that it can steal the show.
Colours & Material To Consider:
Your little boy will look dapper in a sophisticated black velvet blazer outfit that includes trousers, a shirt and a bow tie for weddings, birthdays and other special events.
A white shirt, blue waistcoat, trousers, shoes and bow tie make up this cute and adorable outfit. For your baby boy's first birthday, purchasing this waistcoat internet is a great idea.
An elegant boys' coat suit for online buying is made up of a charcoal green blazer, waistcoat and trousers with a white shirt and bowtie. It's a stylish set that's made for kids from 1 to 15 years old.
Your little boy will look adorable in this maroon-coloured, five-piece velvet outfit for his first birthday. With a blazer, trousers, bow tie and white shirt, make him the life of every winter wedding and birthday celebration. 
Get him a gorgeous white vest, trousers and shirt ensemble to wear to his birthday and Christening celebrations.
What goes better with grey trousers, a bowtie, a white shirt and yellow shoes if the celebration has a jungle theme? An animal-themed waistcoat, of course. The waistcoat's animal print adds to the outfit's motif. Only at Fayon Kids can you purchase the designs on a variety of coloured waistcoats.
Ways to Wear a Waistcoat
The next stage after finding the perfect waistcoat is learning how to wear it.
Choose Similar Textures
If you're unsure of how to style your baby boy's waistcoat, think about putting it with something with a comparable texture. Tweed waistcoats go well with jeans and other kinds of wool. If you really want to keep the appearance simple, pair a tweed jacket with a tweed waistcoat. You can start experimenting a little more and switching up textures once your child feels more comfortable donning the waistcoat.
Without a Jacket
If you choose a lighter waistcoat, like one made of cotton or a mix of linen and wool, you can look fantastic without a jacket. Put them with chinos or denim pants and a long-sleeve shirt with a single cuff.
Layers
Layering is the best way to remain warm and comfortable all day long in the winter, even though you might not spend much time doing it in the summer. A unique and attractive choice is a waistcoat. Once your child takes off their overcoat, adding this layer will help ensure that they appear sharp and brilliant.
Fabrics For Summer: Linen and Cotton Waistcoat
For those occasions when you need to appear smart-casual, a light blue shirt and a cotton and linen waistcoat are timeless summer pairings. Naturally, you'd pair this outfit with chinos or denim and a linen jacket that matched the waistcoat.
Which Accessories Should We Pair With A Waistcoat?
It can really help make the little gentleman's waistcoat a focal point and tie the entire outfit together, whether you prefer to accessorise it with a pocket square for a genuine vintage aesthetic to add a bit of flair or a tie or bow tie.
To really streamline your child's appearance, make sure the accessories blend in with the fabric, colour, and design of the waistcoat.
Events like weddings and other formal gatherings should be remembered. With a stylish waistcoat for boys created by Fayon Kids, get ready for the special occasion. Our waistcoat for boys and suit set, which is designed to make a stylish impression, would help your kid up their attire. With the help of what Fayon Kids has to offer, make them the focus of attention and help them look dapper.