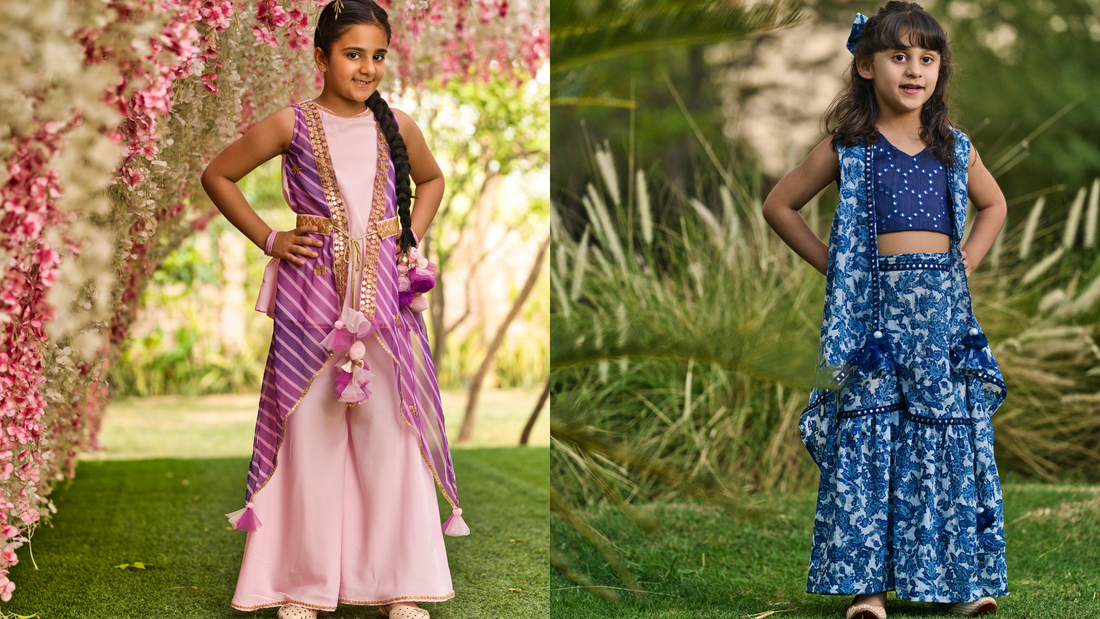 Latest Girls Palazzo Suit ideas in 2023
Any Indian woman's eternal love is the salwar suit. It comes as a tunic or top wear called a kameez, which is worn with bottoms that resemble pyjamas or salwars and a dupatta that resembles a scarf. So, whether it's a festive or auspicious occasion, one in three ladies will be wearing a magnificent salwar suit to flaunt their attitude, beauty, and style. The fashionable plazo salwar suit is only one of the designs and patterns in the salwar suit category that have taken the fashion world by storm.
Palazzos have been a popular choice for ladies for a very long time and even in 2023, it continues to be a trend. This is why so many elegant plazos designs are available for us to choose from. There are numerous reasons why people adore Palazzo. They are comfortable, loose, and easy to wear, go with all settings and events, and many other things. They may be worn with long Kurtis. You can dress in a palazzo salwar suit for any event, whether at a wedding or the office. But it's not just for adults who want to seem fashionable. Kids nowadays see and follow trends more than millennial parents do.
Your little sweethearts can dress comfortably in ethnic style with baby girl kids' plazo ensembles. For babies and young children to dress for special events, the girl plazo dress is the ideal ethnic garment. To have your tiny divas dress up in chic ethnic clothes for Diwali, engagement, mehendi, and wedding ceremonies, find the stunning plazo for girls.
We have a fantastic selection of the most recent designer kids' plazo outfits, plazo trousers and party wear 13 - 14 years dresses plazo at Fayon Kids. Shop ethnic plazo suits online at our store, which comes in a variety of hues and patterns. Let's look at some of the latest designs of plazo for girls:
Netted Kids Palazzo Set
There is absolutely no possibility that you may choose incorrectly when using the hue pink! The long A-line kurta in baby pink is made of a self-designed netted fabric. The side slit's excessive height lends it a feminine feel. Your young princess can show off this stunning ensemble by accessorising with elegant sandals or high heels!
Kids Plazo Sets in Boat Neck Design
Here is a look that is both stylish and easy to maintain. The straight georgette sea green woven design kurta with mirror work elevates your kids' entire look. The loose, airy feel of a simple sea green plazo contrasts effectively with the fitted appearance of the kurta. The high boat neck and jazzy print sleeve are the nicest added details.
Green Kids Kurta and Palazzo Dress Set
Baby girls in India can wear stylish green and white baby girl plazo outfits as calming ethnic clothing. This girl's plazo outfit has a matching dupatta to maintain her high level of formality. This straightforward yet fashionable girl plazo dress has additional embellishment at the waist from the embroidery.
Full Sleeve Chiffon Kurti with Palazzo for Girls
This kurta in lavender with mosaic prints appears to be wearable art! Since the kurta is constructed of chiffon, it feels light and airy during those long workdays. It looks beautiful with a mandarin collar, long sleeves, a button placket accented with satin lace, and a straight hemline. Black plazo trousers are the perfect complement to this elegant ensemble for a head-turning appearance!
Indo western Crop Top Palazzo with Jacket
This plazo for girls is a fantastic choice for any celebration or wedding. This stunning party outfit for your little girl combines a long leheriya jacket with a crop top and a plazo. To get her dressed appropriately for Diwali, mehendi, weddings, and other occasions, shop for this ethnic plazo online at Fayon Kids. This is a comfy summery palazzo set made for girls who want to wear cool ethnic apparel.
Palazzo Set with Sleeveless Kurti Sporting a Keyhole Neck Design
In this orange and blue patterned kurta and plazo combination, your baby girl will appear as dewdrop fresh as possible. The keyhole neck on the sleeveless kurta looks stylish and completely unique. Cool blue printed plazo trousers soften the intensity of these orangish tones. There's more to come! This ensemble is completed with a matching dupatta for a flawless overall appearance!
Traditional Crop Top and Plazo For Girls
With this exquisite baby girl plazo outfit, you can keep her looking stunning for any event. The mauve coloured plazo trousers for children are cosy to wear, and the designer crop top in white completes the look for your diva with a lovely neck. With this wonderful clothing on, she will look stunning.
Brocade Round Neck Kurti with Palazzo
A gleaming brocade dress will never let you down! The graph is always positive, especially when it is created in the traditional cool blue and beige colour scheme. A short Banarasi brocade kurta with half sleeves and a button placket makes up this gorgeous outfit. Palazzo trousers in golden beige complement this piece's glossiness nicely.
Selecting a Kurta with Palazzo:
Here are some suggestions for picking the ideal kurta with plazo:
Choosing the Right Fabric: Selecting the appropriate fabric is the first step in picking a kurta with plazo. Kurtas and plazos are frequently made from cotton, silk, linen, and rayon. Silk and linen are more appropriate for special events, whereas cotton is perfect for everyday wear.
Considering the Length: When selecting a kurta with a plazo, the kurta's length is crucial. A long kurta and plazo pants create a more traditional look than a short kurta and plazo pants.
Choosing the Right Fit: For a comfortable and attractive appearance, the fit of the kurta and plazo is crucial. Make sure the kurta fits properly, and pick a pair of plazo trousers that are just the right amount loose but not too tight.
Considering the Design: The plazo and kurta should match in terms of style. It is ideal to wear a plain plazo with a kurta that has a lot of embroidery or embellishments, and vice versa. Popular design choices include striped, printed, and solid colour patterns.
Choosing the Right Accessories: A kurta with a plazo's appearance can be improved with the correct accessories. Choose jewellery that complements the style and colour of the dress, such as earrings and bangles. A pair of juttis or sandals will finish the ensemble.
In conclusion, palazzos are fashionable right now because they are very cosy to wear. Some styles feature bell bottoms, some stick to the legs, and still others have a trouser-like form. At Fayon Kids we offer plazo for girls, ideal for 1 to 14 years old girls.