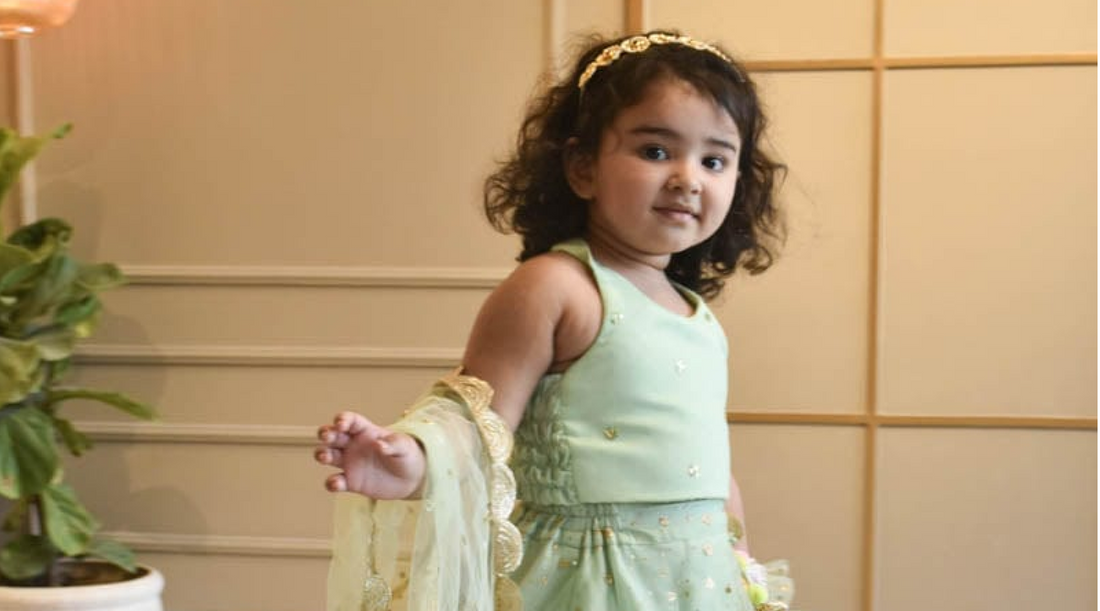 Lehanga for Girls : 5 Gorgeous Ways to Wear it
What is a lehenga?

The Lehenga choli or lehenga is a three-piece attire comprising the lehenga (a long ankle-length Indian skirt), a fitted blouse, and a dupatta that adds extra grace and elegance to this attire.
Lehenga choli became famous when the Mughals took over India during the 10th century to become a royal attire in the Mughal era.

The lehenga has evolved from being the royal attire of the Mughal era to becoming a fashion statement.

It was not until the 1990s that the lehenga as a fashionable attire came back into vogue.

And it would not be wrong to say that the big-budget Bollywood movies mainstreamed it through their mesmerizing scenes in the lehenga.

Lehenga is now the most loved attire by Indian girls and women.

Be that any occasion, a festival, a wedding, or any traditional function, you will find most of the girls and women wearing lehengas.

Different patterns and styles of traditional embroidery are used to decorate a lehenga.

As the craze for lehenga is most in the young generation, the young ladies and girls are just mad about it as it comes in various styles and designs and is the most beautiful traditional attire to wear.

Looking at the craze for lehengas, the brands that earlier focused on only women started designing different styles of kid's lehenga and lehenga choli for girls.

Girls always want to look pretty wearing the lehenga and flaunt it to everyone.

But here is the thing, they do not know what is currently in fashion or trending and need their parents to help them.

The parents who know the trends and what is in fashion have no difficulty styling their kids. You are doing a great job.

Worry no more if you don't know how to help your princess get ready with the lehenga because we are here to help you.

In this blog, we will tell you '5 gorgeous ways to wear a lehenga' and provide you with the links to lehengas if in case you want to add the beautiful Lehenga for Girls we provide below to your princess's wardrobe.
5 Gorgeous Ways to Wear a Lehenga for Girls:
1. One side off-shoulder blouse with a full flared lehenga
This Black sequins lehenga choli dupatta is a stylish kid's lehenga choli for your princess.

It gives a stylish look already; you can pleat the dupatta and drape it over two arms and give your little one a fashionable look. Also, accessorize it with this cute hair clip and golden-coloured bangles.

Then, pair it with heeled sandals for the final touch. It is a great outfit to wear to any event or function. But, of course, it will be best for a wedding function.
2. A crop top with a ruffled skirt-style lehenga
Get your hands on this beautiful Beige Pink Organza Lehenga with 3D Flowers Choli Organza Dupatta. It is a chiffon-made beautiful lehenga. And it is 'Pink' so your girl will love wearing it.

Drape the dupatta just over one arm. You can accessorize it with these cute bangles and these pretty pink glitter jutti to complete the look.

It is perfect for parties and events as it will give a glamorous look to your princess. It is also best for your baby girl as her birthday outfit.
3. A balloon sleeves choli with an embroidered lehenga
This Yellow Embroidery Lehenga Organza Cape with golden finishing and tassels attached will be something different attire in your princess's wardrobe.

Accessorize this beautiful pearl bracelet and pair it with these yellow printed jutti. It is a designer lehenga choli for kids and a fashionable outfit for parties or events.
4. A cape sleeves sequins top/choli with a sequins and organza lehenga
Check out this Peach Sequins Lehenga Choli Organza Dupatta with a round neck and cancan attached will give your little girl a princess look.

This lehenga will not disappoint you when it comes to celebrations and weddings. Pair it up with this lovely pair of pink glitter jutti.
5. An embroidered full sleeves choli with a full flare printed net lehenga.
Let your princess flaunt this Blue Embroidery Blue Net Printed Lehenga with Choli Net Dupatta, a designer lehenga choli for kids. With rich and royal blue colour, full sleeves, and heavy golden embroidered work, give your princess a royal look.

Accessorize it with these lovely blue bangles and this cute hair clip, and pair it with these blue-printed jutti. Now, your princess is all ready to get some compliments out there.
Conclusion:
These were some suggestions on how to style lehenga for girls from us. We hope that you liked what we had for you here. Shop these beautiful kid's lehenga online from the links provided. You can also shop for the accessories you desire for your kids.

Stay stylish! Keep shopping!