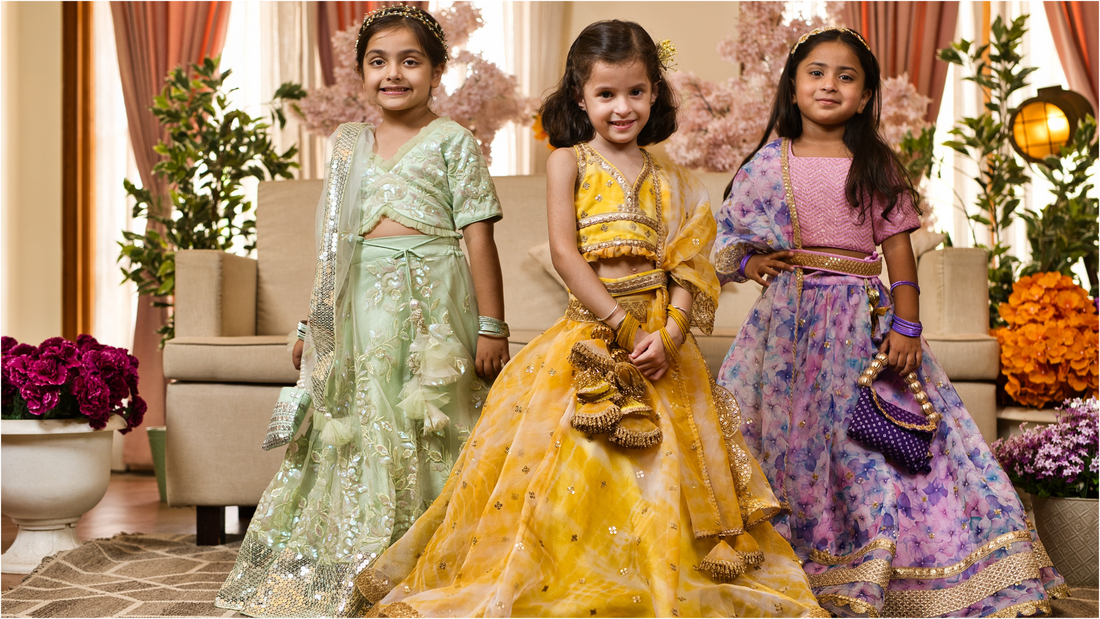 Party Lehenga Designs for Girls in 2023
India is a stunning country with a wide variety of cultures and rich traditions that are present in many facets of life and attire. Lehengas by designers are one of them. It's a skirt, lehenga, or ghagra that fits snugly or is worn high on the waist, is adaptable and comfortable enough to give you a put-together but fashionable appearance. When worn with flair and grace in various social settings, this distinctive outfit shines out.
Nothing compares to wearing a lehenga to a party for a traditional appearance on any occasion. To make you more stylish and beautiful, this ultimate outfit was created and crafted with an extract of great royal taste. Not just girls but women of various ages enjoy wearing it. Lehengas cholis can be worn on any occasion, including weddings, receptions, Diwali, Dusshera, Eid, and Navratri.
Your girls can dress up in a wide variety of styles and hues. But you absolutely adore it when your adorable angels try to drape a saree or a lehenga as you do. Isn't it just so cute? But why play a role when you can actually dress them up in a sweet ethnic child's lehenga? Fashion designers are already creating fresh designs and styles for traditional clothing, especially for children. 
For your baby girl, you can choose a stunning and exceptional lehenga in addition to the conventional clothes to help her stand out from the crowd. The majority of parents struggle with choosing styles, patterns, and colours while buying lehengas for their children. You probably want to find a smaller version of the lehengas you wear for your little fairies. We have compiled a selection of beautiful and fashionable lehenga designs for girls to lessen your load and make your daughter look stunning and fashionable.
Bandhani Cotton Lehenga
For celebrations like pujas and small parties, the dress with its cotton fabric, bandhani print, and stylish flair can be the ideal attire. The outfit is made entirely of cotton for her maximum comfort. Add a loop to hold the delicate tulle dupatta in place. In conclusion, the dress is lovely, colourful, and airy.
Light Peach Lehenga in Net Fabric
The appealing light peach colour is ideal for the summer, especially for children. Together with the sequin work all over the lehenga skirt and choli, the embroidered light peach lehenga would look good with a round neck border, and sleeveless choli. You can get your princess daughter this gorgeous costume to make her appear refined and sophisticated on special occasions. To make the lehenga more appealing, just make sure the dupatta is tied properly.
Classic & Simple Drape Lehenga
This lehenga combination with the skirt and blouse in darker hues, such as purple will emphasise cuteness in a big way. For your princess, the intricate pattern with the dramatic blouse will look intriguing and alluring. Your girl will look like a tiny fairy thanks to the loose silhouette. The blouse's sequins add to the girl's quirky lehenga's eccentricity.
Experimenting with Pista and Pink
Pink and pista can be combined to create a suitable party dress for your girl. The rich jacquard silk fabric is everything you need to dress up the conventional appearance. Evening events and celebrations are ideal settings for the lavish embroidery and ornamentation on the lehenga's entire body. When wearing this dress, the hair should be styled in a free-flowing way.
Yellow Lehenga For Your Little Sunshine
Your daughter will look considerably more sophisticated and gorgeous in the statement embroidery-adorned lehenga in a brilliant and vibrant yellow colour. The round and flared lehenga in crepe fabric is stunning. You might choose to style this pretty dress with maroon coloured heels or flat-toe shoes for a casual appearance. Also, she will appear different at every event if she wears a bold piece of jewellery or a statement accessory with this chic lehenga.
Pastel Pink Lehenga with Origami Drape
Your young fashionista would look stunning in the pastel pink lehenga and receive many remarks. The origami drape and brushstroke embroidery highlight the outfit's high level of craftsmanship. The dramatic origami drape fits a child's attitude and frame of mind. The airy design with the striking choli is a stylish option for festive and wedding attire.
Teal Colour, An Added Versatility
Unquestionably, the unique and beautiful teal lehenga is the ideal accent to your daughter's traditional wardrobe. Beautiful embroidery can be seen on the lehenga skirt and choli of teal colour. Also, the combination of pink & teal together gives an overall chic and sophisticated vibe. You can also consider a crop top lehenga for kids in teal shade.
Lehenga Design with a Peplum Top
This lovely, lightweight, and breathable peplum lehenga outfit will make your little girl happy. The green ensemble of the skirt, peplum top and dupatta is ideal for a joyful occasion. The costume will guarantee that your daughter looks really classy the entire day because it was made with sweet colours, fashionable designs, and small embroidery details.
Embroidered Blue & Red Lehenga
The sky blue lehenga skirt with large gathers and the crimson choli is both striking and alluring. It's an ideal lehenga for 13 year old girls. Her appearance can be made timeless by the lovely and beautiful embroidery work on the choli and the dense embroidery work on the borders of the lehenga skirt. Together with a clutch in the hands, loose hair or a traditional bun can complement this traditional lehenga look.
Layered Lehenga With Yoke Blouse
For your little angel, the khaki lehenga and choli combo looks adorable, fashionable, and special. The ethnic attire is nothing less than fantastical attire that would make your child's day magical and enjoyable. The dress would look so beautiful if when included a floral pattern, a khaki skirt, and a choli paired with a yoke design for your little fashionista. Add the dupatta to complete the ensemble.
Printed Lehenga With A Floral Design in Green
The distinctive and fashionable green lehenga choli with floral print is unquestionably worth the cost. Your lady will look wonderful and gorgeous in this lovely costume thanks to the flared style skirt and flora-patterned choli. Also, this fashionable lehenga comes in every size, especially for children ages 1 to 2. Choose the ideal size of lehenga choli for girls for your daughter to wear this lovely traditional crepe fabric dress, and she will look stunning.
Traditional Indian clothing for children is evolving with new styles and trends as well as gorgeous colour contrasts. Nothing less than the greatest would do for your daughter. The newest collection of lehenga choli for girls is offered by Fayon Kids. You will be astounded and in wonder by Fayon Kids' collection of children's ethnic lehengas and baby lehengas.