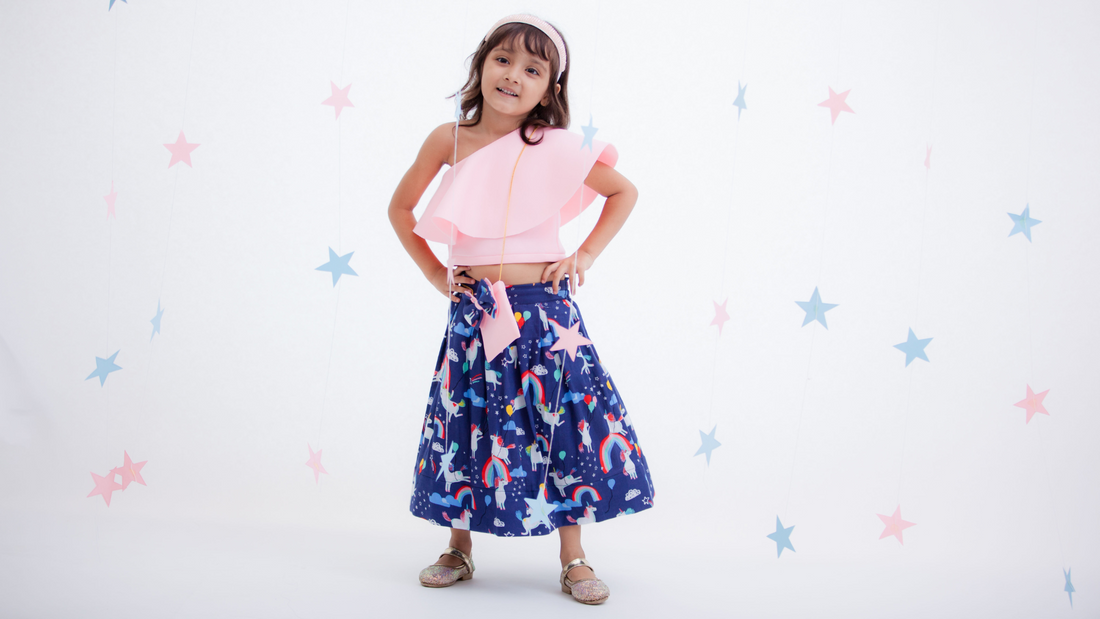 Party Wear Crop Top And Skirt in 2023
The history of the crop top in fashion is fascinating. This piece of apparel is a stunning gift for all women out there in a world where we cherish sophisticated fashion as a means of self-expression. Due to fabric shortages during the Second World War, the crop top first appeared in the 1940s. It rapidly became a summer wardrobe must and, in true vintage form, looked really gorgeous when worn with high waisted skirts.
In the 1970s and again in the 1990s, the crop top made a reappearance. A pop culture dominated these times, and nothing better encapsulates the free love movement of the 1970s than an embellished crop top with puffy sleeves teamed with skinny white trousers.
Crop tops and skirts for girls have become more than just trendy summer clothing; they are now a necessary component of our wardrobes. Cropped tops can be worn beneath dungarees or dresses during the transitional months when the weather isn't quite ready for one season or another. You can choose a knit crop top and cropped sweater for the winter, the traditional white crop top and jean shorts for those barefoot beach summers and more.
Even now, ladies regard the crop as their go-to attire for any occasion. But this isn't simply true for grown women; imagine our mini versions wearing those adorable crop tops and skirts.
You might think crop tops for girls are just appropriate in the summer. It's time to dispel that misunderstanding. We'll tell you several ways you can style crop tops & skirts for your daughters all year long.
Let's see some of the many ways to wear a crop top & skirt throughout the seasons:
Crop Tops & Long Skirts for Girls
The long skirt and crop top combination is a lovely, demure appearance. Wearing a simple black crop top with a midi skirt and trainers is a stunning and laid-back warm-weather ensemble. For a floaty, feminine look that embodies boho spring, you can also style a white crop top with a floral pattern maxi skirt.
Crop Top with Jeans
The finest outfit for cold weather in the 1990s featured a crop top and high-rise pants. Your daughter can carry a pretty little cardigan and wear this black crop top with these gorgeous pants. Don't forget to include a pair of adorable Mary Janes.
Crop Top Over or Under Dress
Wearing a crop top layered over a dress has to be one of the most audacious ways to embrace the energy of the style. This appears achingly stylish. White on black or black on white will always look great, but it's even better if you can find something with a hue difference that creates contrast. One of the features that can transform a single garment into a two-piece design is the crop over dress appearance. We also adore crop tops worn under dresses or as part of an ensemble. This will not only keep your baby girl cool and cosy, but it also exudes simple style.
Crop Top with Shorts
Denim shorts are definitely the greatest option for your kids while going on informal outings. They look great and are cosy when worn with a red crop top. Once you add some stylish trainers, your stunning ensemble is complete.
Long Sleeve Crop Top
A party favourite is the long sleeve crop top. The long sleeve top's versatility in terms of style is its best feature. For a hint of boho, pair wide-leg trousers with a front crop top with puffy sleeves. On cooler days, you can go with an off-the-shoulder crop top and even mix a sleeved crop with a midi skirt for a casual crop style.
Crop Top underneath Romper
There is no denying that the best summer attire is rompers and crop tops. You can only guess how cosy they will be when placed together. The cosiest and most stylish ensemble your girl may wear with ease is a plain white crop top with a striking floral print romper.
Shorts and Crop Top
In addition to being effortlessly stunning and giving you the ability to explore with texture, this timeless summer look is all surf girl chic. For smart-casual elegance, you can choose striped country shorts and cropped white tank tops, or you can pair wide linen shorts with blouses with frills, t-shirt sleeves, and whimsical patterns. Crop tops worn with shorts and sandals create the lovely country girl appearance that is perfect for an afternoon picnic in the park. High waisted shorts or simply frayed edged denim shorts provide the peachy beach look.
Wedding Crop Tops & Skirts
Crop tops aren't simply for wearing jeans or other Western clothing; they can also be worn with other types of clothing. After all, there are no geographical restrictions on fashion. Therefore, you shouldn't hold yourself back if you want to showcase your young princess's beauty and elegance with a crop top and ethnic skirt.
All babies are adorable, but little girls stand out. If you are the proud parent of a lovely baby girl, you will do everything in your power to make her appear as adorable as possible. Here are some helpful baby girl fashion tips to help you dress up your little princess in the most fashionable way possible, whether you're at home or going to attend an event with your little daughter!
The ideal balance between style and comfort is the most important factor to keep in mind when dressing your little princess. 

Always take your local weather into consideration when outfitting your little fashionista. 

When babies are dressed in vibrant colours, they appear stunning. Choosing overly sombre hues, such as brown, black, and grey, can make your cute girl appear a little bit dull in contrast to their lively personality. Instead, try to choose clothing in bright, cheery hues like pink, red, and yellow that enhance the skin tone, hair colour, and eye colour of your little angel. 

This is probably the simplest thing you can do to transform your baby's regular look into a stunning living angel look - combine and combine patterns. If you dress your kid in something with exciting prints or current patterns, she will appear beautiful and lovely no matter how young she is.

Fayon Kids has a wide selection of crop tops and skirts for parties and weddings. Simply choose the correct size, colour, and design for your child. With a little effort, you may select the cutest party wear crop top and skirt for your upcoming event. Why are you still here? Now is the time to visit our website and place your order!