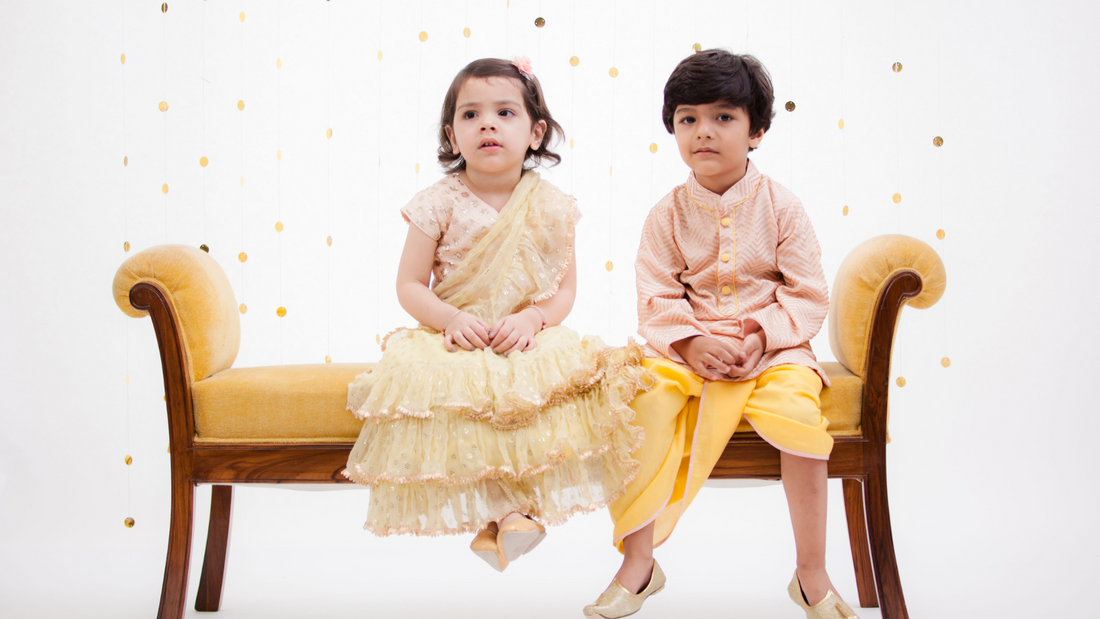 Radha Krishna Trending Dress Ideas In 2023
It's time to delve deep into the enchanted realm of Krishna costume ideas for 2023 as Janmashtami, the joyful festival of Lord Krishna's birth, draws near. During Janmashtami, dressing up children as Krishna and Radha has grown to be a cherished custom. People's ardent love and devotion for Lord Krishna and Radha, his enduring partner, is the source of this practice. Parents are said to attract the grace and blessings of the divine couple into their lives by dressing up their kids as these holy figures.
Kids love to dress up as Krishna and Radha during Janmashtami because it gives them the chance to reenact the enthralling tales and miraculous moments from Lord Krishna's life. Children embody Krishna and Radha because of their purity and fun temperament; they bring happiness and love everywhere they go. Young and old alike are enthralled by the vivid Janmashtami dresses, which are embellished with colourful fabrics, elaborate detailing, and significant decorations.
Children can also learn about and interact with the rich cultural legacy of Hinduism by dressing up as Krishna and Radha. They develop a sense of love, pride, and dedication to their origins as a result. Additionally, choosing and preparing the costumes, donning traditional makeup, and accessorising with jewellery, flutes, and peacock feathers all serve as opportunities for family bonding. It sparks imagination and promotes a better comprehension of the holy love that Radha and Krishna experienced together.
This blog is a one-stop shop for creating unforgettable Janmashtami dresses for your children. With our entertaining, original, and educational Krishna costume ideas, you'll be able to witness their wonderful transformation into Radha and Krishna. We have everything you need to make this Janmashtami a genuinely unforgettable event, from wardrobe ideas to accessories and make-up recommendations!
Outfit Ideas for Radha:
Put on a bold and colourful lehenga choli for your tiny Radha. Choose colours like pink, orange, or yellow to complement her beauty. Choose a lehenga with elaborate stitching, glitzy embellishments, or fun designs. For an elegant touch, the choli can be embellished with sequins, mirror work, or zari borders.
Consider an Anarkali costume for your little Radha for a majestic and classic look. Select pastel colours such as mint green, baby pink, or powder blue. Look for suits with lovely floral designs, delicate lacework, or glistening accents. The flowy silhouette of the Anarkali suit will add to your little Radha's elegance.
Accessories for Radha:
Statement Jewelry:
Statement jewellery adds a hint of opulence. Traditional pieces to consider include hefty bangles, vivid glass bangles, and beaded bracelets. To complete Radha's exquisite look, add delicate jhumkas (traditional earrings) and a maang tikka (headpiece).
Embellished Footwear:
Don't forget to complete the look with great footwear! Choose embroidered juttis (traditional Indian flats) or sparkling sandals to go with the lehenga choli or Anarkali suit. To add more flair, look for patterns featuring beads, sequins, or vivid embroidery.
Make-up Tips for Radha:
Rosy Cheeks and Dewy Skin:
Apply a small blush to your child's cheeks to achieve Radha's glowing look. Maintain a natural and light makeup look to complement their natural attractiveness. To get a dewy sheen, apply a tinted moisturiser or a lightweight foundation.
Soft Smoky Eyes and Bold Lips:
For the eyes, use earthy tones like brown and gold to produce a subtle smokey appearance. To define the eyes, use a delicate stroke of kohl or eyeliner. To add a bit of glitz, finish the look with a dramatic lip colour, such as a vibrant pink or a deep red.
Put on a traditional dhoti kurta for your tiny Krishna. To express Krishna's playful personality, choose bright colours such as blue, green, or yellow. Kurtas with delicate stitching, printed designs, or subtle details are ideal. Krishna's traditional clothing should be completed with an effortlessly flowing dhoti.
Pair a kurta with a trendy jacket to give Krishna's outfit a modern edge. Choose contrasting tones for the kurta and jacket, such as white with a brightly coloured jacket. To create a unique and trendy combo, look for coats with embroidered patterns or elaborate block prints.
Accessories for Krishna:
Peacock Feather Crown:
A peacock feather crown completes any Krishna outfit. Make a lovely crown out of vivid peacock feathers and a headband. Attach the feathers to the headband in a lovely fan pattern. Allow your Krishna to proudly wear this crown!
Flute and Potli Bag:
Give Krishna a flute and a potli bag to encourage his playful personality. The flute represents Krishna's love of music, while the potli bag provides a charming touch. Fill the potli bag with little goodies or toys for a fun surprise.
Make-up Tips for Krishna:
Subtle Face Paint:
Make a light blue or teal tint on your little Krishna's face, arms, and legs with water-based, skin-friendly paint. Keep the facial paint modest and simplistic, emphasising Krishna's innocence and holy aspect.
Forehead Mark (Tilak):
On the forehead, place a tiny tilak composed of sandalwood paste or kumkum. This insignia represents Lord Krishna's holy presence and contributes to the costume's credibility.
Traditional dress has long been the pinnacle of Radha Krishna outfits, displaying the celestial beings' eternal appeal. Dress your child in a vivid lehenga choli embellished with elaborate embroidery in colours such as pink, orange, or yellow to enhance her charm. Add matching jhumkas, a maang tikka, and bangles to round off her ensemble. Contrarily, for Krishna costume inspiration, select a dhoti kurta in a striking colour like blue, green, or yellow. Add a tilak, a flute, and a crown of peacock feathers to highlight his grace. However, if you want to experiment with the merging of tradition and contemporary, think about giving your kid a costume that combines Radha and Krishna aspects. Mixing and matching traditional pieces with contemporary accessories is another fun choice that will let your child's creativity flourish. Let their creativity soar as they design one-of-a-kind outfits like a lehenga choli with hip trainers or a dhoti kurta with a chic jacket. Take advantage of the fusion of tradition and modernity to create an unforgettable Janmashtami.
You may make your children's Janmashtami dress truly spectacular and unique by using these fashionable attire suggestions, accessories and make-up advice for Radha and Krishna. Let them elegantly and gracefully represent the heavenly love of Radha and Krishna. May you experience joy, laughter, and Lord Krishna's unending blessings as the holiday season draws near. 

You have access to a universe of Radha Krishna costumes thanks to Fayon Kids. Convenience, a sizable selection, simple navigation, thorough product descriptions, safe payment methods, and insightful customer feedback are all features of our online shopping experience. You may choose the ideal Radha Krishna attire for your children without having to deal with the headache of traditional shopping. Come along on this enchanted adventure with us and make lifelong memories that will be cherished. Come to Fayon Kids today to start the celebrations! Happy Janmashtami!