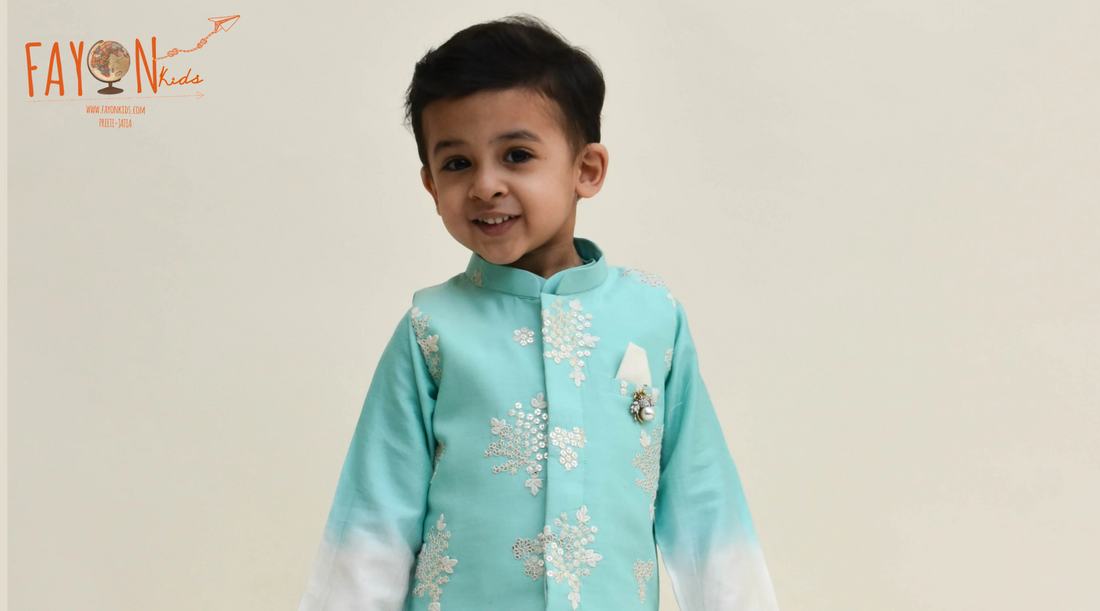 Stunning Choices to Make With Baby Nehru Jacket for Wedding
Wedding Season Arrives!
The wedding season is coming, so get ready to have fun and enjoy the weddings you will be attending. We all know most Indian weddings have a grand celebration. It is not a one-day function; there are many different functions and rituals before the marriage. And that leads to a bunch of outfit changes. That too not only for the bride and groom but everyone engaged in the wedding.
Outfits in an Indian Wedding
Talking about the outfits, people love to wear traditional attire at Indian weddings. And everyone looks stunning in ethnic wear, from kids to adults. The girls & women mostly prefer to wear the Anarkalis, Ghagras, and Lehengas. And the boys & men prefer Waistcoats, Kurtas, Suits, and Nehru jackets that give a classy and handsome look.
In this blog, we will mention some adorable and stylish ' baby Nehru jackets for wedding' from Fayon Kids for your little champ to be ready for the wedding functions. But, before that, let us give you brief details of the Nehru jacket.
What is a Nehru Jacket?
A Nehru jacket is a tailored coat with a mandarin collar of hip length. It was first designed in the 1940s in India, belonging to the pre-independence era. It got named after Pandit Jawaharlal Nehru and was formerly known as 'Bandh Gale Ka Coat' which means closed neck coat.
Nehru jackets first became popular in the 1960s and have been popular ever since.
It will be a very versatile and stylish piece of clothing in your kid's wardrobe as they can wear it on any occasion. It levels up the fashion quotient with its features. It has become an ideal choice to slay a traditional look.
Some Stunning Baby Nehru Jackets for Wedding



Conclusion
These were some of the best Nehru jackets from our collection for you. You can check the entire collection and even accessories for your little ones to complete the look. Also, on Fayon Kids you can easily customize any product you are interested in buying according to the fashion needs for your kids. Make stunning choices with these fashionable baby Nehru jackets for any wedding function and occasion. That was all about the Nehru jackets. We hope we have helped you with what you were looking for here.

Stay Stylish! Keep shopping!