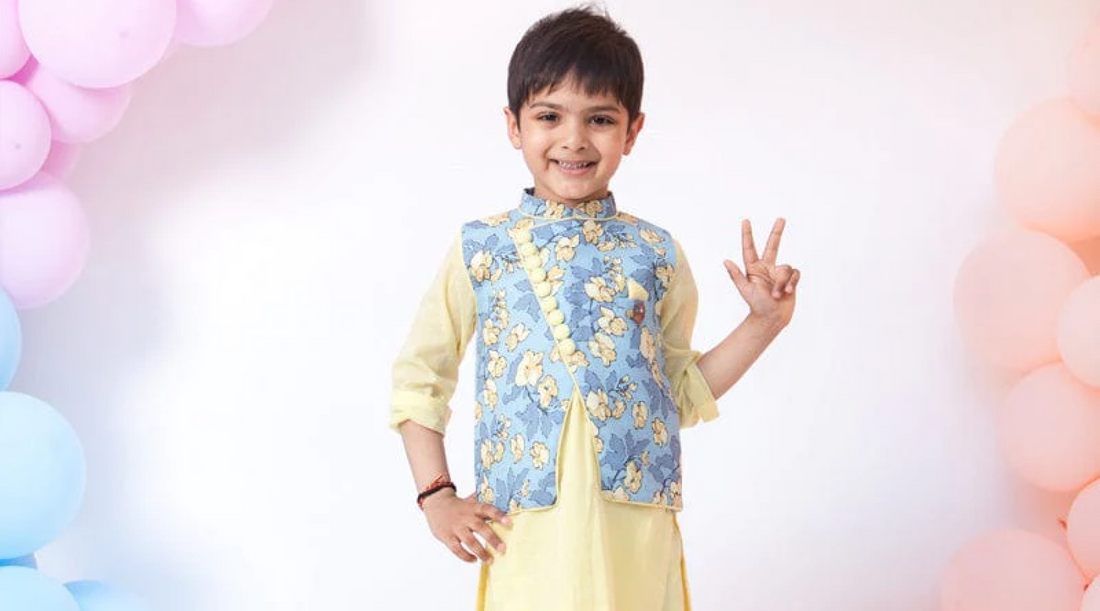 Styling Up this Summer with Nehru Jacket for Kids
The summer is here! And so is the time for a wardrobe change!

Get ready to add the new season and trending outfits to the wardrobe for the summer. With the changing seasons, fashion gets upgraded.

Fashion is a way of life. Fashion is a way of portraying one's personality. Being fashionable and trendy has its perks, like it lifts your confidence.

So, let us level up the confidence and fashion game this summer with the Nehru jacket.
What is a Nehru Jacket?
A Nehru jacket is a hip-length tailored coat with a mandarin collar designed in the 1940s in India. It belongs to the pre-independence era.

It is the most versatile clothing item for your kid's wardrobe as it goes with almost every outfit. And you can wear it on any occasion.

In this blog, we will talk about styling up the kids with Nehru jackets for this summer. And in the meanwhile, we will also mention a few Nehru jacket for kids and provide you with the links that will save you some time from the extra browsing and shop for them directly through the link in case you are interested in buying them.
Styling up with Nehru jackets for kids for summer:
Style 1: A cotton Nehru jacket with a kurta and salwar.
Pick a multicolor/printed Nehru jacket and pair it with a solid kurta salwar and vice-versa. It will give your boy a simple yet elegant look and keep him comfy. It is best for any family gatherings/events. Take a look at this Nehru jacket for boys for better understanding.


Style 2: An embroidered Nehru jacket with kurta and dhoti pants.
Here you do not need to put much effort into giving your champ a fashionable look. As an embroidered Nehru jacket is already stylish, pair it up with a solid silk kurta and dhoti pants. The look in this combination is perfect for festivals, wedding parties, or functions. Grab this stunning embroidered Nehru jacket for baby boy and pair it with this white mojdi for a complete look.


Style 3: A printed Nehru jacket with shirt and pants.
The simplest way to style a Nehru jacket for summer is to pair it with a shirt and pants. This style will give a casual yet smart look to your baby boy. It is a perfect look for parties and gatherings, especially in summer. Simple and comfortable as well for your champ to be playful. Get the look with this Nehru jacket and shirt pant set and make your champ party-ready.


Style 4: An organza Nehru jacket with kurta and pants.
Organza is summer friendly as it is a light weighted and highly breathable fabric. An organza Nehru jacket will keep your kid comfortable and stylish at the same time. Pair it with a silk kurta and pants and give your little boy a glam look. Add this adorable organza baby Nehru jacket to your champ's wardrobe and let him slay in the traditional look at any function, event, or wedding.


Style 5: A gotta embroidery Nehru jacket with dhoti kurta or kurta pants.
This combination of a gotta embroidery jacket with kurta and dhoti pants/ pants is perfect for any function at a big fat Indian wedding. It is also an ideal choice for ethnic wear for a festival. Have a look at this Nehru jacket set for a clear picture. Grab the set and let your champ be all dressed up; and ready to go and get some compliments.
Here are a few tips for styling your kid in summer:
The most important thing to remember while styling your kid is their comfort. Always make sure they are comfortable in the outfit they are wearing.
Choose outfits made of light and breathable fabric.
Keep it minimal. Do not overdress your kid, as it will make them sweat and feel uneasy & irritated.
Pick the light colors as they won't absorb the heat much, and try to avoid dark colors in the daytime.
Choose loose outfits to allow the airflow and not body-fit ones.
Conclusion
These were a few tips for styling up this summer and some styles with a Nehru jacket for kids from us. Follow these tips and let your little boy be fashionable and playful at the same time while enjoying the parties, functions, or weddings in the summer. So that will be all about styling up with Nehru jackets. We hope you liked what we had for you here and that we could help you with what you were looking for here.

Be summer ready! Keep shopping!