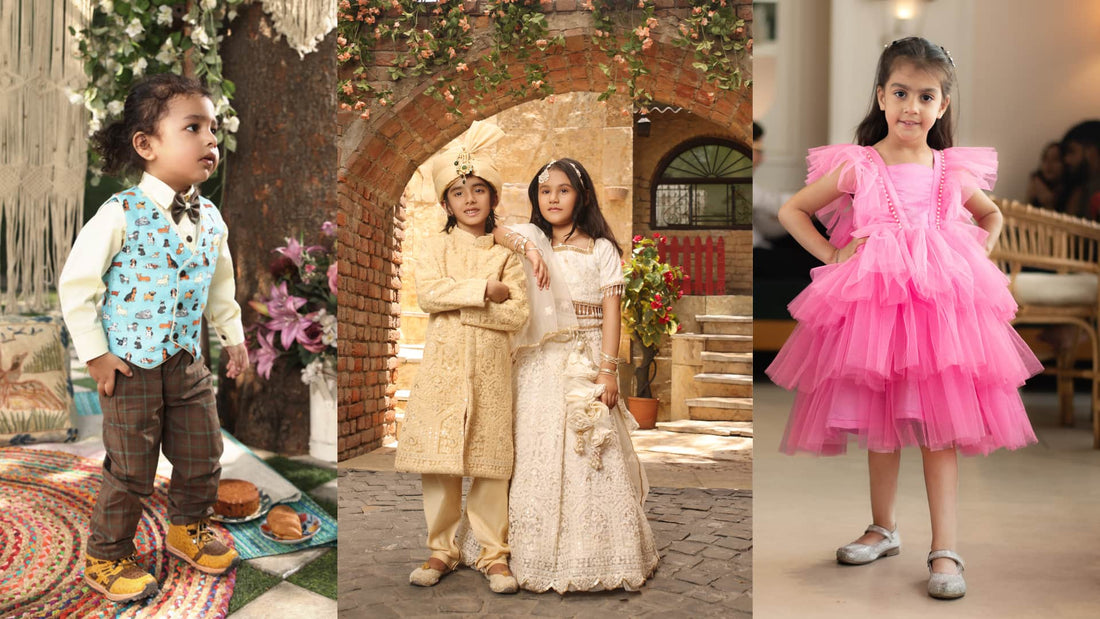 Top 10 Stylish and Trendy Dresses for Girls in 2023
Fashionable & trendy dresses for girls are like a rollercoaster through a candy-coloured wonderland, and 2023 looks to be our young fashionistas' most exhilarating loop-de-loop yet! We're about to go off on a crazy fashion trip, so get ready to buckle up. This year's collections are a treasure trove of fashion miracles to suit every taste, from timelessly elegant pieces to avant-garde creations that might compete with the most magical fairy tales. Be assured, dear reader, that we have you covered whether your tiny one enjoys the regal majesty of a lehenga or yearns for the fun pzazz of an ethnic sharara. We'll explore the top 10 dresses for girls in 2023 in this fantastical fashion voyage. We'll not only show off the newest styles but also reveal the hidden details that make each dress for girls as distinctive as a unicorn's horn at midnight.
1. Lehenga Choli:
 The lehenga choli is an enduring classic that never fails to enchant. This  traditional ensemble with modern additions is back in style in 2023. Look for     striking hues, dexterous stitching, and fine details. Weddings and festive   occasions call for lehenga cholis.
2. Ethnic Sharara:
Shararas are returning, and they're more fashionable than ever. These flared trousers look stylish and comfy when worn with a short kurti. For a more opulent look, choose satin and silk textiles. Traditional gatherings are perfect for ethnic shararas since they are adaptable.
3. Floral Maxi Dresses:
Maxi dresses are a staple for casual excursions, and floral motifs are a timeless favourite. Expect to see girls wearing clothing with loud flower prints, ruffled sleeves, and tightened waistlines in 2023. The spring and summer seasons are ideal for these dresses.
Girls of all ages are becoming more and more enamoured with jumpsuits. Ruffled jumpsuits are extremely popular and offer a fun and stylish style. They are easy to change from day to night and are comfy for everyday use.
In 2023, flowing shapes, tassels, and earthy tones will be popular in boho-chic gowns. These outfits have a free-spirited feel and are ideal for picnics, beach trips, and music festivals.
6. Embroidered Anarkali Gowns:
Anarkali dresses are considered to be graceful and elegant. They have elaborate needlework, luxurious fabrics, and distinctive necklines this year. These dresses are ideal for festivities and formal occasions.
7. Dungaree Dresses:
For girls who want to play and explore, dungaree dresses are a fun and informal option. They are available in a variety of shapes and hues, making them an excellent choice for everyday wear.
8. Princess-Inspired Ball Gowns:
Every girl fantasises about becoming a princess, and 2023 offers some lovely ball gowns to help those fantasies come true. These gowns are ideal for special occasions, with their voluminous skirts, dazzling fabrics, and exquisite decorations.
9. Denim Dresses:
Denim is always in vogue, and denim dresses are making a statement this year. There's a denim style for every girl, from A-line to shirt dresses. These outfits are both attractive and long-lasting.
10. Tutu Dresses:
Tutu dresses are fanciful and ideal for girls who enjoy twirling. Tutu costumes with bright colours, sequins, and tulle layers will be popular in 2023. They're a lovely option for birthdays and gatherings.
Care and Maintenance Tips: Keeping Stylish Dresses For Girls in Top Condition
As parents, we understand that active play and everyday adventures can take a toll on children's apparel. Here are some helpful care and maintenance suggestions to keep these dresses for girls in excellent shape for as long as possible. By following these rules, you may help your child's favourite dresses for girls last longer and look great throughout the seasons.
1. Washing Instructions:
For exact cleaning instructions, always consult the care label on the dress. Different fabrics may necessitate distinct treatments. Here are some general guidelines to follow for different dresses for girls:
Dresses for girls made of delicate fabrics, such as silk or chiffon, should be hand-washed or placed in a mesh laundry bag before machine washing on a soft cycle.
Cotton and denim are more durable textiles that can usually resist frequent machine cleaning. To retain colours and prevent shrinking, use cold water and mild detergent.
Turn embroidered or beaded gowns inside out before washing to maintain the embellishments. If feasible, hand wash or use a gentle cycle with a light detergent.
2. Stain Removal:
Remove stains as soon as possible. Use a stain remover or a mixture of mild detergent and water to gently blot the spot. To ensure that no fabric or colour is damaged, test any stain removal solution on a small, inconspicuous part of the dress first.
3. Drying:
Avoid using a tumble dryer since it can cause clothing to shrink or lose shape. Instead, hang the dresses for girls to dry. To keep their original shape, reshape them while they're still damp.
4. Ironing:
To remove creases from dresses for girls, use a low heat setting on your iron or steam them. Always iron the reverse side of delicate textiles to protect any stitching or embellishments.
5. Storage Tips:
To avoid fading, keep dresses for girls in a cool, dry area away from direct sunlight. Hanging gowns on padded hangers is an excellent technique to keep their shape. To protect them from dust and bugs, use garment bags or cotton pillowcases.
6. Rotate and Mix:
Encourage your child to vary their outfits to avoid wearing the same one all the time. Mixing and matching with different pieces in their collection not only keeps things fresh but also lessens wear and tear on a particular piece of clothing.
7. Repairs:
Don't put off repairing tiny flaws like loose buttons, sloppy hems, or little tears. Prompt care of these elements can prevent more serious damage and extend the life of the clothing.
By following these care and maintenance guidelines, you can ensure that your child's fashionable dresses stay in good shape for many seasons to come. It's a simple yet efficient technique to maximise their wardrobe and your investment in their fashion.
2023 is all about embracing a variety of trends, from traditional to modern, and letting young girls express themselves via fashion. There's a dress for girls for every event and personality, whether it's the classic elegance of a lehenga choli, the comfort of dungaree dresses, or the dreamlike appeal of ball gowns. Keep an eye out for these top 10 attractive and trendy dresses for girls, and let your little one shine in the season's hottest fashion trends. Check out Fayon Kids today to check out our selection of fashionable dresses for girls online for your little princess.