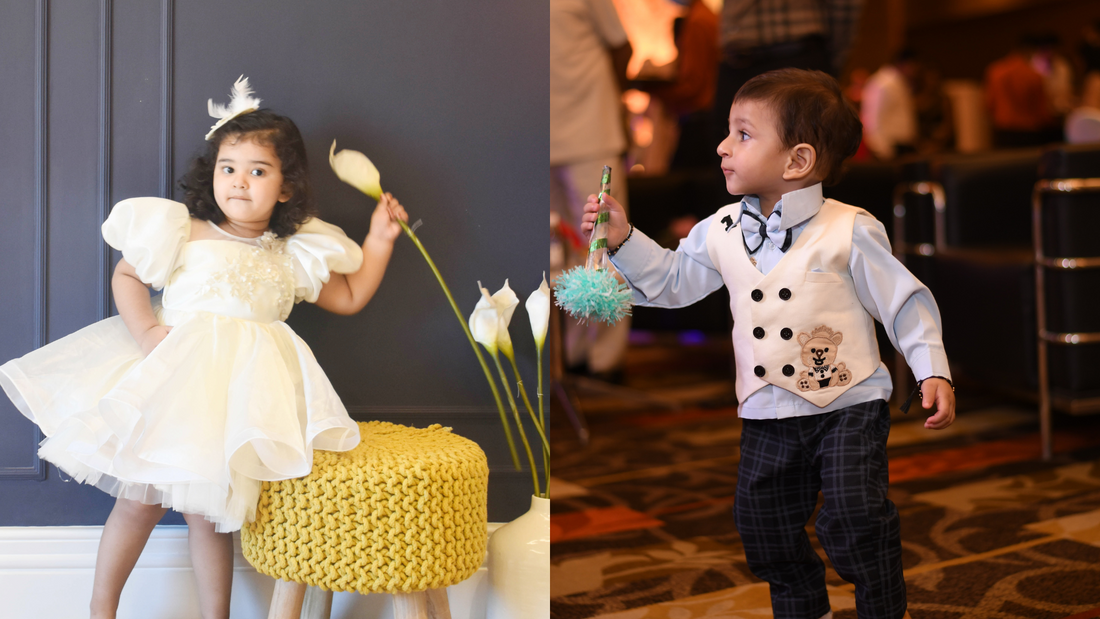 Top Kids Party Wear in 2023
In this hectic world, parties provide a fantastic opportunity to dress up, let our hair down, and socialise. But adults are not the only ones who appreciate a nice party, it is safe to assume, as it is the most popular among children.
Kids' casual and party wear trends are both susceptible to change with the times. We are aware that millennial parents want their children to follow the latest fashion trends. Because of this, Fayon Kids has created a line of kids' dresses that have been specially chosen for your little rockstars.
Our vibrant and trendy variety will liven up your kids' clothes. Children naturally sparkle and glow, and our job is to help them express that more.
How should the newest children's party fashion trends in 2023 be chosen? To make your life easier, we've compiled a list of the best kids' party dresses so you can spend less time worrying about how to dress your children and more time enjoying the party.
For Girls
Printed Girls' Party Dresses
Trendy girls' party dresses with prints are popular with girls aged 1-7. It's a pretty creative and adorable trend, in our opinion. Such clothes make baby girls look lovely. Prints were typically available in numerous colours until the 1990s. Since then, it has gained popularity, and it is safe to assume that printed dresses are fantastic and will remain in style. These dresses are available in a variety of colours on Fayon Kids.
Floral Vibes
Flowers are lovely, just like children! We feel more upbeat and joyful when we are around them. Whenever we combine these two elements, everything becomes delightful, exciting, and enjoyable. Girls' tops and woven tees that are appropriate for practically every Indian event and allow you to view different colours and create bright combinations. Your princess will love to dress in floral tops or dresses for the occasion. 
T-shirt & Denim Combo
An additional great casual outfit after the joggers and t-shirt is denim paired with a classic stripe t-shirt. Together, these two hues give the ensemble an airy appearance. Such a style is common at children's birthday parties. The outfit is not only essential for your baby girl's wardrobe, but it also gives her a stylish and comfortable feeling.
Rompers
Rompers are the ideal choice when you want to combine comfort and design. They come in a variety of colours and patterns. You can choose simple denim rompers if you want to give your child a strong and rugged look for fun. The denim aesthetic is so hip and current that it simply cannot be ignored.
For Boys
Boys T-shirts
T-shirts are available in a variety of colours, from vivid ones to more subdued ones! These t-shirts include elastane ribs at the neck for added comfort and are made of cotton fabric. This indicates that you and your child will both fall in love with all of them, which is a given. The dazzlingly colourful and exciting designs, such as those featuring a jungle safari, whales, and sea creatures, are ideal kid literature because each of these prints tells him an intriguing tale.
Printed Cool Shirts
Get your son a fantastic variety of shirts in various prints and colours. Every item, from casual tees to the graphic motifs on them, features a top-notch mod aesthetic. He can add it to his wardrobe with pride!
Summer-y Shorts & Bermuda
Summer is that time of year when you don't need to dress warmly or carry an umbrella. Summer clothing also exudes a calm and chill mood. This means you should stock your child's wardrobe with breezy summer dresses that are also ideal for parties.
Get your baby boy a pair of denim shorts with an adjustable waistband if he doesn't care much for dresses. Combine this with a patterned t-shirt that has a summery feel.
Trousers
The most functional piece of clothing your little guy can wear is a pair of pants. Contrary to some people's perceptions, corduroys and pants look great when dressed down and worn casually. Consider wearing a hoodie, a pair of casual shoes, and a pair of dark corduroy pants together. Alternatively, wear a t-shirt and top with a denim jacket or overshirt for a casually cool nighttime appearance.
Joggers
Two things make the jogger pant attractive. Given that these are dressed-up sweatpants, your boy can wear them casually as well. Joggers are cosy clothes that you can wear outside the house without anyone judging you. Moreover, basically, everything in your baby's clothing can be coordinated with joggers. It's time to get your toddler some jogger pants if he refuses to wear regular trousers.
They can be worn in a variety of ways. A plain grey or black t-shirt is preferable to start. a pair of unassuming, understated, and elegant sneakers. If you choose, you can go monochromatic by donning a graphic T-shirt!
Denim Jeans
The combination of a denim and shirt outfit will always be in style. Your son will always appreciate wearing a shirt and pants, no matter the situation. Because often the most straightforward answers are also the most reliable, and they are always right in front of us just like a pair of denim jeans.
Few Tips To Keep In Mind While Shopping For Your Little Ones:
You could be tempted to buy children's clothing of poor quality to save a few bucks but soon it will prove to be a wrong decision. Look for high-quality children's clothing by Fayon Kids when you're seeking a fantastic selection of outfits for your children.
Let your kids choose what to wear, and let them participate in the decision-making process. Let them pick from a few options based on their understanding and age. This level of decision-making is incredibly motivating and increases their confidence.
Also recognised to affect our little one's attitudes and behaviours is colour. It's crucial that you choose the appropriate colour scheme for

children's apparel

. Maybe play around with colours rather than using the same ones repeatedly.
At occasions like festivals,

weddings

, or

parties

, we prefer to choose glitzy, bulky costumes for our kids. Without a doubt, they enhance the cuteness and charm of our children. However, they might find it a little too challenging. There are many affordable, stylish clothing available in the market. Accessorizing may also be beneficial. Consequently, it is not good to frequently overdress for a cause. Even basic attire, especially for children, can look good.
Children should be given priority while purchasing party dresses so that they are comfortable. Don't overthink it; simply let your creative instincts guide you. Prioritize your child's preferences when making the choice. Don't ever sacrifice quality to cut costs, either. At Fayon Kids, choose from a wide range of kids' dresses. Start shopping now!