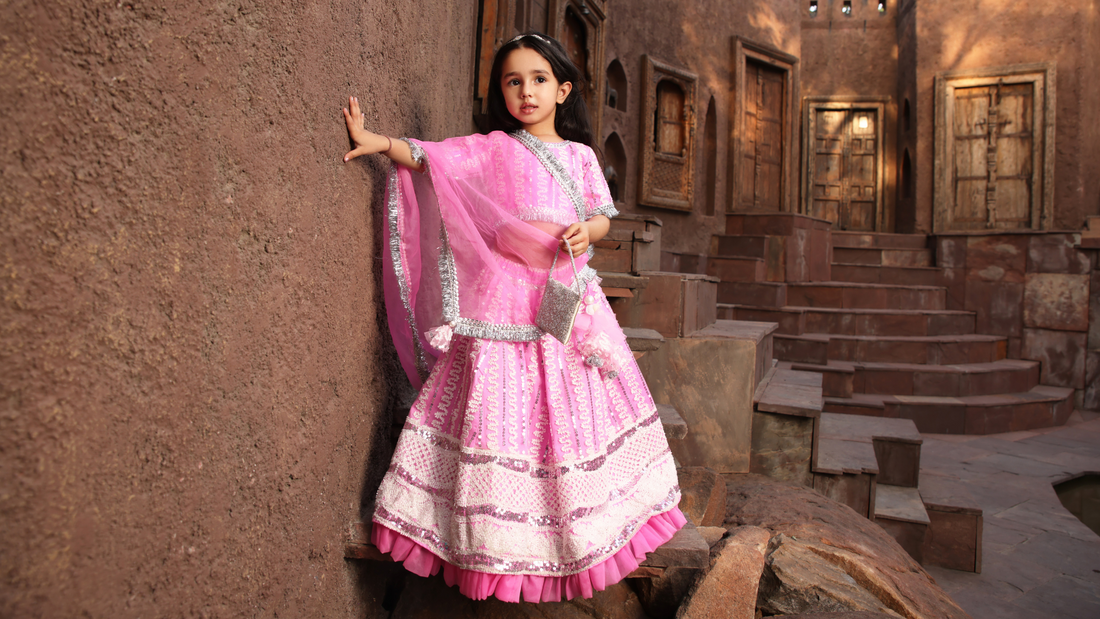 Top Wedding Dresses For Kids And Make Parenting A Bit Easier In Year 2023
Weddings are a wonderful mix of love, laughter, and a tornado of emotions. The cute kids in their stylish and delightful wedding clothing never fail to steal the spotlight in the great tapestry of nuptials. Consider a little tot waddling down the aisle in a Nehru jacket wedding outfit, or a small princess whirling in her stunning girls' lehenga. The year 2023 has brought with it a slew of wonderful and modern options for kids' wedding clothes that make parenting feel like a fashionable adventure. So, let us enter the wonderful realm of pint-sized wedding fashion, which promises to make your child appear like a prince or princess and make parenting a little more fun!
The Enchanted Garden Princess:
Dreams are only a spin away for your little girl in a stunning garden princess gown. These outfits include delicate floral embellishments and gentle pink and green tones, giving her the appearance that she just left a fairy tale. She'll be the sweetest flower girl you've ever seen if you add a floral crown to her ensemble.
The Majestic Mini-Groom:
Who says only grown-ups get to wear stylish suits? Put on a small Nehru jacket wedding attire for your little gentleman. These beautiful re-interpretations of traditional clothing feature elaborate workmanship and vivid colours. Watch how your child steals the show while appearing as dapper as ever!
The Princess's Dream Lehenga:
Girls' Lehenga is the pinnacle of style for your little princess. The regal aura created by the delicate needlework, flowing fabrics, and a hint of shine are ideal for her. Give her a tiara to complete her living fairy tale, and watch her spin around!
The Dapper Vintage Darling:
Consider choosing luxury kids' clothes with a vintage flair for a touch of old-world charm. Imagine your child wearing a Newsboy cap, braces and a bow tie. This outfit radiates charisma and classic flair that is sure to turn heads.
The Suave Rockstar Glam:
Is your kid the next big rock star? Choosing a sharp black suit with a splash of colour can help you combine style and attitude. Watch your child steal the show while dancing to their own beat when you give them a stylish bowtie and sunglasses.
The Floral Fiesta:
Not just girls should wear flowers! Boys can also rock them. For a spring or summer wedding, a colourful flowery waistcoat with plain trousers and a bowtie makes a striking and distinctive style statement.
Go boho to project a carefree and laid-back feel. This look is all about embracing casual elegance, whether it is in the form of a flowy dress with lace accents or a flower crown for girls, or a relaxed linen suit with a hat for boys.
The Miniature Royalty:
Why not give your kid the chance to be a princess or a prince? Choose regal shapes, luxurious materials, and elaborate details to convey a sense of grandeur appropriate for a royal wedding. 
The Modern Chic Star:
With trendy looks that exude elegant elegance, enter the current era. Choose edgy asymmetrical lehengas that combine traditional charm with a dash of modernity, or sharp fitted outfits with a twist. Your kid will establish the evening's trends in addition to being stylish.
Ideas for fun dress-up:
Colorful Coordination:
Participate with your child in selecting the colour scheme for their attire. Allow them to choose their favourite tones or tints that go with the wedding's colour scheme. This increases their sense of involvement and makes sure they are confident and at ease in their clothing.
Sustainable Elegance:
Sustainable fashion has gained popularity in this age of environmental awareness. Choose kid's wedding clothes made of recycled or organic materials. Your child will not only look gorgeous, but you'll also be helping to ensure that they have a future that is more sustainable. Include your child in the process of choosing eco-friendly clothing and explain the value of making thoughtful fashion decisions.
The Joy of Mix and Match:
Disrupt convention and allow your child to discover the fun of mixing and matching. Utilise components from other outfits to build a one-of-a-kind ensemble that expresses their personality. Consider wearing a Nehru Jacket with fashionable pants or a Girls' Lehenga Skirt with a current blouse. This method fosters your child's creativity and gives them the freedom to be themselves.
Mind the Comfort:
Comfort should come first, even though style is key. Make sure your youngster can move freely and is wearing clothing that is made of breathable materials. Allow them to try on the clothes and make sure they feel confident and at ease in it because uncomfortable attire can sap their excitement.
Confidence Boosting:
For a young person, dressing up for a wedding might be a significant thing. Take advantage of the chance to increase their self-assurance. Remind them of how amazing they look, compliment their choice of dress, and draw attention to their distinctive style. A child that is confident and happy will exude happiness throughout the occasion.
Dressing for Cultural Celebrations:
Numerous marriages celebrate various cultures and traditions in today's multicultural world. Consider dressing your child in accordance with the wedding's cultural theme if it is one that is prevalent. Include components that honour the event's cultural significance, such as traditional patterns, hues, or accessories.
Cherished Keepsakes:
Kids mature at a rate that defies comprehension. Think of creating a priceless keepsake out of your child's wedding clothing. When your child is older, save a piece of the costume to make a memory box for them. These relics have sentimental value and might bring back memories in a tender way.
In 2023, while you explore the market for luxury kids' clothes, keep in mind that the process entails more than just selecting the ideal clothing. The path involves camaraderie, creativity, and the making of enduring memories. There are countless possibilities and many exciting opportunities, from sustainability to self-expression, comfort to cultural awareness. So go ahead, let your child's personality shine through in their outfit, and enjoy the pride of being a parent as you see them brighten the wedding with their distinct style and contagious excitement.

Visit our website right now to look through our newest selection and find the ideal outfit that reflects your child's personality and sense of style. Make these weddings even more special by dressing your beautiful children in exquisite clothing from Fayon Kids. At Fayon Kids, where every garment is a work of art and every moment is a memory to cherish, you can embrace the joys of parenthood and fashion.