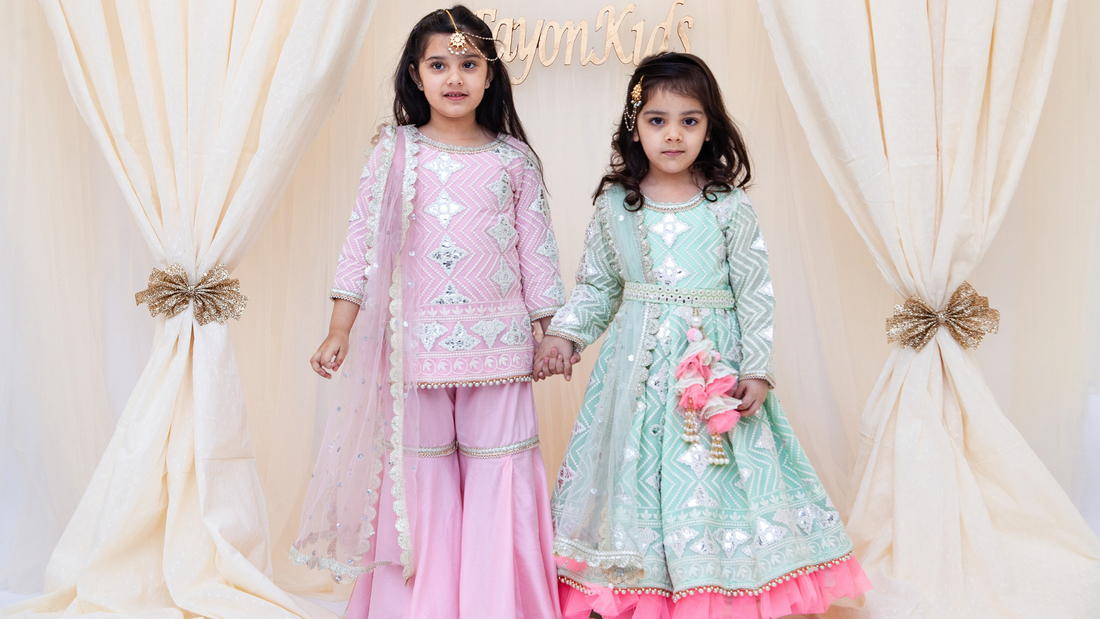 Trending Anarkali Dress Design For Kids In 2023
The Anarkali's attraction comes from the fact that it so easily combines tradition and elegance. Its elegance and sophistication have made it universally appealing to the world of fashion. The Anarkali dress, a classic example of Mughal-inspired fashion, is a popular option for modern women attending lavish wedding ceremonies and other celebratory events. These days, Anarkali dresses are now available in a variety of lengths and styles, ranging from formal ball gowns to more relaxed cocktail clothing. While maintaining authenticity to the original intention, designers modernise the timeless style by experimenting with materials, colours, and decorations.
As we all know, dresses in the Anarkali style have been popular in India for centuries, and not just among adults. As we reveal the secrets of the most popular Anarkali dress designs for our little fashionistas, step into a world of whimsy and fashion enchantment! Prepare to see your little angels change into lovely princesses who will radiate grace and charm everywhere they go. Fayon Kids has put this article together to take a look at some of the most recent Anarkali dress trends for kids that are sure to make them the centre of attention at any wedding, party, or holiday celebration.
The floral Anarkali dresses are a favourite among children since they provide additional colour and merriment to their wardrobes. Make use of flowing materials such as georgette or chiffon, both of which can be printed with beautiful floral motifs. Choose a knee-length party wear Anarkali dress with a flared skirt and exquisite flower embroidery on the bodice if you want your baby girl to look extremely stunning. This style of dress is known as a sharara.
You can get a look that is both more festive and lovely by donning an embellished Anarkali dress. Beadwork, sequins, or mirror work are some of the embellishment options that are available for this outfit. For your baby's wardrobe, select colours that are gentle and ethereal, such as peach, mint green, and baby pink.
Layered Anarkali dresses can give even little girls the appearance of being dramatic and elegant at the same time. Experimenting with a variety of fabric textures and colourations is a fun way to add additional dimension and personality to the costume. You may put together a stylish ensemble by including a pair of contrasting leggings or churidars in your kid's ensemble. Put your child in the spotlight at any event with these stylish ensembles that will highlight their individuality with Fayon Kids' designer Anarkali gown.
The traditional Anarkali form can be modernised in a number of ways, one of which is to give it an Indo-Western fusion design. Combine the traditional Anarkali silhouette with more contemporary elements such as off-shoulder designs, cap sleeves, or high-low hemlines. This unique mix of styles is going to look really gorgeous on your child.
Anarkali dresses are very popular among preteens and teenagers who are self-conscious about their appearance. A trendy and up-to-date style is created by combining a fitted bodice and a peplum waist. It is recommended to choose contrasting colours for the bodice and the peplum in order to draw attention to the one-of-a-kind pattern. This ensemble is so adaptable that it may be worn to both formal events and more relaxed get-togethers.
Anarkali dress design looks fantastic when worn with a jacket in chilly weather or for formal events that take place in the evening. Dress your little princess in a floor-length Anarkali and top it off with a jacket that either complements or contrasts the dress. To embellish the coat, some desirable possibilities include zari borders, mirror work embroidery, and embroidered borders. This costume, which not only keeps the kid warm but also gives off an impression of sophisticated refinement, is perfect for your young one.
Your children's Anarkali gowns can be accessorised to add charm and finish off their gorgeous look. Here are some suggestions for accessories to go with their Anarkali outfits:
- Floral Hairbands: Add adorable floral headbands to your baby's hair that coordinate with the hues of their Anarkali attire.
- Embellished Hair Clips: Embellished hair clips with pearls, rhinestones, or miniature flowers add a hint of shine.
- Bow Headbands: Choose bow headbands in complementary colours to give that haircut a fun, girlie touch.
- Embroidered Juttis: Select juttis with elaborate embroidery in hues and patterns that complement those of the Anarkali dress design.
- Ballet Flats: Choose a pair of ballerina flats in a shade that works well with the dress for comfort and style.
- Sandals with Embellishments: For a bit of glitz, look for sandals with subtle embellishments like beads or sequins.
- Delicate Necklace: A delicate necklace with a little pendant can accentuate the Anarkali dress's neckline. Pick a lightweight necklace that is appropriate for kids.
- Bracelets / Bangles: Choose bracelets or bangles made of lightweight metals or plastic. Choose vibrant ones to include a whimsical aspect.
- Stud Earrings: Small stud earrings that match the dress or have a slight shine are a simple, safe way to accessorise.
- Mini Clutch: To contain minor necessities like a tissue or a tiny lip balm, pick a tiny clutch or purse in a similar tone.
- Potli Bag: An ethnic touch of elegance can be added with a classic potli bag in a coordinating or contrasting shade.
- Lightweight Dupatta: If the designer Anarkali gown has a lightweight dupatta, throw it over one shoulder or tie it around your baby girl's neck for a classic look.
Keep the baby's ease and safety in mind and make sure the accessories are age-appropriate when shopping for them. Accessories might pose a risk of choking if they include small parts or sharp edges. If you take the time to accessorise your little girl's Anarkali dress properly and present it to her in the right setting, she will look absolutely stunning.
Furthermore, dressing your little girl in an Anarkali is a great way to infuse her with some old-world grace and style. Fayon Kids' newest design will take you on a fantastical adventure into the world of children's party wear Anarkali dresses. On our Fayon Kids website, you will find a wide variety of modern takes on the Anarkali dress that are appropriate for young girls, including floral prints, embellished designs, layered outfits, and Indo-Western fusion.