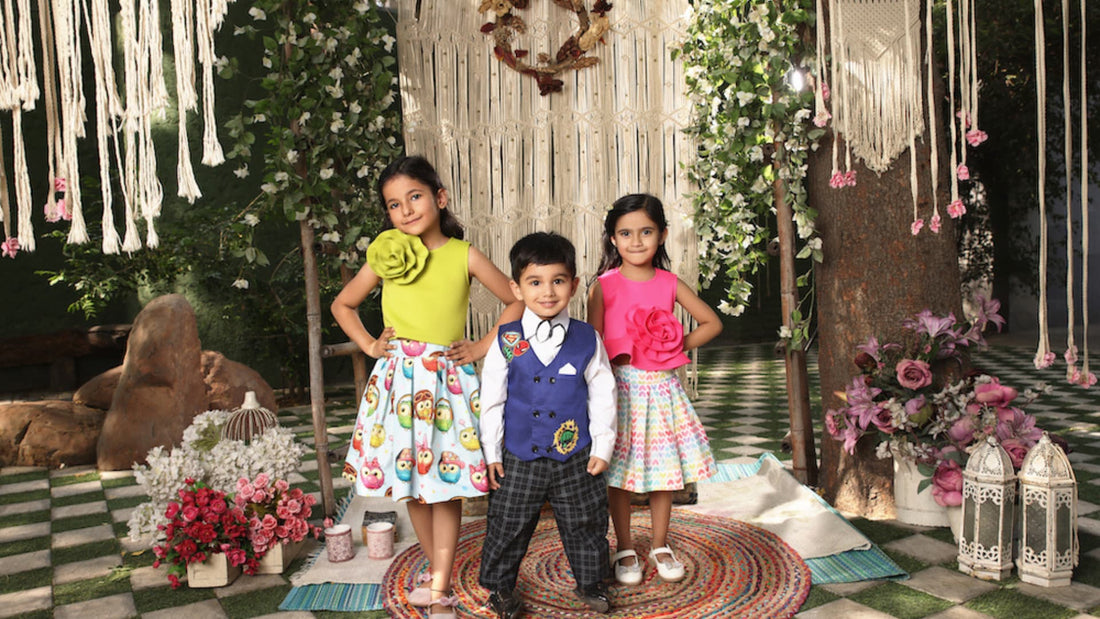 Trending Casual wear For Kids in 2023
Hello, fashion-forward parents and trend-setting kiddos! Prepare to enter the vibrant world of children's fashion as we reveal the hottest and most fun casual wear styles for 2023. In the fashion playground, comfort meets flair with brilliant hues and whimsical designs. So buckle your seatbelts, because we're about to begin a journey to find the ideal balance of comfort and coolness that will leave your kids looking completely cute and fashionably amazing!
Gone are the days when children's wardrobes were restricted to pastels and basic colours. It's all about embracing the rainbow in 2023! Electric blue, flaming orange, and lively pinks are dominating the palette. Combine these bright hues to create outfits that are full of energy and happiness. Consider tie-dye tees, ombré leggings, and colour-blocked hoodies that make a bold statement while remaining comfortable.
Animals are a favourite with children. Animal prints have gone wild this year, taking over the fashion world. Kids are wearing zebra stripes, leopard spots, and even more exotic snake patterns on everything from tees to skirts. It doesn't end there! Quirky patterns like space themes, tropical fruits, and even retro-inspired graphics are also making waves, allowing kids to express themselves via their clothing.
*Fun Fashion Trivia: Did You Know?*
Animal Instincts: Did you know that animal patterns have been used in fashion for centuries? The ancient Egyptians were known to wear leopard and cheetah patterns, viewing these creatures as symbols of power and dignity. Your kids are sporting a trend with a historical twist!
Activewear All Day: Athleisure Adventures
Who said activewear was only for grown-ups? 2023 is the year of kids' athleisure! Sporty components like jogger pants, sweaters and trainers are upgraded with a fashion-forward twist, resulting in a great balance of comfort and style. Mesh details, metallic embellishments, and bold branding offer a touch of urban flair to these sporty pieces, making them suitable for both outdoor excursions and stylish lounging.
Denim, the evergreen fashion staple, gets a fresh makeover in 2023. Kids can now wear denim jumpsuits, rompers, and even dresses in addition to traditional jeans. This adaptable fabric serves as a canvas for creative embroidery, patches, and distressing, adding a new level of creativity to casual design wear. Denim dungarees with graphic tees and shoes radiate a youthful spirit that is both fashionable and ageless. Find kids clothes online only on Fayon Kids, browse through them now!
Cozy Couture: Luxe Loungewear
Loungewear is no longer just for adults; children are also delighting in exquisite comfort. Plush velour tracksuits, fake fur-lined sweatshirts, and velvety joggers are all the rage, adding a touch of extravagance to ordinary playwear. These comfortable outfits are ideal for cooler days, keeping your children warm and toasty while appearing effortlessly chic.
Statement Accessories: Tiny Details, Big Impact
In 2023, accessories play a vital part in upgrading children's casual kids' clothes. Chunky sneakers, holographic backpacks, and enormous hair bows are taking the spotlight, providing a whimsical touch to even the most basic kids' clothes. These small accents have a significant impact, transforming a simple suit into a fashion statement that draws attention.
What Material to Choose?
Choosing the correct material for your little fashionistas is just as crucial as nailing the trend. After all, for active kids who like to run, jump, and explore, comfort is essential. Here's a guide to help you navigate the multitude of fabrics and guarantee that your kids' casual design wear is not only fashionable but also comfortable against their skin.
Cotton Comfort:

Cotton is the one material that has consistently been a favourite for kid's apparel. Cotton is great for all seasons because of its softness and breathability. For the best comfort, especially during the warmer months, look for items made of 100% cotton. Even during their most active adventures, your kids will remain comfortable because of its moisture-wicking qualities.
Stretchy Knits:

Choose materials with a little stretch if your child is a busy, active child. A full range of motion is possible with flexible knits like jersey and spandex blends. Your kids will feel comfortable in clothing that moves with them whether they are climbing trees or performing cartwheels.
Cozy Fleece:

A light touch of fleece is a terrific choice during colder months. Hoodies, joggers, and jackets lined with fleece provide warmth without sacrificing fashion. To keep your children warm and content during winter adventures, make sure the fleece is smooth against the skin.
Breathable Blends:

In order to attain the ideal combination of comfort and durability, many pieces of contemporary casual clothing use mixtures of fabrics. Search for blends that contain cotton, polyester, and occasionally a small amount of spandex. These pairings provide the best of both worlds and guarantee a snug fit that will last during hours of play.
Organic Options:

Organic textiles are a terrific option for environmentally aware parents. Kids' clothing made of organic cotton, bamboo, and hemp is becoming more and more popular because of its low environmental effect and hypoallergenic qualities. These materials are kind to delicate skin and enable you to kids clothes your children in fashionable items while making a responsible decision.
Weather-Ready Fabrics:

Consider weather-appropriate materials based on your location's climate. Waterproof or water-resistant textiles are good for rainy days, whilst lightweight and breathable fabrics are ideal for hot weather. Investing in components that can adapt to varied weather conditions can keep your children comfy all year.
Remember, it's not just about the latest fashion; it's about picking fabrics that are comfortable and safe for your child. When selecting material for your kid's clothes, prioritise their preferences and sensitivities, and you'll be well on your way to designing a smart and cosy wardrobe that keeps your small ones both fashionable and pleased.

And there you have it, dear readers: an in-depth look at the greatest casual wear styles for kids in 2023! This year's fashion landscape is all about embracing individualism, comfort, and a whole lot of fun, with everything from brilliant colours and lively motifs to sumptuous loungewear and standout accessories. So go ahead and play with these trends, mix and combine them to your heart's delight, and allow your kids to express their own personalities via their fantastic fashion choices. After all, there are no rules in children's fashion, only unlimited choices! Visit Fayon Kids today to check out our selection of comfy kids clothes online for your little rockstars. Don't miss the potential for nurturing a trendsetter in your child.