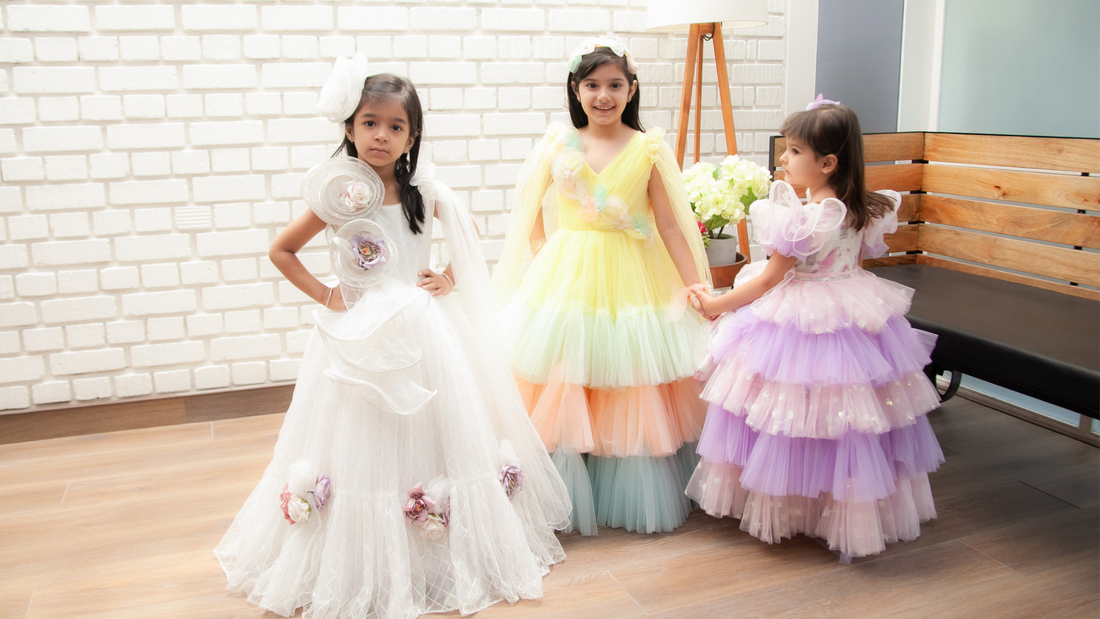 Trending Girls Designer Gowns In 2023
In 2023, the fashion industry is seeing an increase in new and contemporary designer gowns for girls. These intriguing gowns for girls mix style, elegance, and comfort, allowing young girls to express themselves while keeping up with the newest fashion trends. Let's have a look at the world of trending girls designer gowns in 2023 and see what amazing options are accessible for the fashion-forward youth.
Floral Whimsy
Floral designs are making a big comeback in 2023, and designer gowns for girl are no exception. A fanciful and charming appearance is created by delicate, flowering designs on translucent materials. Floral appliques or embroidered accents on A-line gowns for girls provide a sense of delicacy and refinement. These outfits are ideal for special occasions such as weddings, parties, or any other event where your child wants to stand out. Net gowns with beautiful floral embroideries are also a popular choice amongst little girls.
From long, flowing dresses to tea-length alternatives, floral gowns come in a variety of styles. Due to their grace and innocence, delicate pastel colours like blush pink, lavender, and baby blue are popular selections. Bold floral motifs on a dark background offer a stunning contrast that is likely to catch people's attention for those who love bolder appearances.
Add a tiny headband or a pair of ballet flats to the dress for a final touch of flowery whimsy. Allow your little girl to feel like a princess in the garden by letting her outfit take centre stage.
Metallic Marvels
Metallic evening gowns are a must-have for the glitzy and glamorous kids of 2023. Fabrics with metallic sheen, such as silver, gold, or rose gold, exude an air of sophistication and elegance. These dresses will make your little girl feel like a movie star at any occasion, from a birthday party to a red carpet event.
Gowns made of metallic fabrics can be found in a wide range of forms, from A-line to mermaid. The formality of the occasion and your child's sense of style will determine which silhouette is best. Accessorise the gown with little, beautiful accessories, such a bold necklace or a clutch.
Tulle Dreamland 
Tulle has long been a go-to for little girls' dresses, and this trend shows no signs of slowing down even in 2023. Tulle is a wonderful fabric that can transform any ensemble by adding a touch of enchantment with its layers of soft, flowing fabric. Tulle dresses come in a rainbow of colours, from soft pastels to bright primary tones, so your little girl can pick the one she loves best.
Ball gowns for girls, fit-and-flares, and A-line dresses are just few of the many silhouettes available for tulle dresses. Elegant touches like floral appliqués and beadwork can be found on some dresses. Our baby girl can twirl around the house in these dresses as if they were a fairy princess or wear them to a fairy-themed party.
Bold and Beautiful
Nowadays, dresses for little girls often have bright, primary hues. The use of bold colours like electric blue, brilliant pink, striking yellow, and deep purple is a reflection of the kids' free-spirited natures. These dresses, with their daring silhouettes and ornate embellishments, are sure to turn heads.
Asymmetrical patterns, high-low hems, and ruffled accents are just a few of the varieties of bold and stunning gowns that are available. For girls who like to stand out and make a statement, these dresses are ideal. 
Modern Princess
The latest designer dresses fulfil every young girl's fantasy of becoming a princess. Modern princess dresses have regal shapes, elaborate beading, and graceful draping. These outfits combine traditional and modern elements in the ideal way, giving off a refined and alluring appearance befitting of royalty. Choose a net gown in a delicate white colour with complex lace patterns for a truly magical appearance.
There are many different types of contemporary princess dresses available, such as ballgowns, empire waist dresses, and off-the-shoulder styles. To give an opulent feel, satin, organza, and lace are frequently utilised as fabrics. To complete the princess effect, add a tiara or a jewelled hairpiece to the gown.
Styling Tips:
Gown styling is a creative procedure that enables you to customise the appearance and make it truly one-of-a-kind. Here are some styling suggestions for our little fashionistas:
Consider the Occasion:
Consider the occasion or event for which the gown is being worn. Is it a formal occasion like a wedding or a celebration for a birthday? Or is it a more relaxed get-together? Your stylistic decisions will be influenced by your understanding of the event as you choose the proper amount of formality.
Choose Complementary Accessories
Choose accessories that improve the gown's overall appearance. When choosing accessories, take into account the dress's colour, design, and embellishments. Consider wearing a headband or hair clip with floral motifs if the dress, for instance, has flowery appliques. Select accessories with coordinating metallic finishes if the gown includes metallic accents.
Balance the Look:
When styling, consider the gown's embellishments and silhouette. Keep the accessories simple if the dress is already rather ornate with complex embroidery or a full skirt to avoid overpowering the look. On the other hand, if the dress is more understated, you could want to try more edgy accessories to add intrigue and a focus point.
Pay Attention to Hair and Makeup:
Think about the hairdo that will work best with the dress. An attractive option for a more formal appearance is an updo or polished curls. Loose waves or braids might be a terrific choice if you want to project a gentler, more laid-back feel. Match the makeup to the gown's overall design. For young girls, choose age-appropriate, natural makeup that emphasises their characteristics without going excessive.
Ensure Comfort:
Give your child's comfort first priority when styling the gown. Make sure she can move freely and is wearing comfortable shoes, accessories, and a hairdo. It's crucial for her to feel comfortable and confident in her costume, so stay away from any accessories that can be uncomfortable or restrict her movement.
Confidence is Key:
Ultimately, giving your youngster confidence is the most crucial part when dressing them up. Encourage her to express herself and pick items that match her unique preferences and style. She will exude grace and beauty when she is at ease and confident in her attire.
You should feel free to explore and let your child's personality come through because styling is a creative and enjoyable process. To design a distinctive and fashionable outfit for your little fashionista, trust your intuition and have fun with the styling process!
The world of children's and girls' designer gowns in 2023 is filled with originality and innovation. There is a gown to fit every little girl's taste, from floral whimsy to metallic marvels, and tulle dreamlands to bold and stunning creations, and modern princess designs. These outfits allow our little princesses to show their own identities and embrace their originality while still making a stylish statement. Parents can indulge their children's fashion fantasies and make priceless memories by dressing them in one of the many gowns for girls available on Fayon Kids. Browse through our designs today!