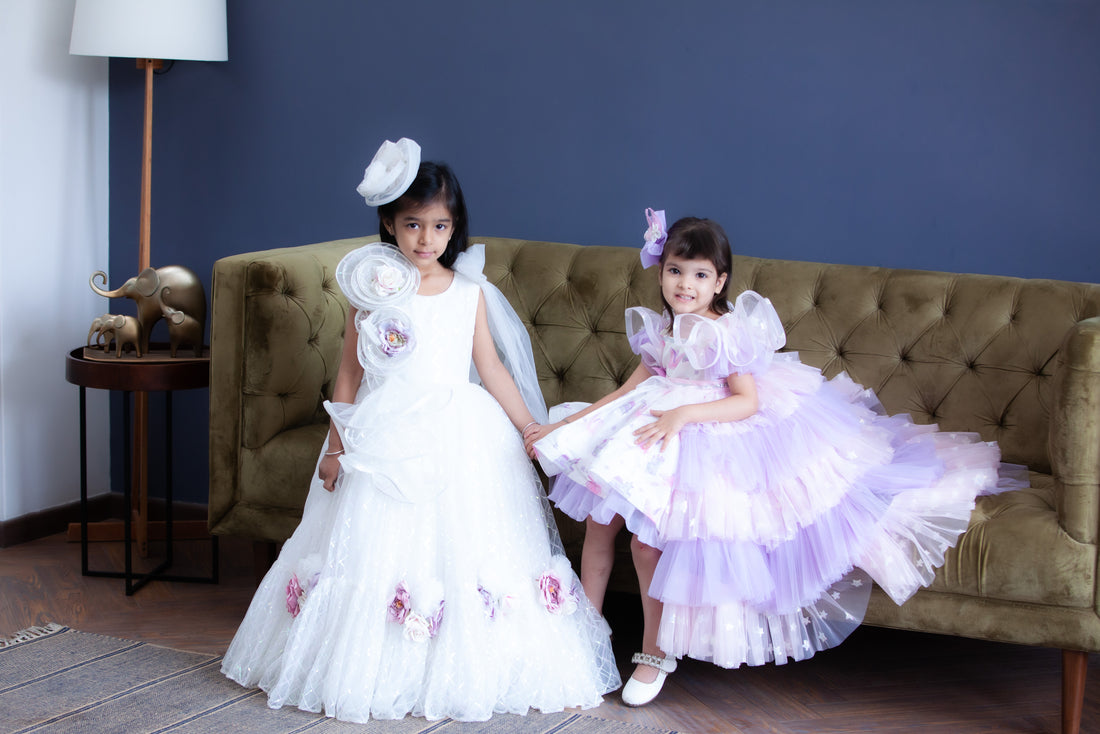 Trending High Low Dresses For Kids
Around the late 2000s and early 2010s, high low dresses were trendy in the fashion world. The style began on the runways of high fashion and gradually spread to mainstream fashion and, finally, children's fashion. High low dresses have a hemline that is shorter in front and longer in the back, producing an eye-catching asymmetrical effect. This design gives movement to the dress as well as a touch of drama.
For many years, the asymmetrical hemline notion, which is the distinctive aspect of high low dresses, has been prominent in women's design. However, it wasn't until the late 2000s that designers began adopting this style into their collections, modernising it and making it more accessible to the general public.
Celebrities and fashion influencers were key in popularising high low dresses. The trend swiftly spread after they were discovered wearing these dresses on red carpets, at award shows, and in fashion magazines. The high low dress's distinct and eye-catching design quickly became popular among fashion-forward women who sought to make a statement with their clothing.
As designers recognised the demand for stylish and trendy apparel for children, the popularity of high low dresses spread into children's fashion. Parents, influenced by celebrity fashion choices and fashion media, welcomed the trend and began dressing their children in high low dresses for special events and everyday use.
Since then, high low dresses for kids have become a standard in children's fashion, expanding with new designs, fabrics, and styles to suit both children's and their parents' ever-changing preferences. These dresses are now readily accessible in a variety of sizes, colours, and designs, making them a popular choice for parents who want their children to look fashionable and confident in their attire.
Designers have catered to the demand for innovative and stylish outfits that show the same level of refinement as adult fashion in children's fashion over the years. High low dresses for kids are one such trend that has garnered enormous appeal. These dresses combine elegance and playfulness to create a gorgeous silhouette that captivates both youngsters and adults. They come in a variety of styles, including sleeveless, cap-sleeved, and long-sleeved alternatives, making them appropriate for a variety of situations and seasons. In this blog, we will look at the most recent trends in high low dresses for kids, highlighting their unique qualities and explaining why they have become a must-have addition to every fashion-forward child's wardrobe. Let's go exploring, shall we?
The variety of colourful and flirty patterns available is one of the reasons why these dresses have grown popular among children. They offer a splash of colour and whimsy, with brilliant florals and charming polka dots. There is a high low dress to complement your child's individual style and personality, whether they choose big designs or subtle ones.
When it comes to dressing children, comfort is vital, and high low dresses excel in this department. The majority of high low dresses for kids are made of lightweight and breathable fabrics such as cotton, chiffon, or satin, ensuring optimal comfort throughout the day. The flowing character of these fabrics adds to the dress's whimsical charm, allowing tiny ones to move and play freely.
Versatility for Every Occasion:
High low dresses are versatile and can be worn for a variety of events. For formal occasions such as weddings, birthday parties, or family gatherings, they can be dressed up with accessories and matched with sandals. Conversely, they can be worn with trainers or flats for a more casual, everyday look. This versatility enables children to show their individuality while being confident in any situation.
Our Collection:
This stunning gown has a beautiful blue floral net overlay, giving it a whimsical and ethereal appearance. The high low hemline provides drama, while the ruching sleeve style allows for easy movement. This dress is ideal for special occasions or a princess-themed party, and it will make your little girl feel like a true ballerina.
With this lovely yellow organza high low dress, you'll exude sunshine and joy. The vivid colours and delicate organza fabric convey grace and elegance. The dress moves smoothly with each step, and the high low hemline adds a fun touch. This dress can make your child stand out in style during a summer wedding or a family gathering.
This wine burgundy neoprene dress will turn heads. The rich hue and rigid neoprene fabric combine to produce a sleek and classy appearance. The high low hemline provides a modern touch, while the full sleeves with frills on the shoulder provide an elegant charm. This dress is ideal for formal occasions or any other occasion where your youngster wants to make a stylish impression.
This pink star net dress adds a touch of sparkle and fantasy. The dreamy and whimsical look is created by the delicate net fabric embellished with shimmering stars. The puff sleeves enable comfortable wear, while the high low hemline adds movement and flair. This outfit is great for birthday celebrations, dance recitals, or any other occasion where your child wants to shine brightly.
Shine brightly in this stunning peach sequined high low dress. The sequined bodice sparkles in the light, while the flowing high low skirt adds beauty and grace. The dress has a double frill sleeves design for that  little touch of drama. This dress is ideal for formal occasions or a special celebration, and it will make your child feel like a true princess.
Each of these Fayon Kids high low dress designs exemplifies the distinct charm and style of high low dresses. These outfits, whether delicate flower net, bright organza, rich neoprene, brilliant sequins, or fascinating star net, offer a wide range of options for every event, guaranteeing that your little one looks fashionable and feels confident.
But wait, there's more! Fayon Kids has an abundance of high low dresses just waiting to be discovered. We have got you covered whether you're looking for a dress for a wedding, a birthday party, a holiday celebration, or just a fun day out. There's something for every taste and occasion in their extensive choice of colours, fabrics, and designs.
So don't miss out on the fun! Visit our website and prepare to be surprised by the profusion of high low gowns on offer. Enter a world of fashion and flair where your child's imagination can run wild and their personality can flourish. Happy shopping and dressing!