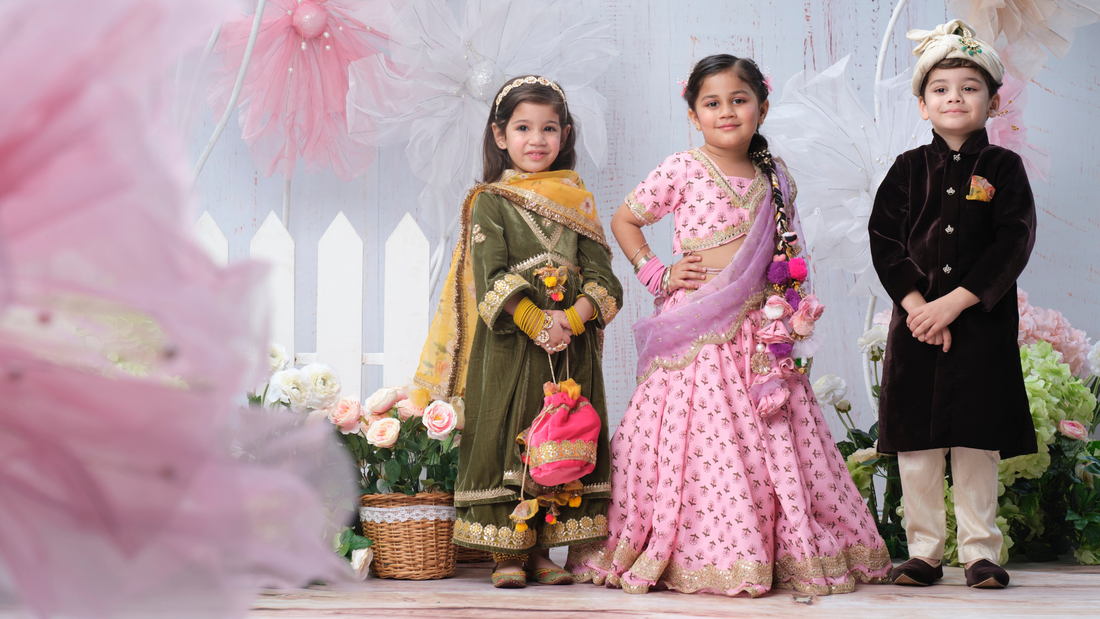 Trending Indian Ethnic Wear For Kids in 2023
When shopping for your little princes and princesses, it's natural that you tend to look for items that are appealing and have a positive effect. When it comes to Indian parents, there is usually a lot of affection for the cultural dress. In India, there is always something to celebrate, if not festivals then weddings, and everyone wants to look their best. There are various occasions, where you might need to buy a lehenga choli for kids or another kind of ethnic clothing for kids.
Little girls' ethnic clothing is often adored and liked by everyone. The charm associated with Indian ethnic clothing is unrivalled, and your kid's wardrobe would be lacking without it.  In order to understand taste, we may say that ethnic clothing for kids never goes out of style. 
Furthermore, it is beneficial to teach the child about Indian traditions from a young age, and one way to do so is through ethnic clothes. Tradition and cultural knowledge are crucial in assisting young children in creating a positive sense of self and developing self-esteem. All of our options for Indian ethnic clothing showcase our wonderful culture and provide a wow factor to style. Fayon Kids offer beautiful designer ethnic wear for your little ones.
Everyone, young and old, wants to appear extremely stylish and hip. Mothers also want lightweight and comfortable clothing for their children. All zeal and enthusiasm disappear when it comes to selecting proper children's clothing. It might be difficult and stressful enough just to choose your kids an acceptable ethnic or wedding outfit! That's why we have put together some suggestions for dressing your little ones in designer ethnic wear:
For Baby Girls
Lehenga Choli
The popularity of lehenga cholis among young girls is rising, and it increases when the ideal colour scheme is offered. These lehenga cholis, which are created utilising a variety of fabrics, handicrafts, and patterns, beautifully combine Indian culture with modern elegance. All of these lehengas are one-of-a-kind designer items, turning this traditional outfit for your baby girl into a stylish one. These dress items can easily be dressed up for any future festive occasion, so don't just limit them to wedding events.
Jacket Style Lehenga Choli For Girls
A girl's favourite attire to wear is one with a jacket. When it comes to Indian weddings, there is no other option for girls other than a lehenga choli. The jacket-style lehenga choli is refined and elegant, making it an excellent choice for young girls. And this is currently among the best and trendiest clothes. For girls, there are many options for jacket-style lehengas, including light & heavy jacket lehengas, asymmetrical jacket lehengas, shirt-style jacket lehengas, etc.
Dhoti Pattern Salwar Kurtis Set 
Currently, dhoti patterns are extremely popular, especially during festivals. It is undoubtedly eye candy to children, therefore they adore wearing it. It is available in a variety of designs and exquisite materials as well as relaxing colours and patterns.
Stylish Colorful Palazzo Suits
Since much of our country is hot, we are constantly looking for clothing that will keep us cool and fresh and easily combat the humidity. And we need to take additional care of our young children. Therefore, these palazzo suits are made of incredibly cool and comfy fabric and can be worn in any climate. And, they are always in high demand due to their colour scheme and pattern, which makes them the ideal dress for girls to wear to weddings and festive events.
Traditional Gharara Suits
These are a pair of loose, flared, wide-legged pants known as a gharara that can be worn with long cholis and kurtis. Gharara suits give a sophisticated look that may be worn for formal and semi-formal occasions. 
For Baby Boys
Ajkan / Achkan
A knee-length ethnic jacket with buttons down the side or centre is called an achkan. It has a pocket on the left side and typically has long sleeves. Ackhan sets for baby boys have recently become one of the most popular choices. Ajkan is available in a variety of colour schemes and patterns. Make your rockstar feel magnificent in ethnic clothing by shopping for Indian ethnic wear online at Fayon Kids. 
Tradition Kurta Set
Kurta sets are available in many designs and are fashioned from a variety of materials, including cotton, silk, organza, and others. With the countless configurations that a kurta set offers, you can imagine the ideal traditional look for your son. One of the latest fashion trends for Indian wedding dresses will always be kurta sets. They are available in lighter colour shades, such as beige, white, blue, etc. Additionally, darker crimson, maroon, and green hues are frequently used. You can easily select from a variety of colours depending on the demand if a particular function or ceremony has a specific theme.
Dhoti Set
Dhoti Pants!! They are incredibly stylish as well as classy, sophisticated, and cosy. When in doubt, it's best to start simple, and for youngsters, a dhoti set is the most understated yet stylish outfit. Dhotis are typically loose-fitting clothing items that are knotted at the waist and draped around the legs. In recent years, they have seen significant change. They used to merely be garments that were thrown around the waist, but now they are dressed in ready-made pants that perfectly resemble the ancient avatar.
Nehru Jacket
Every boy, whether a teen or older, should own a Nehru jacket since they make a fashion statement. For various situations, you can combine it with various sets. It complements both kurta sets and dhoti sets equally well and may also be worn with a shirt and pants pair to create a stunning ethnic fusion.
Indo Western Outfit
You can be creative by blending new and traditional styles to give your young superstar an Indo-western look. These days, this kind of attire is fashionable. There are many possibilities for Indo-Western clothing, including patterned Indo-Western attire, asymmetric Indo-Western clothing, an Indo-Western kurta with dhoti, an Indo-Western cowl kurta, an Indo-Western front-slit outfit for weddings, etc.
Buying for children can be challenging. Yet with Fayon Kids, the task has significantly decreased in difficulty and increased in enjoyment to make your kid the event's style icon. There are many traits, components, and considerations to bear in mind, but comfort is at the top of the list. Whichever dress you choose, all of them are manufactured of fabric that is kind to the skin. They are all available in a variety of designs with fine details like pearls, sequins, decorations, and more in vivid colours. Visit our website to shop for Indian ethnic wear online.