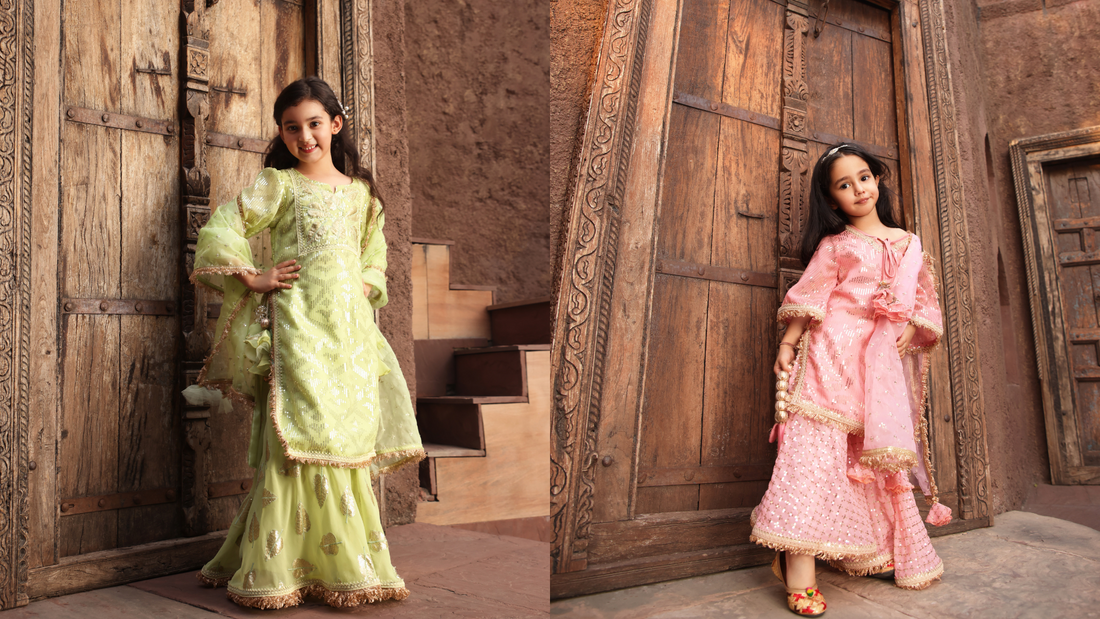 Trending Sharara Designs to Try This 2023 Year
Fashion is not limited to adults anymore; it has found its way into the world of children's clothing too. Kids' fashion trends are constantly changing and introducing fresh looks, ensembles, and styles. The "Sharara" design is one such fad that has skyrocketed in popularity recently. Shararas, known for their classic elegance and contemporary flair, is currently making waves in children's fashion as well. The realm of children's sharara designs in 2023 is buzzing with intriguing alternatives. There is something to fit every child's taste and style, from vivid colours to elaborate needlework, frills and ruffles to modern styles. Parents can make sure that their children are both fashionable and at ease by following the newest trends and experimenting with mix-and-match sets. We will look at the popular Sharara styles to try in 2023 in this blog post.
Vibrant Colours:
In 2023, vivid colours, such as those used in sharara and high low frocks, will rule the world of children's fashion. Shararas in colours like emerald green, royal blue, brilliant pink, and sunny yellow are very popular. These vibrant hues give every outfit an instant pop and give off an energising, carefree mood. To make a stunning visual impact, pair them with contrasting shirts or choose coordinating monochrome ensembles.
Intricate Embroidery:
Intricately embroidered girls' frock suits and sharara dresses are classic choices that will never go out of style. Any garment is made more elegant and charming by needlework, which might have intricate geometric patterns or delicate flower patterns. To produce a captivating impact that will make your child stand out, choose sharara frocks with exquisite threadwork, sequins, or mirror accents.
Frills and Ruffles:
Sharara frocks and high-low dresses with frills and ruffles are a must-try for a dash of softness and playfulness. These patterns add a lovely feeling of volume and movement to your child's costume, giving it grace and refinement. This style gives conventional shararas a whimsical and lovely touch, whether it's a frilled hemline or ruffled layers.
Contemporary Silhouettes:
2023 sees the rise of modern silhouettes in children's clothing, such as girls' frock suits and white dresses for girls. Asymmetrical hemlines, asymmetrical cuts, and distinctive drapes are common in contemporary sharara designs, which give them a sense of unorthodox flair. These patterns create an outfit for your kid that is both stylish and comfy by fusing the best elements of traditional shararas with a contemporary touch.
Mix-and-Match:
The ability to mix and match sharara sets, including girls' frock suits, is one of this year's fascinating trends. These sets come with sharara bottoms and contrasting tops, enabling you to put together several looks from a single purchase. Mix-and-match sets are adaptable and provide your child with the freedom to try out various combinations and show off their unique sense of style. To create a distinctive and stylish look, match a white frock for girls with colourful sharara bottoms or combine a high-low gown with coordinating sharara pants.
Fabrics and Prints:
Soft and breathable fabrics like cotton, silk, and chiffon are popular choices for sharara frocks, white frocks for girls, and girls' frock suits. These materials keep a fashionable appearance while ensuring comfort and ease of movement. Fashionable floral prints, geometric patterns, and amusing themes give the clothes a joyful and youthful feel.
Gota Work:
Traditional needlework known as gota work gives sharara patterns a sense of regal allure. Gold or silver ribbon appliqué is skillfully used to create exquisite gota patti designs on the fabric. The sharara stands out thanks to this embellishing method's stunning contrast with the bright colours. Gota work shararas, which exude elegance and grace, are ideal for festive occasions and cultural celebrations.
Floral Sharara:
A floral sharara design is a lovely option for your little one because floral designs are consistently trendy in children's clothing. Floral shararas add a whimsical and feminine touch to your child's attire, whether they feature delicate roses, burgeoning sunflowers, or tropical designs. For a striking outfit that works for both informal and semi-formal settings, choose colourful floral prints on a contrasting background.
Long Kurti Sharara:
For your child, a long kurti and sharara bottoms offer a chic fusion look. The kurti, which falls below the waist, can be embellished with deft lace trimming, elaborate embroidery, or mirror work. Put it together with a flowing sharara bottom that matches the pattern and colour of the kurti. Long kurti shararas are appropriate for festivals, family gatherings, and other occasions since they combine traditional and modern aesthetics.
Georgette Sharara Embellished with Moroccan Jaal:
A pleasure to behold is georgette shararas adorned with Moroccan Jaal motifs. A sense of grandeur is created by the elaborate geometric motifs and symmetrical patterns. Your kid may move freely in the sharara because of the lightweight, flowing qualities of the georgette fabric. This style will give a touch of sophistication and ethnic diversity to formal gatherings, weddings, and festive occasions.
Styling Tips:
Pair with Complementary Tops:
Select clothes that go well with the sharara's colours and pattern. For instance, choose a solid-coloured top in a hue that complements one of the hues in your child's colourful floral sharara instead of one that contrasts with it. This results in a polished and harmonised appearance.
Accessorize Thoughtfully:
The significance of accessories in completing the appearance is vital. Select accessories for every age group that go well with the sharara style. A long kurta sharara, for instance, might seem more elegant with the addition of a statement necklace or chandelier earrings. A flowery sharara can be made more attractive with a floral hair item or a delicate bracelet. Choose accessories that enhance the overall look without overpowering the ensemble.
Opt for Comfortable Footwear:
Kids need to wear comfy shoes with their sharara outfits because they are constantly on the go. Think about selecting options like ballet flats, embellished sandals, or mojaris (traditional Indian shoes). These options strike a compromise between design and comfort, enabling your kid to have a pain-free day.
Pay Attention to Hairstyles:
Hairstyles can improve the overall appearance and go well with the sharara pattern. Consider buns, braids, or flowery hair accessories for a classic touch. A contemporary sharara can benefit from some loose curls or a half-up, half-down hairstyle to add some elegance. Try several haircuts that complement your child's personality and the occasion.
Embrace Confidence and Individuality:
Above all, inspire your child to confidently express themselves and embrace their unique sense of style. Allow them to select accessories, colours, and hairstyles that fit their personality. Keep in mind that fashion is about recognising originality as much as trend-following.
It's interesting to see the blend of classic and contemporary styles in children's apparel as fashion trends continue to grow. Fayon Kids' magnificent collection, with its vivid colours, complex embellishments, contemporary designs, and comfy fabrics, is at the forefront of this trend. If you want to add a bit of elegance and playfulness to your child's wardrobe in 2023, the popular Sharara designs by Fayon Kids are definitely worth exploring.