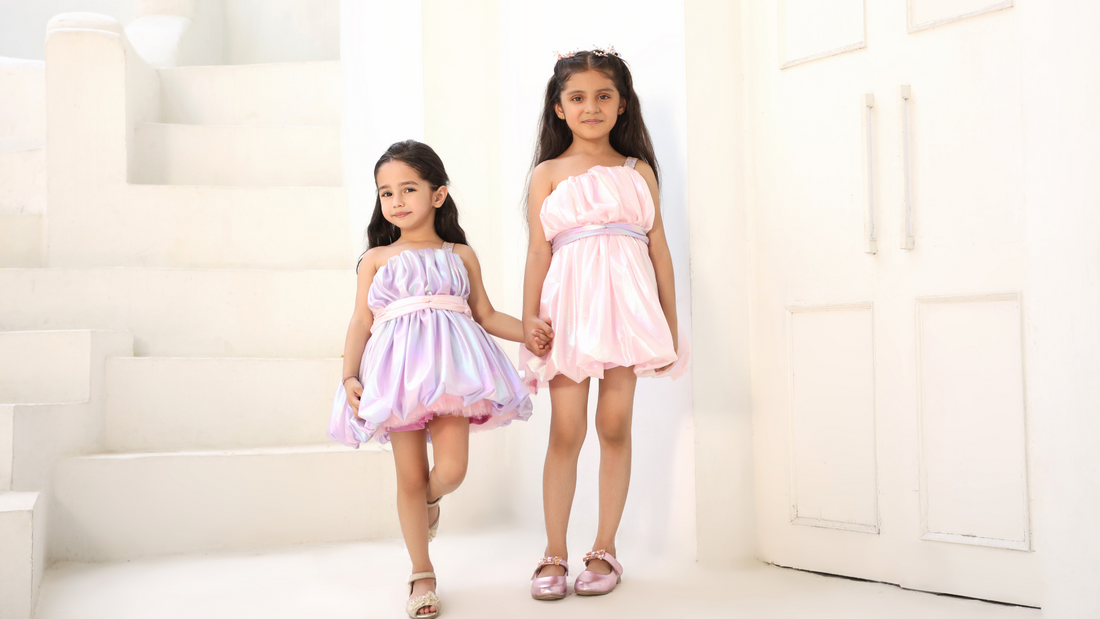 Trending Western Dresses for Girls In 2023
In the world of modern fashion, boundaries are pushed, and creativity knows no limits. Modern fashion is all about defying preconceived notions and promoting diversity, from loud patterns and unusual shapes to sustainable materials and inclusive designs. It serves as a platform for fashion aficionados to explore, develop, and express themselves. Buckle up, fashionable parents, because we're about to take our young fashionistas on a fashion-forward adventure! Prepare to discover the hottest Western dresses for girls in 2023 with Fayon Kids, which are sure to turn heads and melt hearts. This year, we're focusing on giving our little fashionistas fun, fashionable, and distinctive vibes. These trends, which range from bold hues and quirky designs to comfort and style, are all poised to make a big impression. So let's explore the fascinating world of fashionable girls' western wear in 2023!
Baby girl gowns with floral prints have long been a popular choice, and this trend will persist in 2023. Floral patterns add a sense of charm and elegance to any western outfit for girls, whether they are in soft pastels or strong, brilliant hues. Look for gowns with delicate flower patterns, large blooms, or even patterns that are reminiscent of watercolours. To complete the appearance, team these dresses with adorable sandals or ballet flats.
Ruffles are making a major resurgence in girls' clothing, giving their looks a fun and whimsical feel. This trend gives the dress more volume and movement, whether it's a dress with ruffled sleeves, a tiered skirt, or a ruffled collar. To provide your child with the greatest level of comfort, use delicate, lightweight fabrics like cotton or linen. Sandals or Mary Jane shoes look beautiful with gowns that have ruffle trim.
In 2023, girls will be wearing denim since it is a timeless fabric that never goes out of style. Pinafores, overall dresses, shirt dresses, and other designs of denim dresses are very popular right now. To add a little personality, look for jeans with adorable accents like ribbons, needlework, or patches. For a fashionable yet relaxed style, pair them with sneakers or ankle boots.
Sustainable Chic:
The fashion industry has placed more attention on sustainability recently, and this trend has spread to children's clothing as well. Dresses for baby girls are increasingly being made from eco-friendly materials like organic cotton, bamboo, or linen. In addition to being environmentally responsible, these materials are soft and kind to baby skin. To ensure that your child's attire is both fashionable and environmentally friendly, look for garments from companies that place a high value on ethical production and use organic materials.
Tutu dresses are the preferred option, nowadays, for special events or when you want to dress up your baby girl in something especially extravagant. Layers of tulle used to make tutus give them a whimsical, princess-like appearance that makes them ideal for events or picture sessions. To add a bit of glitz, choose western outfits for girls with decorations like sequins, satin ribbons, or flower appliques. For a charming look, add matching headbands and ballet flats to the outfit.
Bold and Bright:
The time when girls could only wear pastel colours is long gone. Bold and brilliant colours are making a statement in 2023. Fuchsia, electric blue, lemon yellow, and vibrant coral dresses are in style right now. These vibrant hues give your baby girl's clothing vigour and zest. To create stylish and playful outfits, experiment with colour-blocking and mixing and matching different hues.
Modern Minimalism:
Modern designs with clean lines and straightforward forms are popular among parents who prefer a more modest and minimalist style. The secret to pulling this look off is to use dresses with delicate accents like bows, pleats, or unique necklines. Popular selections for this trend include neutral hues like white, grey, or beige. For a modern, carefree look, wear these dresses with sandals or sneakers.
Accessorizing western dresses for girls can offer a bit of whimsy and round out their charming appearance. Here are some accessories that would look great with western dresses for girls:
Bow Headbands:

Your little girl's dress can be instantly improved with a sweet and fashionable bow headband. Look for headbands with bows that are adorned with similar or contrasting fabrics, bold hues, or even sequins or pearls. Girls' western wear gets a whimsical, delicate touch from this item.
Floral Hair Clips: A touch of nature can be added to your baby girl's outfit with floral hair clips. Select clips with exquisite floral patterns or little fabric flowers. They can be worn singly or in groups for a whimsical and feminine appearance.
Statement Belts: Western dresses frequently have free-flowing or baggy shapes. Consider using a striking belt to accentuate your waist and add some style. Look for belts with distinctive buckles, metallic accents, or embellishments that complement the colour scheme of the dress.
Coordinated Booties: Western-inspired boots are a lovely addition to our little princess' dresses. Choose boots with fringe, embroidery, or even little cowboy boot patterns made of soft materials like suede or synthetic leather. A coordinated and fashionable look can be achieved by matching the boots' hues or patterns to those of the dress.
Layered Necklaces: Layering delicate necklaces can create a beautiful and stylish look for older baby girls or toddlers. Necklaces with little pendants or charms that compliment the style and colours of the outfit are ideal. It is critical that the necklaces be child-safe, with proper length and materials.
Patterned Tights or Leggings: Patterned tights or leggings can add warmth and style to our little girl's western dress worn in the cooler months. Look for patterns that complement the dress's colour scheme, such as polka dots, stripes, or fun prints. This gives the overall outfit a playful and chic touch.
Fringed Purse or Bag: A small fringed handbag or bag can be a fun addition to your child's outfit while wearing Western-inspired clothing. Look for compact bags or purses with fringe accents, faux or suede leather construction, and a supple strap. It not only improves the Western style but also gives girls to carry their little trinkets.
You should encourage your baby girl's self-expression and celebrate her distinctive individuality when dressing her, in addition to keeping her fashionable. You may provide her with a platform to discover her personal style and gain confidence at a young age by embracing these trends. There are many options available to suit her preferences while assuring her comfort, whether she favours whimsical florals and ruffles or the classic appeal of denim and sustainable fabrics.

The ultimate objective is to give your child the confidence to accept her individual style and follow her own sense of style. Encourage her to be a self-assured trendsetter as she chooses outfits that reflect her distinct preferences and tastes. As she confidently moves through the world wearing the newest trends of 2023, let her personality reflect via her clothing selections. Browse Fayon Kids today to see our carefully-picked assortment of western dresses for girls. Don't pass up the chance to turn your child into a trendsetter.