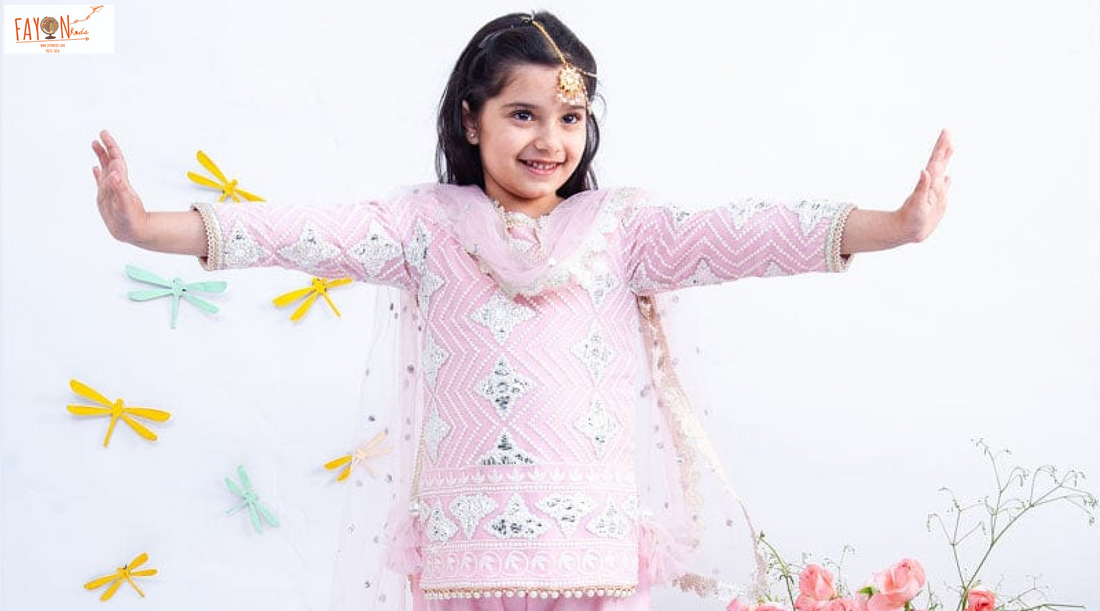 What Is The Best To Wear At A Diwali Party
The festive season is back and is around the corner, and we cannot keep calm because this Diwali, let's talk about what would be the best party wear for boys and party wear for girls. We all know every year fashion trends, designs and styles take a huge turn and so like for this year, 2021; Diwali would be just about fashionable traditional kids wear and comfort. Let's make sure to pick such beautiful styles this time that our loved ones can wear them for longer hours.
1. Anarkali
Anarkali is one of those traditional kids wear which is one of those picks which will give you a rich and elegant look. You can re-use and re-style the way you want according to your occasion needs. A wide range of designs is available. Anarkali has major style options, like Lucknowi Anarkali or Chikankari Anarkali. You can give it a western touch by adding belts and off-shoulder tops. It gives you enough volume to create that look.
2. Lehenga
Party wear for girls has taken a new twist with Lehenga designs. Of course, it can never go out of style. It is re-usable and has a lot of options for you to re-style. It is festive wear as well as wedding wear. There are new designs, patterns and styles. There are different material options according to the look you want for party wear for girls. You can add attached bags this season around the waist or shoulder.
3. Sharara
There is a wide range of options for Diwali kid's fashion. Sharara is simple yet royal. It will always be elegant. It is a comfortable piece for party wear for girls and can be worn for a long period. There are different styles of sharara's. It looks absolutely beautiful. It gives that of a look of a lehenga, but it is a pant.
4. Kurti
Kurti is one of the quickest picks when it comes to comfortable wear for traditional kids wear for Diwali. It is easy to carry and looks royal even during small pujas like for Diwali kid's fashion. There is a huge variety of material options to choose from; like, cotton and more.
5. Indo-Western
Indo-Western is one of those categories which will make you want more. It is one of the most stylish and trendy picks for Diwali kid's fashion. Different top/blouse picks like off-shoulder, cold shoulder or even backless makes it different from what we originally have. You can add bags/slings around with the attire and make it more fashionable.
6. Kurta Churidar
Yes, Kurta Churidar is one of the most stylish picks for the season for party wear for boys and will never go out of fashion. It is easy to wear and can be worn for a long period. It is comfortable and yet it looks fashionable. Not only that, but it can also be a twinning piece like that of a father and son. It looks royal and elegant. Traditional kid's wear for Diwali kurta picks is a must during Diwali puja or weddings or even for small house pujas. It can always be re-used and re-styled. You can get trending designs and styles. There is a wide range of options to choose from for party wear for boys.
7. Ajkan
Ajkan is one of those styles which is a must to have in your wardrobe. It gives you extra weight and looks rich. It is a must-have for the festive and wedding season. Furthermore, it can be worn during parties as it's classy. It's the coat pant set, but for ethnic wear.
8. Nehru Jacket Set
Nehru Jacket set is one of the royal styles and certainly gives you the look of that of party wear picks for boys. There is a wide range of colors, designs and styles. You can pick your piece wisely according to the occasion. It can be styled according to the festive season.
9. Kurta Dhoti
Kurta Dhoti is one of the styles which will for sure make you get hold of one. It looks effortless during the festive season or for small pujas.
10. Indo-Western
Indo-Western is all about styling party wear for boys. Diwali kids' fashion can take a turn if you pick a smart kurta with a Nehru jacket and just pair it with jeans. Indo-Western options are wide, but it depends on the look you create according to the occasion.